Best 1176 Compressor Emulation Plug-ins: The definitive list
The 1176 is hands-down one of the most popular compressor designs of all time. It was legendary for its fast response times and for the harmonic distortion and distinctly analog flavor it could impart to any signal. There were several different revisions, each with their own take on the same base sound. Digital audio has come a long way toward recreating the sound of the 1176 and these are some of the best 1176 plug-ins available today.
Universal Audio 1176 Classic Limiter Collection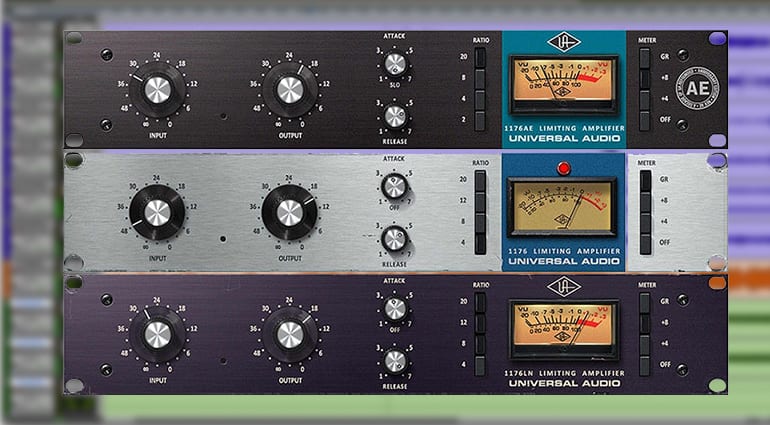 It doesn't get any more authentic than this collection of three of the most legendary 1176 designs of all time, meticulously emulated. There are three different variations, including Rev. A., Rev. E., and AE. This means the bundle gives you access to the classic Blackface, Blue Stripe, and LN models.
As with all of the best 1176 emulations, every element of the circuitry from the analog units was painstakingly recreated in the digital realm. These include the transistors and harmonic distortion. It has attack times that range from 20ms to 800ms. Each model offers the legendary "All Buttons In" mode as well as the "No Ratio" mode – which adds the pleasing analog distortion without any compression.
Also included are presets from renowned mix engineers that help you get in the ballpark of their settings quickly. The only downside is that it requires UA hardware to run, but considering the storied history of the company this might be well worth the investment for you.
Waves Audio CLA-76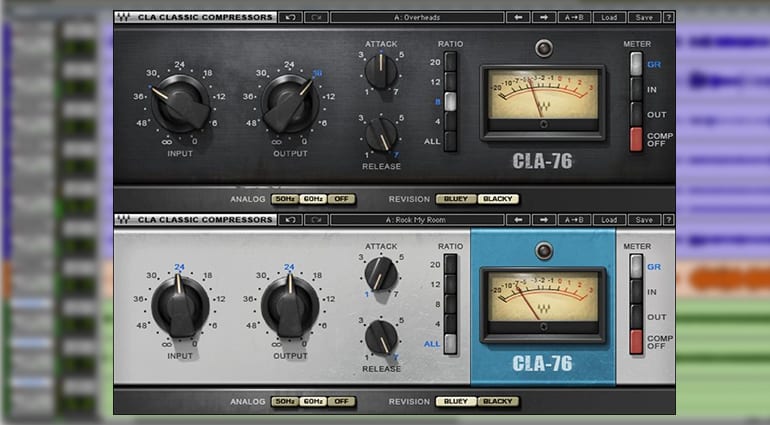 This option is a marriage between Waves and one of the most popular mixing engineers of all time – Chris Lord Alge. It is based on the Blackface and Blue Stripe models (Rev. E and A respectively), and you can select between them with a simple flip of a switch. Both models can be used in "Compression Off" mode to give tracks analog color, crunch, and character without adding any leveling. Just as well, both models feature the "All Buttons In Mode". And what's more, to add more analog realism there is even an option for adding hum at 50Hz or 60Hz. It's currently on sale for $29.99.
IK Multimedia Black 76 Limiting Amplifier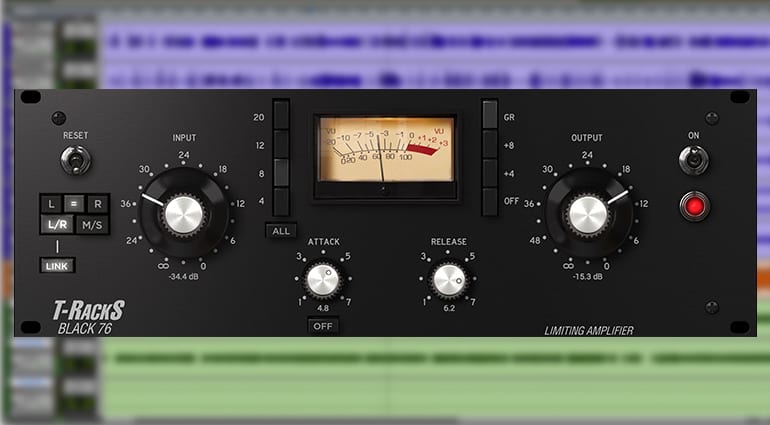 IK Multimedia's take on this classic compressor is based around the Rev. E. "Blackface" hardware model. It is a faithful recreation with a few additional features like mid/side processing or stereo linking for buss applications. It works with sample rates up to 192kHz and comes in all the popular plug-in formats – VST, AU, AAX, and RTAS. The Black 76 is one of the most faithful 1176 plug-ins true to the original hardware. It costs €99.99.
Slate FG-116 Series
The series includes three different models – 116, Modern, and Vintage. The 116 is Slate's take on the LN Blackface variant. Vintage is unique in that it offers two different versions of the Blue Stripe model, made famous by legendary mix engineers like Chris Lord-Alge. Lastly, the Modern model is clean and crisp – certainly a reimagining of what a FET compressor can do.
All models include the standard input, output, attack, and release controls with an additional mix knob for dialing in the compression in parallel. The 116 has an option to add in some modeled noise, and the Vintage has an optional high-pass filter. All models are capable of the legendary "All Buttons In" mode.
Access to these models requires going in on Slate's Virtual Analog Bundle, but it is well worth it. You'll get some other fantastic plug-ins along the way.
Arturia Comp FET-76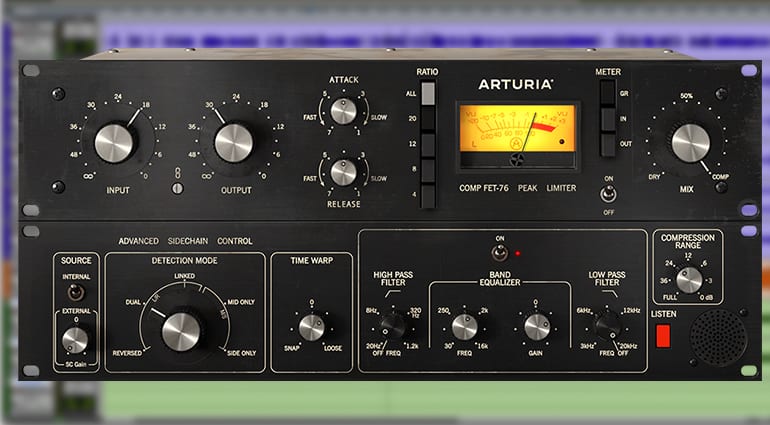 As far as the best 1176 plug-ins go, this is one of the best combinations of quality and affordability you'll likely find. It uses TAE analogue modeling to accurately model the signal path of the hardware. This takes into consideration the performance of the electronic components like the transformers, transistors, and FET. A handy Link button between input and output stages means you can quickly dial in compression that is automatically gain-staged to unity volume. It also provides a Mix knob for parallel compression without needing to set up any extra routing and easy side-chain options. But perhaps the most innovative feature is a variable Pre-delay that manipulates the envelope of the signal in novel and interesting ways. Uniquely, the "back" of the unit offers controls as well like EQ, compression range,  and the mode of detection. This one is on sale for €49.99.
Pulsar Audio Smasher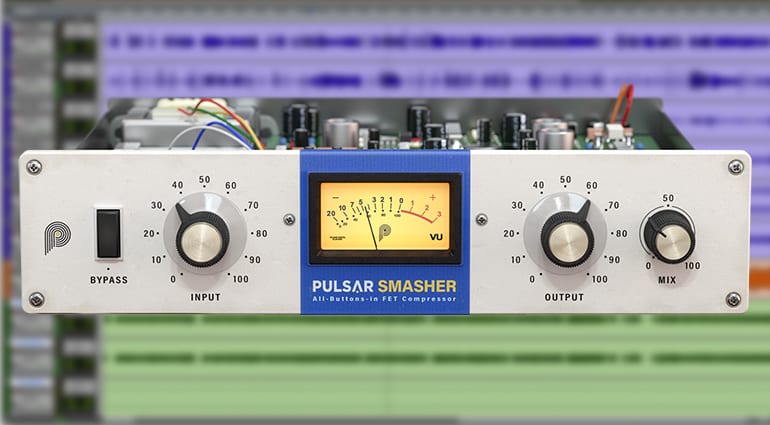 Smasher is unique among other options in this article in that it runs in "All Buttons In Mode" all time. This means that it provides a very compressed, gritty, distorted sound on any track. Pulsar Audio modeled the circuit topology of the original but added in some of their own modifications like more defined transients. There is a Mix knob to blend dry signal back in, and it is internally compensated to work flawlessly on stereo sources. It is definitely one of the more unique 1176 plug-ins. This one also costs €49.
Softube FET Compressor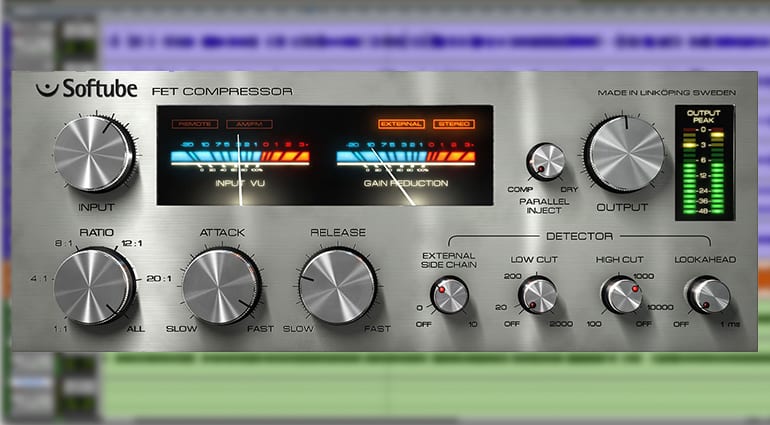 Softube took the original 1176 circuit and added their own twist with their FET Compressor. It has some additional controls including mix blend (wet/dry), side chain, low and high cuts, and lookahead of up to 1ms for even faster attack times. The ratio control is unique in that it can be continuous or used as fixed ratios. The metering displays input level, gain reduction, and output level. It works just as well in stereo so you don't have to be shy about using it on groups or busses, or even the stereo mix.
Native Instruments VC76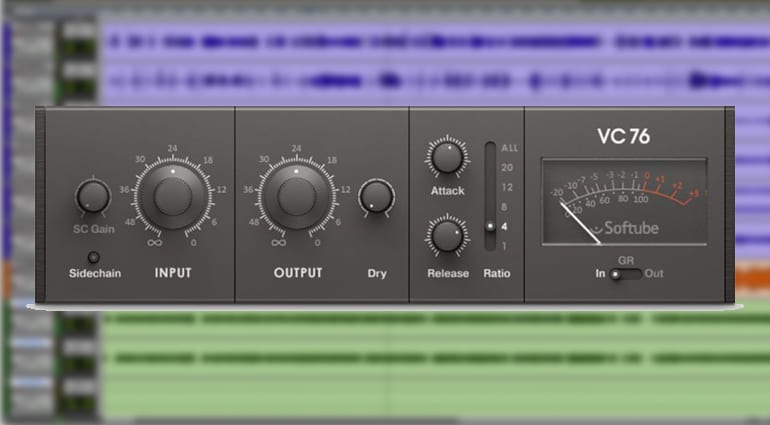 VC76 is a tried-and-true 1176 emulation. It features the same controls as a standard unit, but with a few extras like a dry mix knob and sidechain with gain. It offers attack times as fast as 50ms as well as the "All Buttons In" and "No Button" modes which add extreme settings and analog vibe without any leveling, respectively. It's simple, but true to the original concept.
PSP FETpressor
Yet another true-to-the-original emulation, FETpressor has all of the controls of the original with an added threshold knob for further tailoring of the sound. The high-pass filter for the sidechain goes up to 1kHz to cut out low end so it doesn't affect how the compressor reacts. And the output transformer and gain emulations recreate the character elements of the hardware even if not compression is happening.
HoRNet Plug-ins FAT-FET Free Plug-in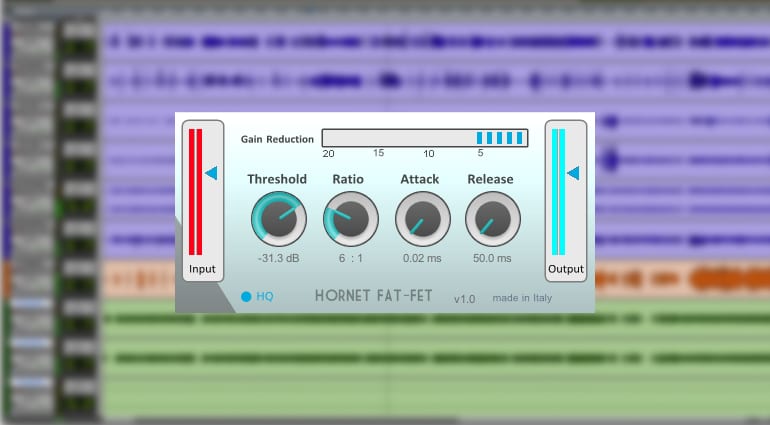 If free is what you're looking for then the FAT-FET is a simple but powerful option with Blue Stripe Vibe. It's got some additional controls that the classic 1176 design doesn't have, like fully adjustable threshold and ratio controls. This gives you more control over the signal. It uses the same technology as the company's Multicomp models. Metering at the input/output and a gain reduction visual help you gain stage properly while getting the perfect amount of compression. It runs on Windows and Mac 64/32-bit systems and comes in VST and AU formats – and won't cost you anything.
Image Sources:
Universal Audio 1176 Classic Limiter Collection plugin GUI: universal audio
slate fg116 compressors plugin GUI: slate digital audio
hornet plugins fat fet compressor GUI: hornet plugins