Arturia Pigments, SSL, Softube, Moog & More: Software Deals
Deal
Ready for a seriously powerful software synth? Arturia Pigments is a real beast – and it's now on sale for half the regular price! Other excellent software deals this week include Softube's Tube-Tech Collection, Moogerfooger Plugins, and more.
Note: Prices may vary slightly depending on your location.
50% off Arturia Pigments 4
Arturia Pigments 4 is without a doubt one of the most versatile and creativity-inspiring software synths you can buy. With a total of four different sound engines, including a massive wavetable engine and the innovative harmonic engine, it truly belongs in any sound designer's collection. Add to that a great choice of filters, a complex modulation matrix, a polyrhythmic arpeggiator/sequencer, and fantastic built-in effects, and you've got a synth that delivers an endless palette of timbres. Arturia Pigments 4 is currently on sale* until August 14 for just $93 – that's 50 percent off the regular price!
Save on Moog Moogerfooger Custom Bundles
The Moog Moogerfooger pedals are legendary analog effect boxes that have been out of production for quite some time. Last year, Moog finally eased the pain by releasing eight Moogerfoogers as plugins. The software models the classic effects down to the last detail – including the CV control option. This means that if you have several Moogerfooger plugins open at the same time, they can modulate each other. Genius! Choices include the classic MF-101S Lowpass Filter, MF-102S Ring Modulator, MF-103S 12-Stage Phaser, MF-104S Analog Delay, and more. Even the unique MF-108S Cluster Flux effect is now available as a plugin!
Right now, you can save a pretty penny when you buy one of the Moogerfooger Custom Bundles*! Pick any two or any four of the Moogerfooger Plugins and enjoy these classic analog effects in your DAW!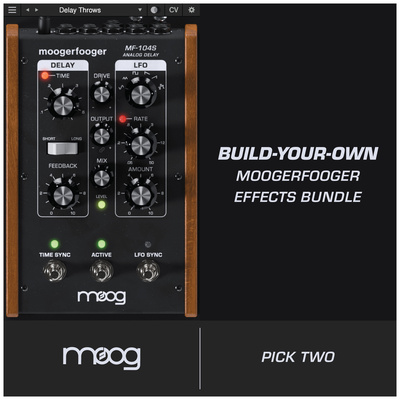 Moog Moogerfooger Custom Bundle 2 Download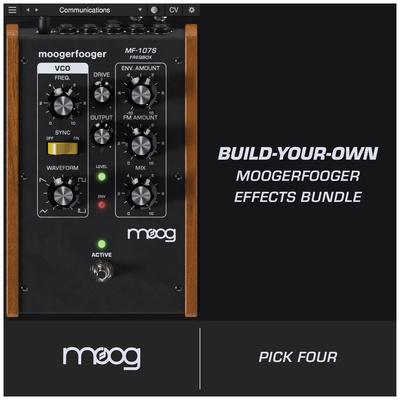 Moog Moogerfooger Custom Bundle 4 Download
Almost 90% off SSL Native X-EQ 2
SSL Native X-EQ 2 could be the last equalizer plugin you'll ever need. With 24 (!) configurable bands and a proprietary "anti-cramping" algorithm that ensures an open and transparent sound, X-EQ 2 is one of the most powerful EQs out there. Moreover, you can choose from no less than 17 different EQ types and filter shapes to create custom EQ curves for any application. Band soloing helps to zero in on troublesome frequencies. X-EQ 2 also supports mid/side and left/right processing, as well as parallel processing.
This powerhouse of an EQ would normally set you back almost 300 bucks. Right now, you can grab it at Plugin Boutique* for just $34.99!
Tube-Tech Complete Collection on sale
Here's another fantastic deal from Plugin Boutique. The Tube-Tech Complete Collection by Softube includes seven plugins that offer meticulous emulations of classic Tube-Tech hardware units. The Tube-Tech Classic Channel MkII plugin consists of new versions of the PE 1C and ME 1B Pultec EQs and the CL 1B opto compressor, all of which can also be used by themselves. In addition, the Tube-Tech Complete Collection comes with the original MkI versions of the Classic Channel, PE 1C and ME 1B equalizers, and CL 1B compressor. These emulations by Softube have long built a solid reputation for their authenticity – and now you get them for half the regular price*!
Great Deal on Zynaptiq Repair Bundle
Zynaptiq's audio restoration plugins can do things previously considered impossible. Change or even remove reverb and room ambience after recording with Unveil, zero in on comb filter effects and unwanted resonances with Unfilter, and get rid of obnoxious digital artifacts with Unchirp. It's a whole new way of dealing with complete mixes and deteriorated audio files. What's more, these three plugins also open up previously unknown sound design possibilities. Alas, they aren't cheap, but right now you can get the Zynaptiq Repair Bundle for just $442* instead of $749! Sounds like a good deal to me.
Videos about Arturia Pigments 4 and other Software Deals
* This post about Arturia Pigments and other software deals contains affiliate links and/or widgets. When you buy a product via our affiliate partner, we receive a small commission that helps support what we do. Don't worry, you pay the same price. Thanks for your support!
Image Sources:
Arturia Pigments 4: Arturia
Moogerfooger Effects Plugins: Moog Music
X-EQ 2: SSL
Tube-Tech Complete Collection: Softube
Repair Bundle: Zynaptiq
SSL X-EQ 2: SSL
pb: Plugin Boutique
Softube Tube-Tech Complete Collection: Softube