Arturia MiniLab 3: The tiny keyboard controller gets a big refresh
While it might not turn as many heads as the MiniFreak synthesizer, Arturia also announced the updated MiniLab 3 USB keyboard controller today. The tiny keyboard received a big facelift with some faders, an OLED display, and more. It also comes with an impressive software package.
Arturia MiniLab 3
It's been almost six years since the MiniLab mkII was released, so Arturia needed to do something to stay ahead of the competition. Besides an updated design, what has Arturia come up with to bring the new MiniLab 3 on par with newer competitors like the AKAI MPK mini mk3, Nektar Impact LX Mini, or M-Audio Oxygen Pro Mini?
The first thing that meets the eye is the new design with slightly rounder corners than the previous version. While the mkII was initially only available in white, Arturia has decided to also offer the MiniLab 3 in a black "Noir" edition from the start.
New faders and a display
Upon closer inspection, you'll notice that eight of the predecessor's 16 rotary encoders were removed and replaced by four sliders. While those are of course convenient for controlling things like envelopes and mixers, this means that the MiniLab 3 actually offers fewer physical controls compared to the previous version. But there's also a new OLED display accompanied by a data encoder, so there's hope that assigning controllers and switching between different mappings will be easier than before. Arturia says that the Minilab 3 comes with preconfigured mappings and scripts for most DAWs, so it should be easy to setup no matter which software you use. The manufacturer has also added an arpeggiator and chord mode, which is something that the previous version lacked in comparison to many competitors.
Much of the rest remains the same. You still get 25 velocity-sensitive mini keys, along with a pair of octave buttons and two touch strips for pitch bend and modulation. The MiniLab3 also inherited the predecessor's eight RGB pads, which are velocity and pressure-sensitive. The sustain pedal jack on the back is now labeled "Control" and also accepts expression pedals. Speaking of connectors, there's now a 5-pin MIDI output in addition to the USB port, which is great for controlling hardware gear without a computer. And the USB connector, which also supplies power, is now USB-C.
Impressive software package
The large software package has always been something that set Arturia's keyboard controllers apart, and the MiniLab 3 is no different. In addition to Ableton Live Lite, the keyboard comes with the Arturia Analog Lab Intro software, which includes a huge collection of sounds from the developer's well-regarded software instruments – with ready-made mappings for the MiniLab 3. You also receive the Gentleman and Model D piano instruments, as well as a 2-month subscription to Loopcloud and a subscription to the Melodics practice app.
Price and availability
You can order the Arturia MiniLab 3 from Thomann* for €99. The white version is scheduled to ship within the next couple of weeks, while the black version will take a bit longer.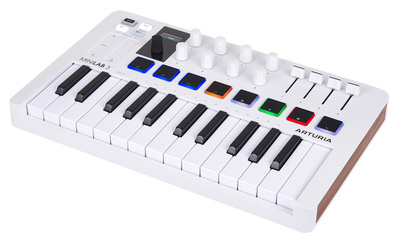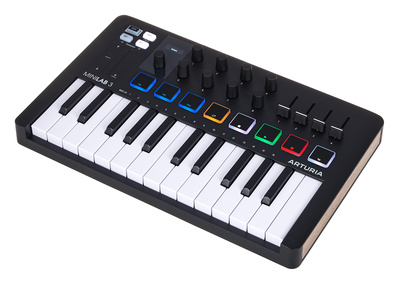 More information about the Arturia MiniLab 3
Videos
* This post contains affiliate links and/or widgets. When you buy a product via our affiliate partner, we receive a small commission that helps support what we do. Don't worry, you pay the same price. Thanks for your support!
Image Sources:
Arturia MiniLab3: Update with a fresh design: Arturia
Eight rotary knobs were replaced with four sliders: Arturia
The MiniLab 3 is available in black or white: Arturia
The MiniLab3 offers a 5-pin MIDI output: Arturia