Arturia MiniFreak Hybrid Polyphonic Synthesizer
Arturia expands their Freak synthesizer line with the new MiniFreak, a hybrid, 6 voice polyphonic synthesizer with 2 sound engines, stereo FX and a slim, 37 note keyboard.
As part of their 'Rendez-vous' launch event today, Arturia announced a number of new products including the MiniLab 3 and Augmented GRAND PIANO.
If you thought that Arturia's MicroFreak was a slightly mad, but hugely unique synthesizer, then buckle up for the MiniFreak! Building on the incredibly successful Micro, the MiniFreak expands all of those superb sound-shaping features and throws in a lot more.
Ahhhh, Freak Out!
For starters, gone is the unique touch keyboard of the MicroFreak, replaced by a full action 37-note 'slim keys' example. Sporting velocity sensitivity and aftertouch, this will appeal much more to the keyboard players amongst you. The most obvious change is that the MiniFreak is now a 6-voice polysynth.
It also delivers 12-voice Paraphony, Unison and Monophonic modes. As with its miniature predecessor, the MiniFreak uses digital oscillators pushed through analogue filters for some truly wild and big sounds. 20 different modes allow you to process each sound engine's output with the other, as well as allowing you to stack them.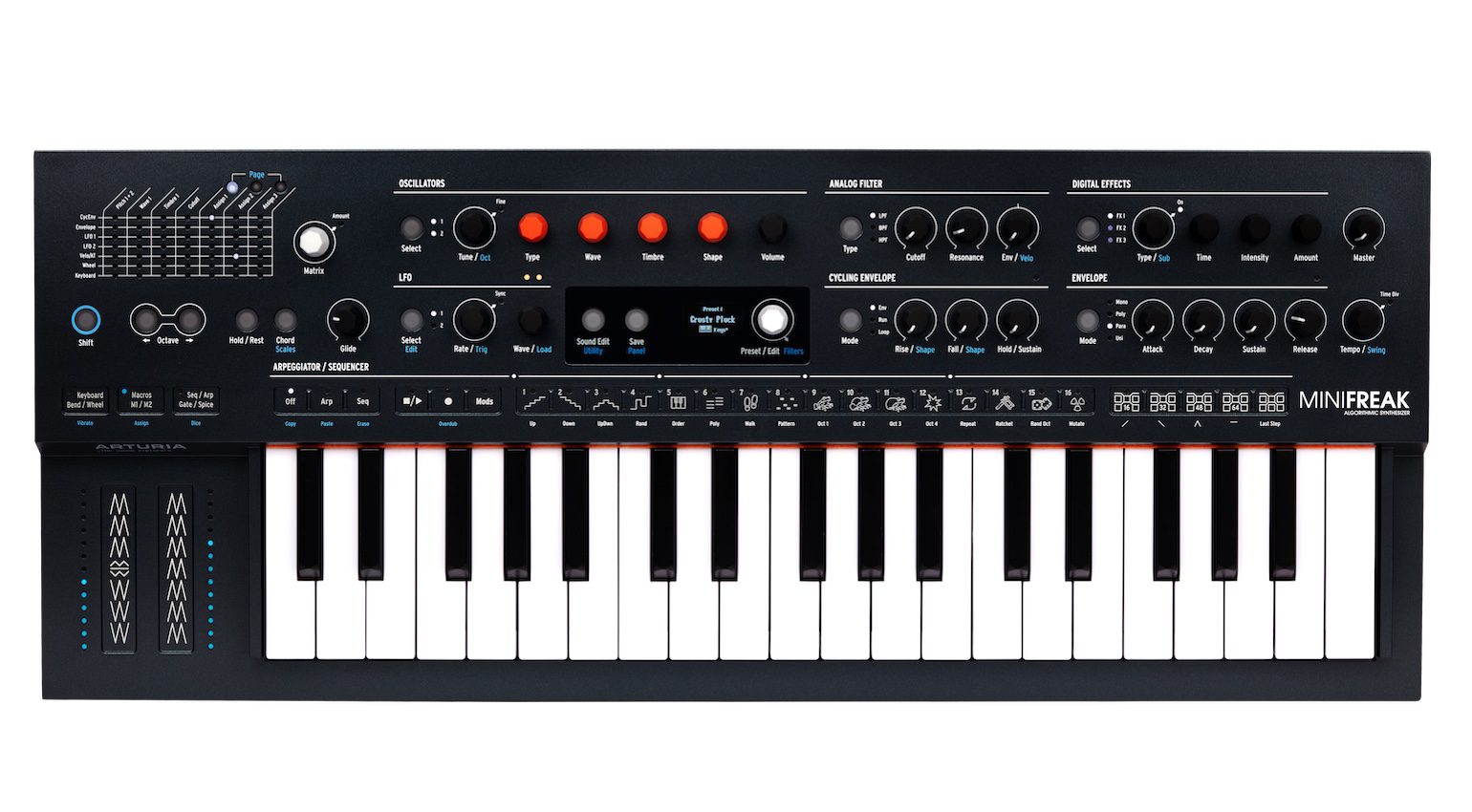 Modulation
As you would expect from Arturia, MiniFreak includes a wealth of customisable modulation and manipulation tools. These are all accessible via an expanded modulation matrix featuring FM, ring modulation and customisable multi-segment LFO shapes.
It also features polyphonic ADSR envelopes, as well as retaining the Spice and Dice randomisation from the original MicroFreak. MiniFreak comes with stereo outputs and 3 digital FX slots. Each of those slots can be filled with one of 10 built-in Arturia FX that include rich choruses, 3-band EQ and distortion.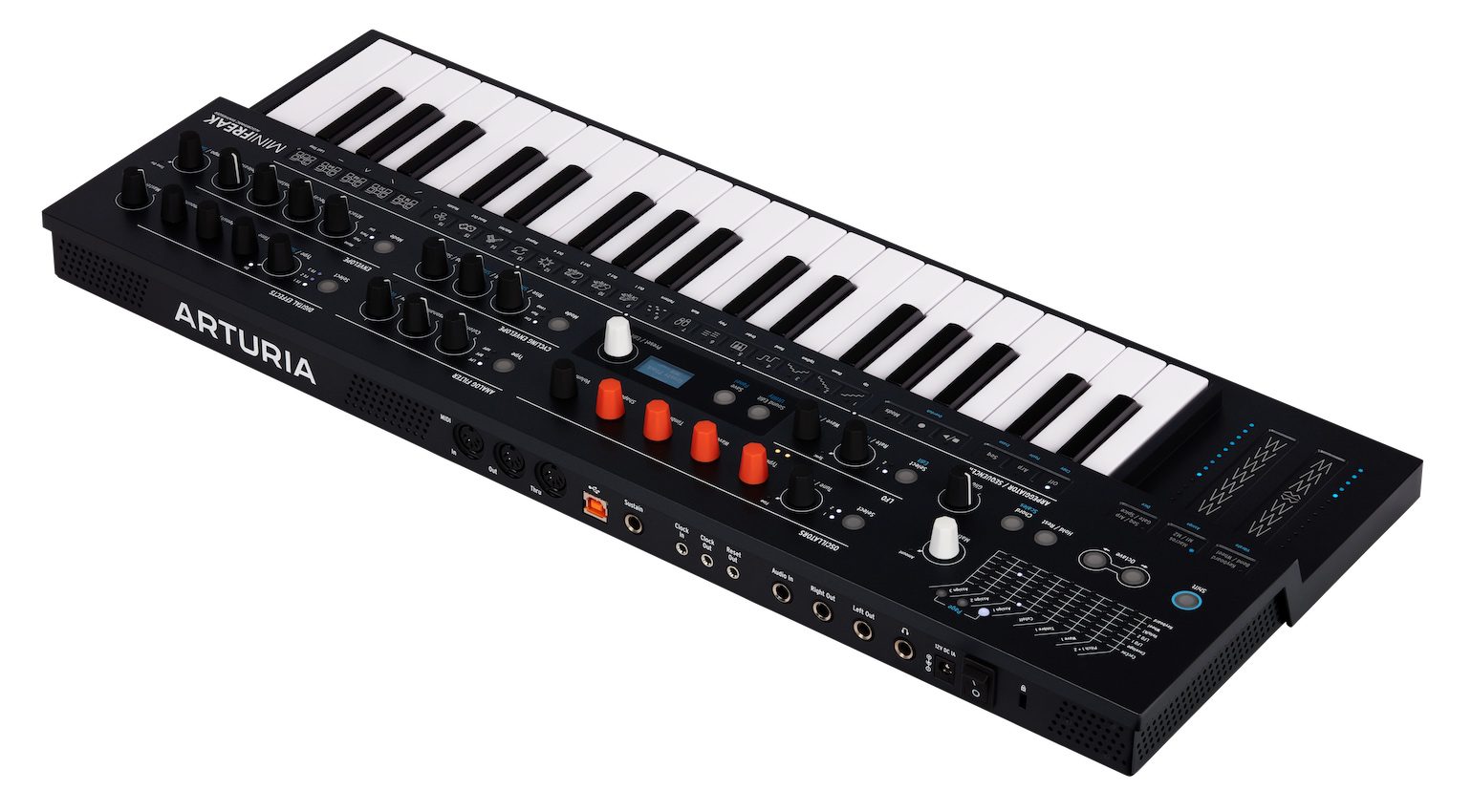 MiniFreak Goes Virtual!
In a first for an Arturia hardware synth, MiniFreak owners will receive a dedicated VST plugin version of the synth! The plugin is a complete replication in software of the MiniFreak's sound engines, filters and presets. It will also allow you to control your MiniFreak from your DAW. Truly the best of both worlds!
MiniFreak will undoubtedly appeal to those who didn't get on with its smaller sibling's lack of real keys. It will also broaden the appeal of the Freak's way of doing things. What remains to be seen is if Arturia has hidden any features in MiniFreak to be revealed later. Remember when they surprised us all with the MicroFreak's vocoder functionality?
Arturia's MiniFreak is on sale now.
UPDATE: MiniFreak V is now available for all MiniFreak hardware owners. Check out Robin's thoughts here
More Information
Image Sources:
Arturia MiniFreak: Arturia
Arturia MiniFreak: Arturia
Arturia MiniFreak V : Arturia
Arturia MiniFreak: Arturia