Arturia deals: V Collection 8 and FX Collection 2 available at 50% off
Expired
Between January 27 and February 7 2022, Thomann is having a sale on both Arturia collections with 50% taken off the manufacturer's suggested retail price (MSRP). So here's a chance to grab hold of them with a proper discount!
Arturia V Collection 8 and FX Collection 2 are fantastic products to own. Especially the former, which I consider an essential purchase for synth enthusiasts working in the box. The latter, I find a really solid line-up of classic studio effects which advanced producers may already own in some form but make for a great starter/for completeness's sake product.
Arturia V Collection 8
Arturia keeps doing an exemplary job of emulating classic synthesizers while pushing their capabilities into modern territory. V Collection 8 added three brand new synthesizers to the fold, along with the previously released OB-Xa V. This brings the total number of keyboards in the collection to a whopping 28. Among the new synths are Jun-6 V (based on the Roland Juno 6), Emulator II V (based on the vintage sampler from the 80s), and Vocoder V (based on a classic 16-band vocoder and string machine). The latest update (version 8.2) introduced support for Apple M1 processors, GUI enhancements for high-resolution screens, 2x faster preset loading, and microtuning for several synths (Clavinet V, Stage-73 V, Piano V, and DX7 V.)
You can purchase Arturia V Collection 8 at 50% off from the affiliate widget below:
Arturia FX Collection 2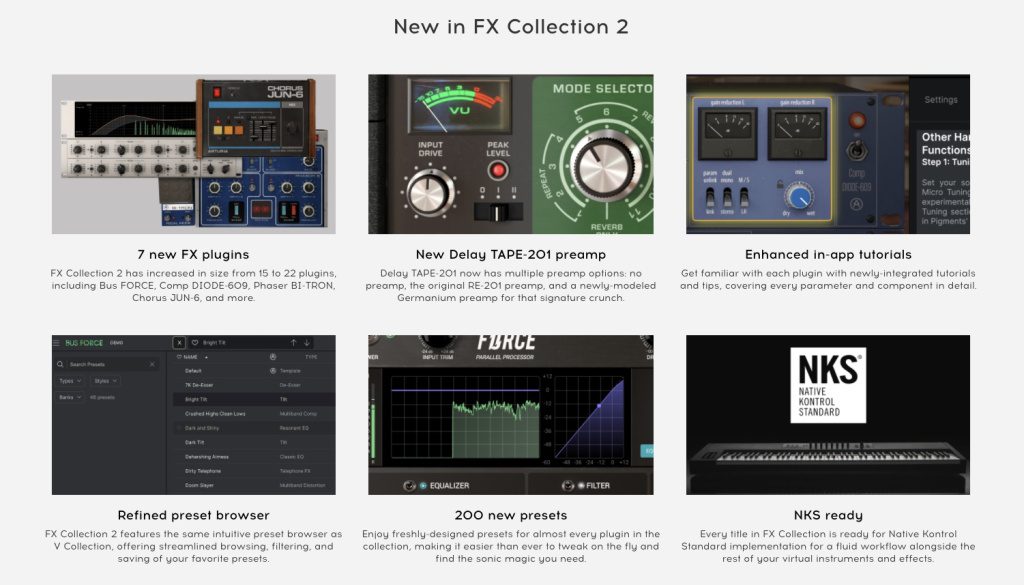 The effects bundle pulls together 22 takes on revered outboard gear, console components, and effects pedals. There are at least three plug-ins in each of the Mix Bus, Modulations, Compressors, Delays, Reverbs, Preamps, and Filters category and it's all killer no filler. FX Collection 2 introduced 7 effects to the original 15. Among the additions are Bus FORCE, Comp DIODE-609, Phaser BI-TRON, and Chorus JUN-6. The Delay TAPE-201 effect gets a new Germanium preamp model. Also new are a refined preset browser, enhanced in-app tutorials, and 200 additional presets.
You can purchase Arturia FX Collection 2 at 50% off from the affiliate widgets below:
More information
Arturia V Collection 8 Video
Arturia FX Collection 2 Video
Image Sources:
Arturia V Collection 8 deal: Arturia
Arturia FX Collection 2 deal: Arturia