Ampeg Venture Series bass amps with SGT
With Super Grit Technology and matching cabinet range
The Ampeg Venture Series has just been announced and comprises a set of solid-state analogue bass amp heads in various wattages. Including the V3, V7, and V12 heads and the VB-112, VB-115, VB-210, VB-212, and VB-410 cabs.
Venture Series
This new Ampeg Venture Series range of amp heads comes with a 3-band EQ with sweepable mids, Ultra Hi, and 3-way Ultra Lo switches.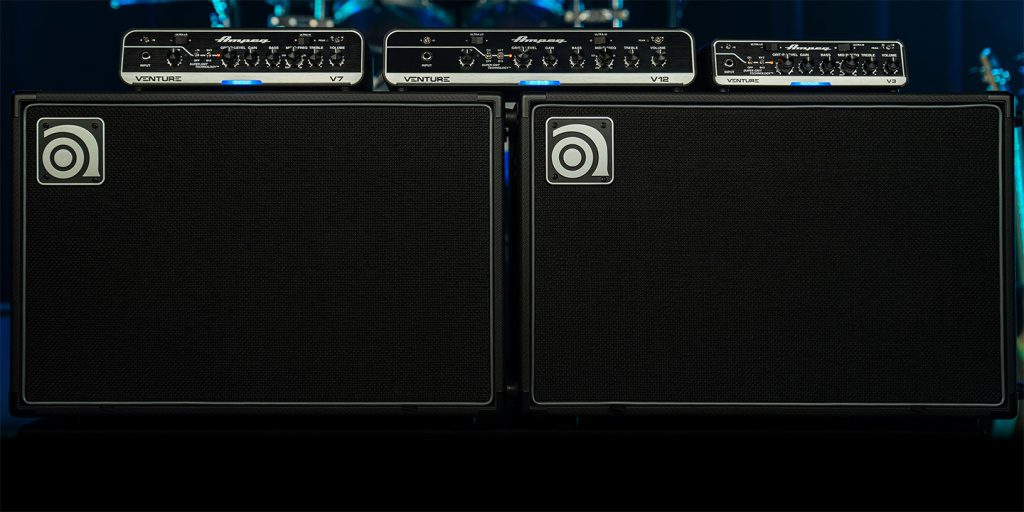 Super Grit Technology
Along with a Variable High-Frequency Attenuator that adjusts the high-frequency level coming from the horn.
Plus a foot-switchable enhanced Super Grit Technology (SGT) Overdrive circuit with SVT/B15 voicings.
Wattages
The V3, V7, and V12 heads are rated at 300 watts, 700 watts, and 1200 watts respectively. Giving bassists a solid choice of outputs to choose from.
The V3 weighs 1.8 kg, the V7 3.1 kg, and the V12 3.8 kg. Making these lightweight and powerful, perfect for working musicans.
Class D
Each head consists of a Class D amp with professional outputs on Speakon, plus an effects loop (the V7 and V12 add a Mix control to this as well) and a Balanced XLR DI out. This DI out can be pre- or post-EQ and has a Ground Lift and a 0/-20dB switch.
The two larger models also feature a built-in compressor to help keep your signal punchy and under control.
There is also a 3.5mm Aux input and a full-sized headphone jack output on the rear.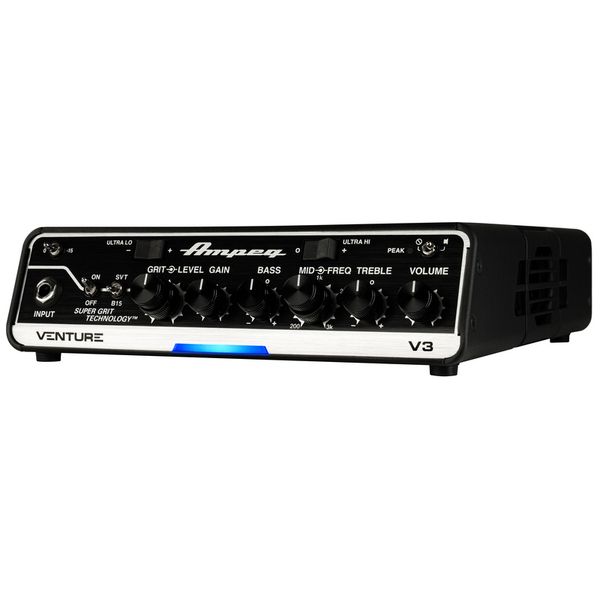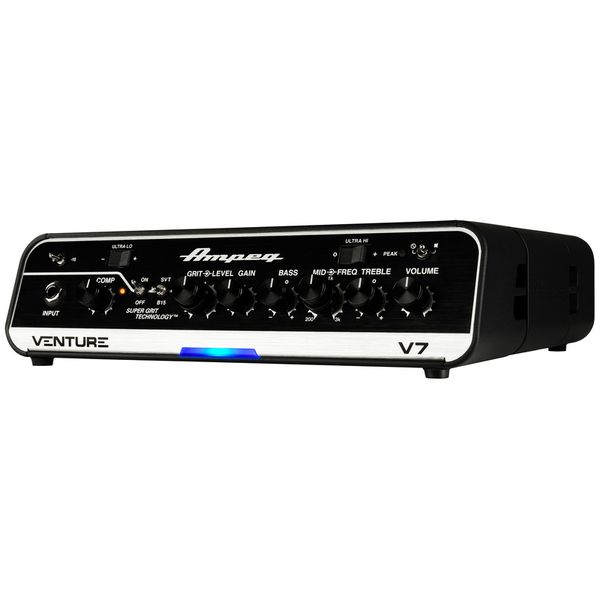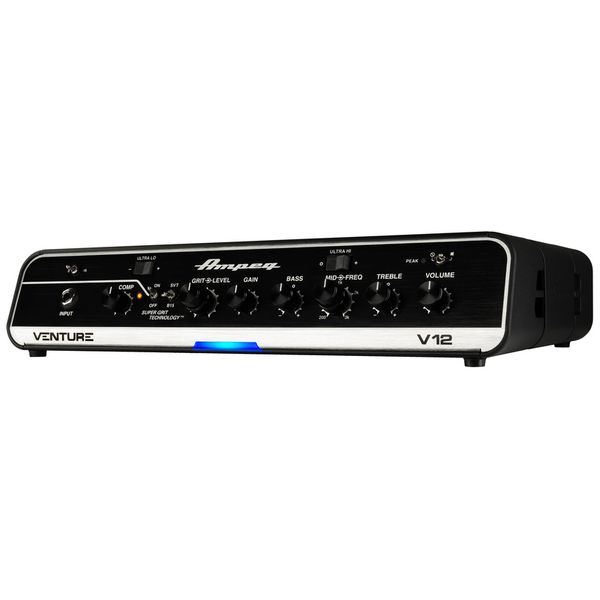 Cabinets
These new amps can be paired with a range of cabinets, including the VB-112, VB-115, VB-210, VB-212, and VB-410. They come in all the standard configurations and contain custom-voiced Lavoce neodymium woofers and high-frequency drivers.
Venture VB-410: 600 Watt RMS / 19 Kg
Venture VB-212: 500 Watt RMS / 18.1 Kg
Venture VB-210: 300 Watt RMS / 12.7 Kg
Venture VB-115: 250 Watt RMS / 15.4 Kg
Venture VB-112: 250 Watt RMS / 12 Kg
More Information
Video
This post contains affiliate links and/or widgets. When you buy a product via our affiliate partner, we receive a small commission that helps support what we do. Don't worry, you pay the same price. Thanks for your support!
Image Sources:
Venture-amps-hero-1440: Ampeg
SGT Drive: Ampeg
Venture V12 head: Ampeg
Venture Cabinets: Ampeg
Ampeg Venture V3: Thomann
Ampeg Venture V7: Thomann
Ampeg Venture V12: Thomann
Ampeg Venture VB-112: Thomann
Ampeg Venture VB-115: Thomann
Ampeg Venture VB-210: Thomann
Ampeg Venture VB-212: Thomann
Ampeg Venture VB-410: Thomann