Zoom announces the R12 MultiTrak: digital porta-studio with FM synth!
The Zoom R12 MultiTrak is the Japanese manufacturer's newest announcement. It's a portable project studio with some modern features borrowed from the Zoom R20. The R12 provides an intuitive color touchscreen and has on-board 8-channel recording and editing. But there's more…
Zoom R12 MultiTrak
As a downsized Zoom R20 (read more), the R12 offers dual XLR/jack combo inputs and 8-track recording directly to SDHC or SDXC cards (up to 1TB). The device can be powered by an AC adapter (included), 4 AA Batteries, or a USB power bank.
The unit can also import audio files from an SD card or USB stick so you can bring existing tracks and samples into your project.
Notably, the Zoom R12 MultiTrak also carries an internal FM synthesizer with 18 sounds, 1 drum kit, and 150 patterns. You can play it from a MIDI controller hooked via USB-C or program sequences from the touchscreen.
Moreover, a new Sequence Play function is present where you can create playlists of projects to be used as backing tracks.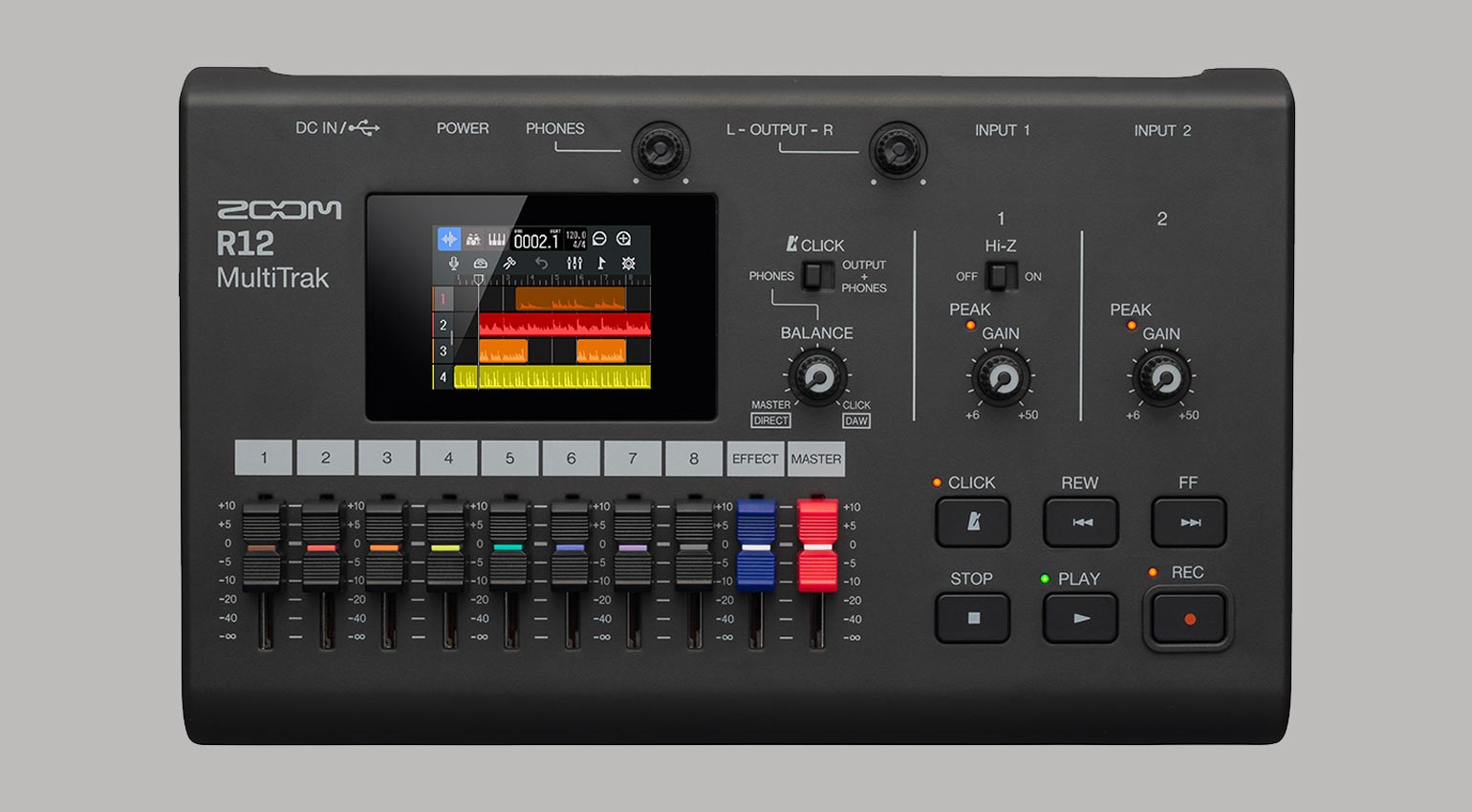 The available onboard effects include EQ, compressor, gate, and Zoom's MFX DSP processor (compatible with the Guitar Lab software). The unit includes a send effects channel with reverb, chorus, and delay along with a dedicated effects return fader.
The R12 also has panning and a 3-channel EQ available for each track, along with a compressor on inputs 1 and 2.
Also found in the Zoom R12 Multitrak's bag of tricks is a 2-in/4-out USB-C audio interface and DAW control Surface with transport and fader functions. The unit is compatible with Mac and PC. Smartphone users can also plug in iOS devices to use the optional R12 Control App.
The unit's battery life on 4 AA batteries is rated at 5 hours. Another useful feature is the built-in metronome with monitor blend control.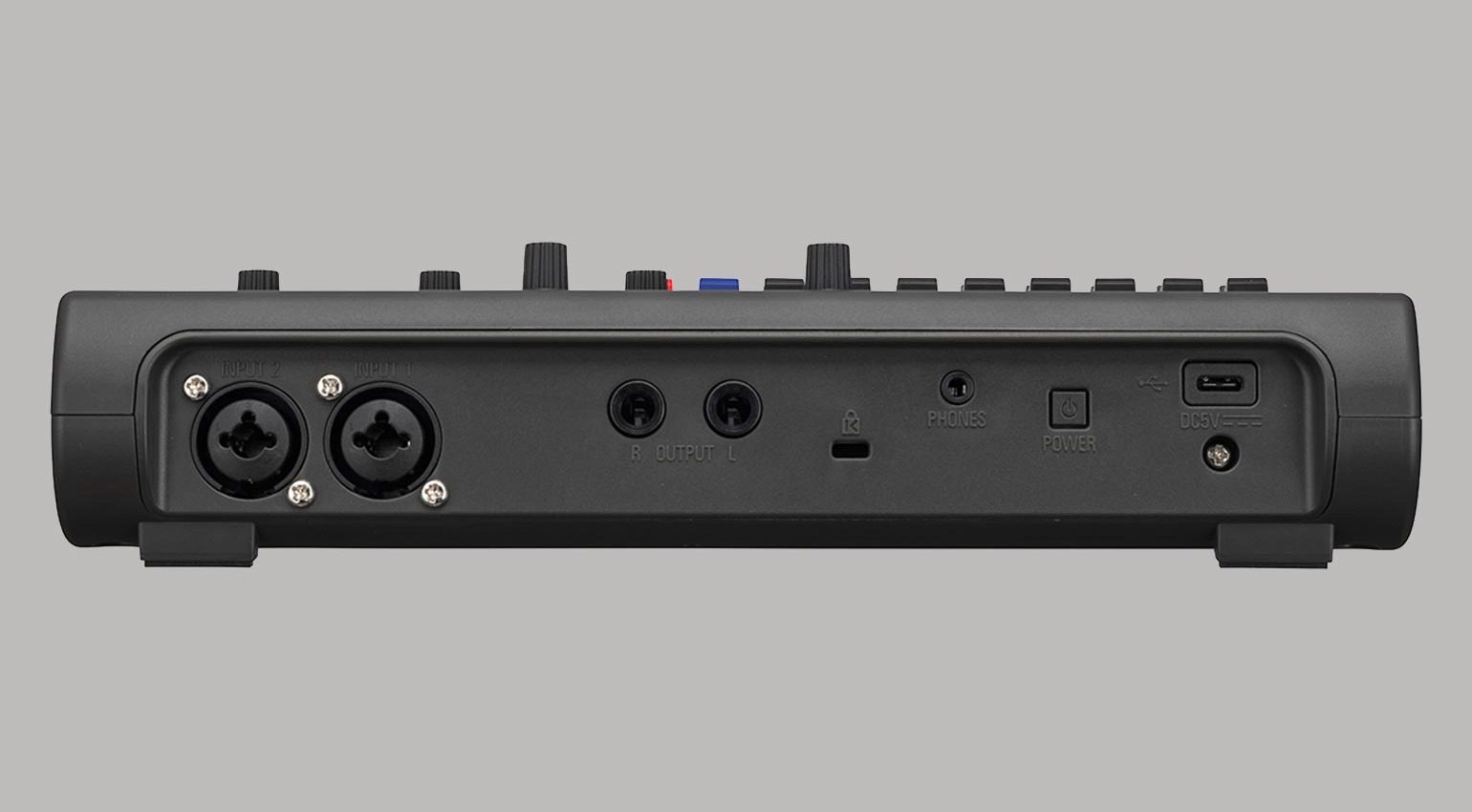 In terms of studio connections, the R12 includes a stereo headphone jack and dedicated TS/TRS monitor outputs. Input 1 on the R12 has a Hi-Z switch to connect guitars to the recorder. Of course, both R12 inputs offer 48V Phantom Power for condenser microphones as well.
Zoom R12 MultiTrak – Price and availability
The Zoom R12 Multitrak will ship in Q4 2022. The price has not been announced yet. The unit will be sold by Zoom dealers worldwide, such as our affiliate partner Thomann *. The scope of delivery will include the unit, the AD-17 AC Adapter, a USB Cable, and Quick Tour Guide.
Learn more
Video
* This article contains affiliate links to help us fund Gearnews. If you buy something through these links, we will receive a commission. Don't worry, the price for you always stays the same. Thank you for your support!
Image Sources:
Zoom R12 MultiTrak front: Zoom
Zoom R12 MultiTrak rear: Zoom