Top 5 software synthesizers 2018
We've been harnessing the power of the computer to generate interesting sounds now for quite some time. But there doesn't seem to be any sign of innovation and creativity slowing down in terms of the sort of sound generation that can be pulled from software. While the hardware heads revel in the limitations, the possibilities in software seem to know no bounds. Here's my pick of the best software synthesizers that have emerged this year.
Propellerhead Europa VST
It's one of those things that Propellerhead said they would never do. But I feel the relaxation of their views on VST brings nothing but positivity to the makers of Reason. And one fabulous result is that they have released their flagship Reason synthesizer as a VST Instrument so that everyone can enjoy it. It's a huge spectral wavetable synthesizer with 3 sound engines, 30 wavetables and models and 24 filter types. Plus there's a load of modulation and effecting possibilities. The visual envelope designer and modulation matrix gives you immense control over how the sound evolves. The spectral filter and harmonics section is ridiculously good and you'll lose hours morphing between waveforms.
If you fancy trying it out there's an online version that will run in your browser, for free. Otherwise it's $99 or if you're already a Reason 10 user then Propellerhead have given it to you for free. Hopefully, this may mean more of Reasons synths will make into the VST ecosystem.
Spectrasonics Omnisphere 2.5
Omnisphere 2 was already a stunning synth. A swirling soundscape of eternally evolving textures, rhythms and environments that could swamp you in sound. Version 2.5 adds something really interesting. I didn't understand it at first, I thought they'd added support for hardware control, like from a MIDI controller, which is a basic requirement of every software synthesizer. But no, this is about adding direct hardware control from a range of hardware synthesizers. So you've got a Moog Sub 37 – all the knobs will be automatically mapped to Omnisphere. You've got a Korg Minilogue – same deal. Direct hardware synth integration. It supports synths from DSI, Roland, Korg, Moog, Behringer, Novation and more to come. Each hardware profile also comes with a shed load of presets that were made using that hardware. It's an unexpected take on software and hardware interaction that takes this phenomenal software instrument to another level.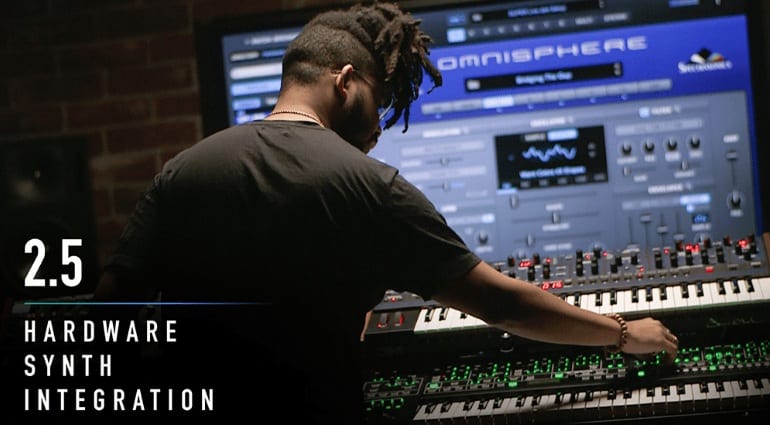 2.5 also brought a couple of other things like it's now 4 layers per patch, the modulation matrix is twice the size, new variable state filters, 8 LFOS and 12 envelopes and completely free to 2.0 users.
Arturia V Collection 6
As we hit version 6 we find that Arturia's collection of classic and vintage synthesizers and instruments just keeps on getting better. Building on the 17 instruments from version 5 they now add 4 more diverse and enticing instruments that are worth the ticket price by themselves. Well, three of them anyway.
First up is a Buchla Easel, the suitcase-sized modular Music Box from 1973. It's semi-modular, patchable, experimental and designed for exploring sound, tone and noise in very cool West Coast ways. It's a beautiful and complete instrument that's still in huge demand. Arturia couldn't help themselves and have added to it a little. They've built in a "Gravity" physics-based synth engine for modulation by collision and bouncing – sublime.
Then they tackled the Yamaha DX7, a digital synthesizer so iconic that it makes you wonder why it wasn't there in the first place. They've opened up and simplified the interface and expanded the possibilities with a modulation matrix, extra waveforms, a second LFO, effects and a sequencer.
Next is the Fairlight CMI, the Godfather of samplers, the original music production revolution of the 1980's. You'll recognise a lot of the sounds in this machine. Arturia has expanded the multitimbrality and polyphony, added real-time waveshaping and a wavetable generating synth engine.
Lastly, they've added a Clavinet which maintains the slight disjointedness of having some old piano-type instruments in amongst these very cool synths. But that's now 21 instruments in this extraordinary bundle, 1000's of presets, so much sound to play with.
VCV Rack
This may have been around a little longer but it's really come into its own in the last 6 months or so with version 0.5 and 0.6 – and yes it's essentially still in beta. VCV Rack is a virtual modular system based upon the Eurorack format. It's largely free and open source and has been embraced by a whole community of developers eager to design modules for it. The result is a stunning array of sonic possibilities built on concepts of CV control, gates, triggers and modulations. You could learn everything you ever need to know about synthesis inside VCV rack.
Rob Papen Go2
You could see this one as an unusual choice. Rob Papen is famous for his range of deep dive software synthesizers, full of complex textures and cutting lead lines. There deeper and more comprehensive choices but that's exactly why I like Go2 so much. Go2 is Rob Papen' synthesizer for beginners, but what that actually means is that it's a software synth with sensible and intuitive controls that doesn't boggle you with complexity. It has the same sort of sound engine and quality of the bigger synths but you are more likely to have fun playing with this one. And it still has more in it than most virtual synths.
Everything is on the front panel, you've got wave morphing, XY pad control, instant detuning, gravity fed modulation, multi-mode filtering and a modulation matrix. It can handle 16 notes of polyphony, it has an arpeggiator with a chord mode and a bunch of effects at the end. It's that Rob Papen sound without the complexity or the heavy price tag.
Top synths for your computer
Those are the virtual synthesizers that are really doing the business in 2018. What do you think? Please share your thoughts and recommendations down in the comments.
Image Sources:
Europa by Reason: Propellerhead
Omnisphere 25: Spectrasonics
Arturia V Collection 6: Arturia
VCV Rack: VCV Rack
Rob Papen Go2: Rob Papen