AES 2018: TC Electronic TC8210-DT & TC1210-DT bite-sized hardware/software combos
Hardware and software combinations provide the pleasant experience of tactile control over the unlimited possibilities offered in the digital realm. Thus, at AES 2018, TC Electronic announced a pair of hardware-software-combined recreations of vintage gear, for which the manufacturer has had a particular penchant as of late. These are the TC8210-DT reverb and TC1210-DT spatial expander. Both units are small format and honor the original hardware's layout, modernizing it for the studios and producers of today.
TC8210-DT
The unit is designed to do lush TC reverbs, and do them well. All important parameters, such as decay, color, and modulation are laid out on the front panel so that control becomes as intuitive as possible. It also features accurate input and output meters for monitoring audio directly on the hardware. The TC8210-DT, says TC, is able to preserve the natural characteristics of the source sound while contributing exemplary halls, rooms, and other simulated spaces. All audio processing is, of course, handled inside the DAW which means you can add as many reverb instances as you want (or your rig is able to process). The controller itself connects and powers itself over USB, making for a clean and uncluttered setup. It also comes with a load of presets custom-built by professional producers and audio engineers. The sounds are "record-ready", as TC puts it.
Price and availability
The TC-8210 will be sold at an USD 100 MAP in Q4 2018.
More information
Video
TC1210-DT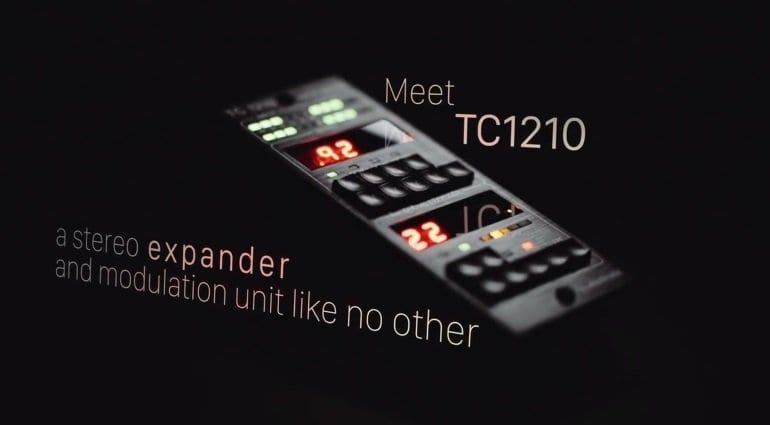 The TC1210-DT combines a spatial expander plug-in and dedicated hardware controller. It models the TC 1210 rack processor which has dynamic modulation, static widening, and psychoacoustic enhancements in its arsenal. There are two autonomous stereo chorus-flanger engines, known to be used by the likes of Eric Clapton, Aphex Twin, and Alex Lifeson. The hardware controller lays out all key parameters and has input/output metering alongside the "Sigma LFO meter" which measures modulation to help you fine-tune the effect. Like the 8210-DT before it, the unit is small format and USB-powered.
Price and availability
The TC1210-DT will be sold at an USD 200 MAP in Q4 2018.
More information
Video
Image Sources:
TC 8210-DT: TC Electronic
TC 1210-DT: TC Electronic