The Wizard Of IDM: How To Sound Like Aphex Twin
Over his career, Richard D. James aka Aphex Twin reached a level of cult status so rare for an artist in any style of music, let alone electronic music. His unique sound and constantly evolving approach made it always difficult to place him in one particular genre.
In the 1990s, terms like "electronica" were broadly used to describe virtually any style of music, from beatless ambient to the most aggressive industrial breakcore and beyond. Retrospectively, however, Intelligent Dance Music or IDM is more accurately used to group artists that aren't easy to define stylistically like Autechre, Boards Of Canada, Squarepusher, and Amon Tobin.
What makes up the Aphex Twin sound?
In a word, originality. James began collecting synthesizers in the mid-1980s and, as a teenager, his early productions were created largely without the influence of other electronic music at the time. In the years that followed, he began collecting records and DJing around the scene of his hometown in Cornwall, UK, which was relatively active for such a small region.
Rather than being inspired to exclusively recreate the sounds he heard on records, his passion to pursue a career in electronic music was fueled on a greater scale, and in 1991 he released his first EP entitled Analogue Bubblebath. From this point onward, James repeatedly reinvented his style and production methods, always choosing the path less traveled.
Roland System 100M
The Roland System 100M might not be a major sonic feature within the Aphex catalogue, but it was James' first synth he acquired in his early teens. Although vintage modular synths aren't necessarily the best for moving fluidly between instruments in a hardware setup, the System 100M would certainly have rubbed off on James creatively.
The System 100M was introduced in 1979 as a configurable selection of over 20 modules that you could put together in 3 different rack sizes. Although it was considered way ahead of its time, James wasn't that taken with the workflow and quickly moved on to synths like the Roland SH-101 and the EMS Synthi.
As a modern alternative, the System 1M offers a versatile semi-modular option for desktop, Eurorack, and 19-inch rack format.
Casio FZ-10M
The modified Casio FZ-10M was a main feature in the early Aphex Twin sound. This advanced 16-bit rack sampler with up to 36 kHz sample rate has incredible sound design potential for an instrument released in 1987. With its variable sample rate, it offers between 14.5 and 58 seconds of sampling time with 8-voice polyphony.
To make things more interesting, the FZ-10M features an extensive digital synthesis section. Apart from digital waveforms including the basic sawtooth, square, pulse, double sine, saw/pulse, and random wave, it also has 48 additive synthesis harmonics.
Using old-school samplers can be fun, but it doesn't always make for fluid workflows. As an alternative, the Polyend Tracker provides a perfect platform for getting a 90s IDM sound.
Roland TR-808
James used the 808 in many of his early tracks, either sequenced or sampled. However, his curious nature and background in electronics led to plenty of modifications to his 808 and many other pieces of gear too. The only one he kept untouched was his Korg MS-20, a popular choice among many artists of the time.
You can hear James' hacked 808 distinctively in the breakbeat section of Xtal from his renowned Selected Ambient Works (85-92) album. The gritty texture could also be partly from being sampled to the FZ-10M. However, the pattern does sound unmistakably like the sequencer of the 808.
As an alternative, the Korg Volca Drum might not sound exactly like an 808, but it can certainly produce similar textured drum sounds.
Yamaha DX100
At age 15, Richard's mom Lorna bought him a DX100 that started his journey into FM synthesis. Looking back, it was the perfect gift for a kid learning about synths. Moreover, the inspiration likely led James to later acquire and use the larger and far more advanced DX7.
The DX100 has some great standard patches, but it's extremely limited in terms of sound design. So no filters, arp, effects, or anything programmable. It does, however, have the mysterious "Parameter 13" that can produce some wild and unexpected results.
Luckily, these days you wouldn't need to go back to a DX100 for decent FM sounds. Instead, the Reface DX offers most of what it can do in a similar form factor.
Alesis Quadraverb
The Quadraverb can be heard all over the early Aphex Twin productions from the late 1980s and beyond. It's a versatile 16-bit 44.1 kHz digital reverb released in 1988 with plenty of creative effects processing options.
For starters, you can layer up to four effects simultaneously and easily control multiple parameters in real-time via MIDI. It goes without saying that the Quadraverb was groundbreaking at the time. Its tasty collection of reverbs, delays, EQs, and pitch shift effects provides a wide scope of possibilities.
In a modern context, you can create similar immersive ambient effects with pedals like the Empress Reverb and the Hologram Electronics Microcosm.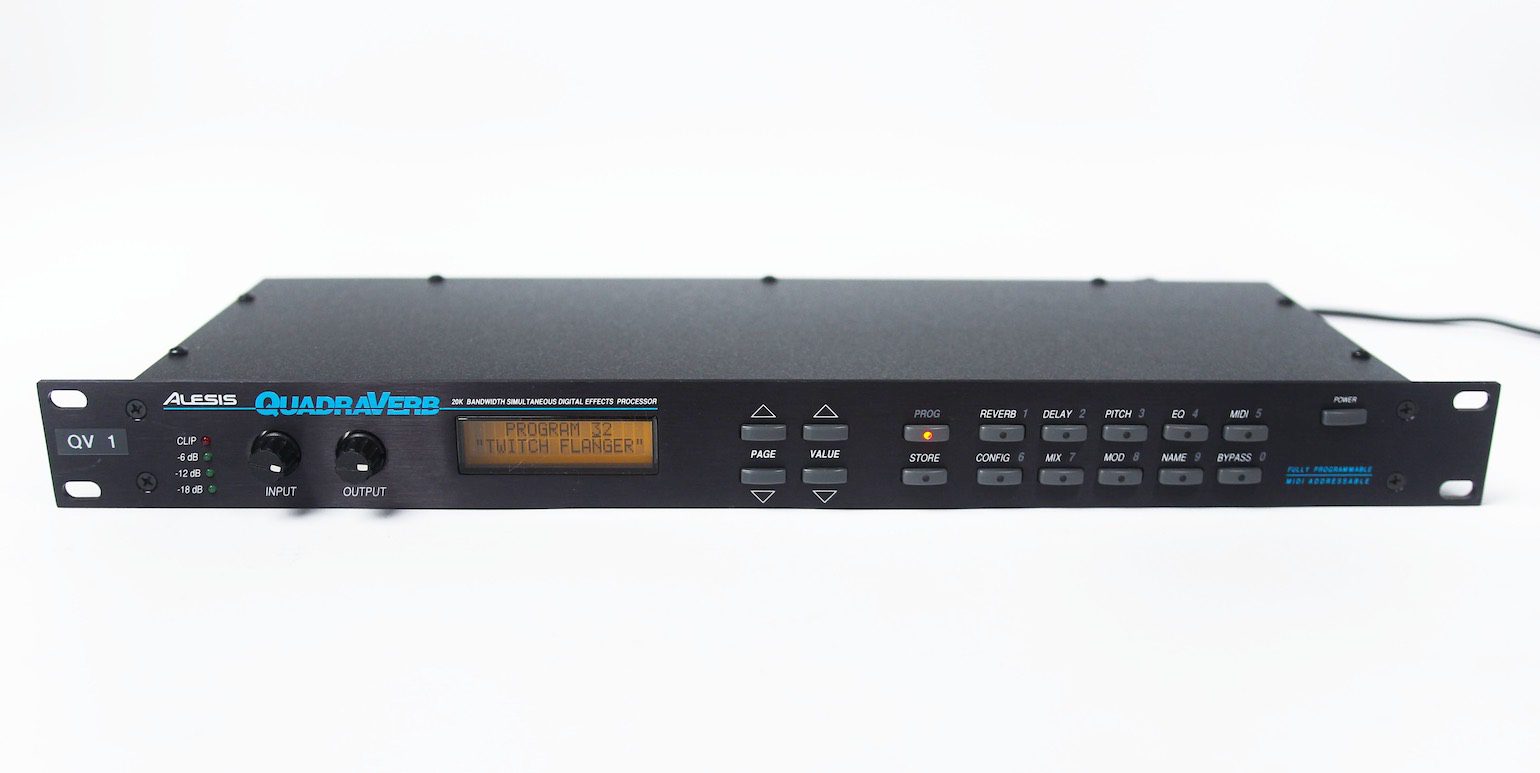 Which of your favourite artists would you like to see in our sound-alike series? Please let us know in the comments below!
More about Aphex Twin:
Videos:
*Note: This article contains promotional links that help us fund our site. Don't worry: the price for you always stays the same! We will receive a small commission if you buy something through these links. We appreciate your support!
Image Sources:
Roland System 100M: Amazona
Casio FZ-10M: Amazona
Roland TR-808: Roland
Yamaha DX100: Matrixsynth
syntaur: Syntaur