The Novation FLKey 49 and 61 make FL Studio even more fun
Expanding the FLKey controller range, the Novation FLKey 49 and 61 are two new controllers designed specifically for use with FL Studio.
Of course, Novation is not a new name in DAW controllers, and these follow a similar direction to the popular Launchkey MK3 series with eight knobs, nine faders, and 16 trigger pads as well as transport controls.
Novation FLKey 49 and 61
The FL Key controllers have been created to streamline your workflow in FL Studio, from selecting instruments and recording performances to programming the step sequencer and triggering sample slices SliceX.
What's more, the knobs and faders give you hands-on control of the FL Studio mixer and the Image Line range of instruments and effects, with the ability to flip quickly through the preset library to find the sounds you need.
Creative features like different chord modes also become a great tool when you're looking for different ways to phrase your chord progressions. So, you can switch between fixed and scale chord modes, as well as a user-definable mode where you can save up to 16 chords.
You can be sure this is a release that FL Studio users have been anticipating, giving instant access to an already fluidly creative music production platform.
Pricing and availability:
The FLkey 49 and FLkey 61 keyboard controllers can now be pre-ordered from Thomann for delivery in 6-8 weeks.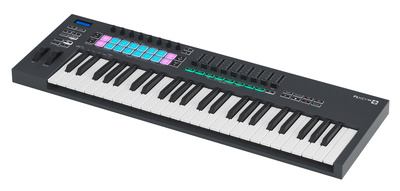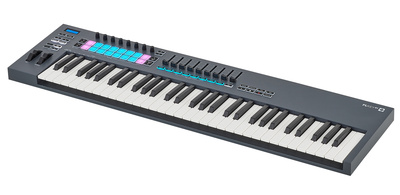 More about the Novation FLkey 49 and 61:
Video:
*Note: This article contains promotional links that help us fund our site. Don't worry: the price for you always stays the same! If you buy something through these links, we will receive a small commission. Thank you for your support!
Image Sources:
FLKey 49 and 61.: Novation