Novation announces FLkey MIDI controllers for FL Studio
Focusrite-owned Novation announced a new range of MIDI keyboard controllers. The FLkey Mini and FLkey 37 are fully integrated with FL Studio, a DAW which hardly needs an introduction at this point. Here's more about that and all else that makes the FLkey keyboards special…
Novation FLkey MIDI keyboards
The keyboards integrate essential FL Studio controls alongside ones for the DAW's musical features. For example, the FL Studio Step Sequencer and Channel Rack can be operated straight from the keyboard. Mixer controls are also found directly on the hardware. Other keyboard features include Scale and Fixed Chord modes to ease playability, preset browsing, and the ability to assign custom controls with Custom Modes. That's a welcome bit of customization for users deep into FL Studio.
FLkey Mini is a compact MIDI keyboard with 25 mini keys which Novation says are its "best mini keys to date". On the other hand, the FLkey 37 expands to a 3-octave keyboard with full-size keys and extra features, such as Channel rack control, Fixed Chord mode, and dual Chord modes. User Chords lets you play custom chords with a single finger and Scale Chord lets you play pre-defined chords in 8 different scales.
My experience with tightly integrated software and control hardware has always been positive. Having a tactile control surface designed for this exact purpose is a meaningful workflow improvement. Ol' me is a clumsy worker, though, and I tend to get by with lots of slow menu clicking and basic keyboard shortcuts leaving my fancy controllers of little use. Maybe it's because I first touched a computer long before I touched a musical instrument and I'm far too indoctrinated into the mouse + keyboard combo.
Price and availability information
The keyboards are modestly priced, as Novation gear tends to be. The FLkey Mini will be sold for EUR 92 (ex. VAT) and the FLkey 37 will be sold for EUR 193 (ex. VAT). They will be available in the days and weeks ahead.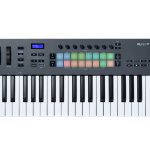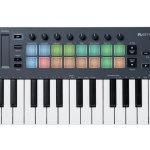 More information
Image Sources:
Novation FLkey Mini: Novation
Novation FLkey 37: Novation
Novation FLkey 37 in use: Novation