Superbooth 2017: buzz, noise and previews
Approximate reading time: 10 Minutes
(Latest update 19/04) Superbooth is turning into the stand-out music technology festival of the year. The quirky and intimate surroundings at FEZ Berlin lend an enormous amount of cool to what could be seen as a bit of a nerd-fest. It's an event that welcomes the electronics geek along with the artist, musician, wiggler and sonic adventurer. 
While it's stolen all the synthesizer and modular companies from Musikmesse just two weeks before, it's also started to attract other, more "pro-audio" firms, such as Avid, Dynaudio, PreSonus and even Zoom. Slightly weird for essentially a synthesis show, but this is the place where music technology is moving forward into a retro-future space and everyone is invited. So, you can keep your NAMM, your AES and even your MoogFest – Superbooth is where I want to be.
And I will be there, just for the day, next Saturday. So, in the run-up to the festival, I wanted to gather together some of the news, previews, buzz and noise that's starting to leak.
The Line-Up
First of all, check out the exhibitor list on the Superbooth website. There's a tonne of modular and synthesis companies, of course, everyone you'd expect and many more from outside Europe this time. Bitwig and Ableton are there, but so are Steinberg and Tracktion, PreSonus and Avid. The huge brands of Korg, Yamaha and Roland will all be present. I went to a SynthFest in Sheffield last year and Yamaha had their own room which was almost empty of people the entire time. Let's hope they get their act together. Software synthesis is also holding their own with Native Instruments, Arturia, Softube and Synthmaster among others.
What's also quite unique about Superbooth is the focus on presentations and workshops. Running all day, through all three days, is a programme of events all over the venue. From Yamaha demonstrating the Montage (yawn) to a DIY workshop hosted by Bastl Instruments. There are product demos, artist interviews, DIY workshops and seminars on a myriad of music and technology subjects.
But it's not just the gear, it's also about the performances. Threaded throughout the day and into the evening are concerts, live shows, installations and artistic noise making opportunities. This includes Tangerine Dream playing live on the shuttle boat that takes you back to central Berlin. It's an awesome event!
So, what's the buzz? Here's what I've heard so far and I'll keep adding to this article over the week leading up to the show.
Music Thing Modular have 4 and a half new modules being shown by Thonk
Tom Whitwell, the man behind Music Thing Modular, can't be there but he's shipped all his prototypes with DIY module shop Thonk who are showing a nice bit rack of stuff. The new modules are a headphone amp/mixer/LFO, a graphic EQ, Spring Reverb mk2, Magnetophon Tape Head module, and some development to their Chord module.
Here's Tom with all the details:
Touchkeys showing a new 2 octave keyboard
This came in via Twitter. Touchkeys produce overlays for piano keyboards to give them an expressive, multi-touch control surface. It's like adding ROLI functionality to an existing keyboard. It has tended to be for large keyboards and it's expensive and tricky to install to the point of being simpler to get a ROLI keyboard. Well, it looks like they've come up with a simpler and hopefully cheaper solution. It's 2 octaves of expressive control. The image gives me the impression it might be a prototype model. The tweet says it has CV control which is very interesting.
Novation new products leaked!
Sometimes it's fun, sometimes it feels a little sad when a cool new product leaks. It's awesome to hear about cool new stuff but you can feel the disappointment when a company gets their thunder stolen. It's all good though – new gear! Yay! The leaks came from the GearSlutz forum and also a Dutch music shop who seems to have put up the products a day too early.
So what are they? First the Novation Peak, an 8 voice desktop polysynth (read about it here) and second a BassStation II and Circuit mash-up called the Circuit Mono Station (read about it here). I'm looking forward to checking those out.
U-he showcasing their forthcoming Repro-5
A comment from Urs Heckmann on the Kvraudio forum over the weekend confirms that they are working on an emulation of the Prophet-5. They are calling it Repro-5 and are apparently reusing a lot of the code from their Pro-One emulation, Repro-1.
Animal Factory Amplification has something going on.
They have an image of a front plate design for something called "Coma Reactor" with some pretty alarming knob labels. And some videos of a prototype module along with their Songbird Tabletop Modular Synth. This all comes out of India and I've never come across them before. Looking forward to checking that out. All their information is on their Facebook page.
Moon Modular launching three new 5U modules
Moon Modular make large format, Moog modular sized 5U modules. They appear to be launching the M 517 Dual High/Low Pass Filter, the M 517 S Single High/Low Pass Filter and the M 569 LE Quad Lag Expander. More information on their website.
Native Instruments invite us to try out their "upcoming Blocks"
Is that new stuff, or just more Blocks for Reaktor 6? Either way we'd like to play.
#Berlin: Join the REAKTOR team at #Superbooth, & get hands on w/ the upcoming Blocks. Tix & schedule here → https://t.co/tISbgO9iFI pic.twitter.com/VKAJdH94Km

— Native Instruments (@NI_News) April 18, 2017
Soulsby to launch one new module and new software for the Oscitron
Soulsby Synthesizers are firmly into their take on Eurorack modules. They have a new AT-ARP which takes the arpeggiator algorithm from the Atmegatron and squeezes it into a 2HP module – that's a bit bonkers. There's 16 preset and 16 user patterns, a MIDI input, chord generation and all sorts. For the Oscitron they have new Oscidrum software which, you've guessed it, turns it into a drum machine. 8 parts, 16 steps, 8 user patterns. The front panel and programmer cable is available for your Oscitron for €19.
XAOC will be showing 6 new modules
A couple of these are already on their website but for the most part, these modules have not been seen before. There's the Tirana, a 4-step micro sequencer, the Tallin, a dual discrete VC amp, the Sewastopol audio port and voltage extractor, the Drezno binary conversion Komputer, the Lipsk inversion commander and the awesome looking Praga stereo mixing console. I never noticed how cool the names of their modules were.
Rossum Electro-Music
Masters of the impressive, chunky and deeply digital Eurorack modules Rossum Electro-Music will be showing their new Assimil8or. It's a multi-timbral phase modulation sampler and has never been seen before in public. This is sort of like the evolution of the E-MU sampler. Back in the 1990's when I was selling E-MU samplers in Turnkey music store you never would have seen this coming. It's got 8 independent channels of sampling! Can the Eurorack format cope with something this intense? More information here.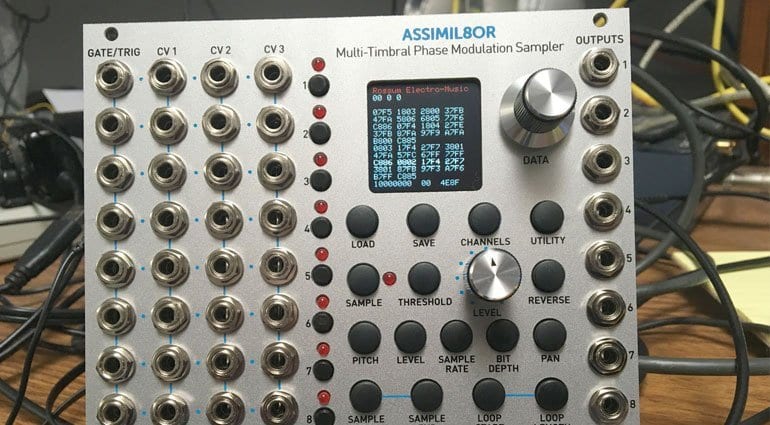 Rossum Electro-Music Assimil8or
Leaf Audio's new Microphonic Soundbox DIY kit
Leaf Audio will be running a couple of DIY workshops during the show, which is a really good opportunity to get your hands dirty playing with experimental noisemaking devices. They'll also be bringing along their Microphonic Soundbox which they'll be turning into a DIY project at workshops over the summer.
The sounds are definitely intriguing. More information here.
This Is Not Rocket Science – new modules
I think rocket science and whether something is or is not akin to it should be a matter of opinion and perspective. Anyway, This Is Not Rocket Science or TINRS, as they thankfully call themselves, have three new modules to share at Superbooth. They have the Tuesday Procedural Sequencer, the Wobbler LFO and the Edgecutter Envelope. Along with those is the BigFish synthesizer. I'm not sure I understand what this is as there seem to be images of a goldfish on a Eurorack module, but also a screen in portrait with some light-up knobs which looks nothing like the goldfish. Are they related? Who knows? It's all still under development and hopefully, all will become clear at the show. More information here. I'm not sure they've totally got their act together as all three images of the three new modules on the link I've just shared are of the same module. And the Edgecutter links to Tuesday – should someone tell them?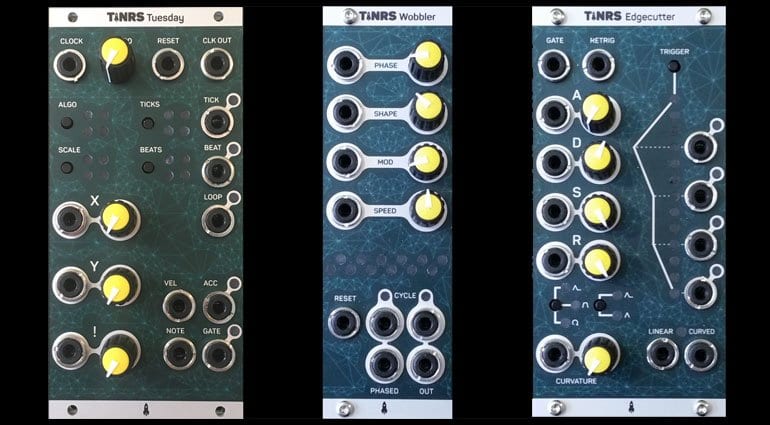 Sherman Filterbank 2 Compact
Sherman are introducing their new compact version of the Filterbank 2.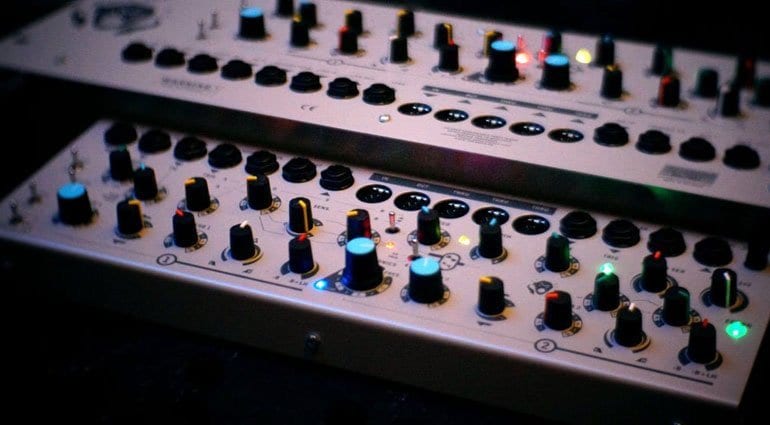 Behringer will be showing two new synthesizers
We've already seen images of their Minimoog Model D clone so we can assume that's one. But what's the other one going to be? (Source MatrixSynth).
Well it wasn't that, it was a DeepMind 12 desktop and a DeepMind 6 keyboard – a little disappointing actually.
Doepfer release a bunch of modules
Eurorack creators Doepfer are bringing a whole bunch of modules to Superbooth. Some are due for release shortly, others in the summer. Covering mixing, switching, MIDI conversion and even a tiny keyboard. Check out my article on them here.
Jomox AlphaBase Performance
Jurgen Michaelis, the creator of Jomox boxes of awesomeness, will be doing a performance on the prototype of their new AlphaBase drum machine workstation. More information here.
Winter Modular Eloquencer
The Eloquencer is an 8 channel "controlled chance" step sequencer. All we've seen of it so far is this Facebook video posted by Pau Cabruja of Winter Modular. Looking forward to checking it out in the flesh.
Ken MacBeth may be showing the new Exacta
It is rumoured that Ken MacBeth might be at the show with a new Exacta Synth with a keyboard that we mentioned back in January. No one has heard one yet so that might be quite a reveal.
FSOL Digitana SX-1 Synthi Expander
The SX-1 standalone expander will get its first public appearance at the show. We first saw details back in January but they've just released a sneak preview video announcing their presence at Superbooth.
AccSone Crusher-X 6
AccSone will be introducing their new granular synthesizer and effects plug-in. Acting on pre-recorded or live audio it's able to produce a wide array of soundscapes, drones, complex sounds and multi-channel effects. You can download the demo now or check them out at the show. More information here.
Asaden Ondomo
Asaden will be showing their remarkable Ondomo based upon the 1928 ondes Martenot electronic instrument. They've already sold out of their first run of 100 units so it's a rare opportunity to see it in the flesh. More information here.
Interview with Andreas Schneider
Here's an interesting interview with Superbooth organiser Andreas Schneider filling us in on what to expect. I didn't realise they had such an emphasis on kids and education. I happen to be bringing my 10-year-old son along on the Saturday and I wonder what he'll take away from it. Although there are concessionary tickets for students I didn't find any other reference to activities for children on the Superbooth website. Although I did discover that the venue, FEZ-Berlin, has some great parks and play areas around it.
I'll add more as they appear…