MacBeth Exacta Synthesizer emerges from Scotland
Approximate reading time: 1 Minute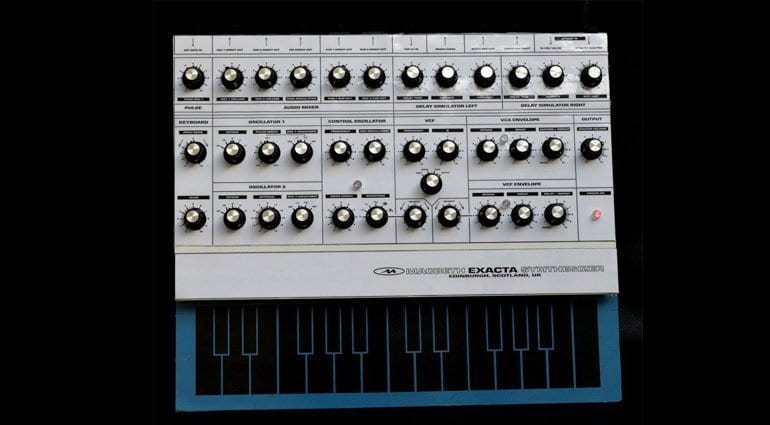 MacBeth Exacta Synthesizer · Source: https://www.facebook.com/photo.php?fbid=1563046493711132&set=pcb.1563046577044457&type=3&theater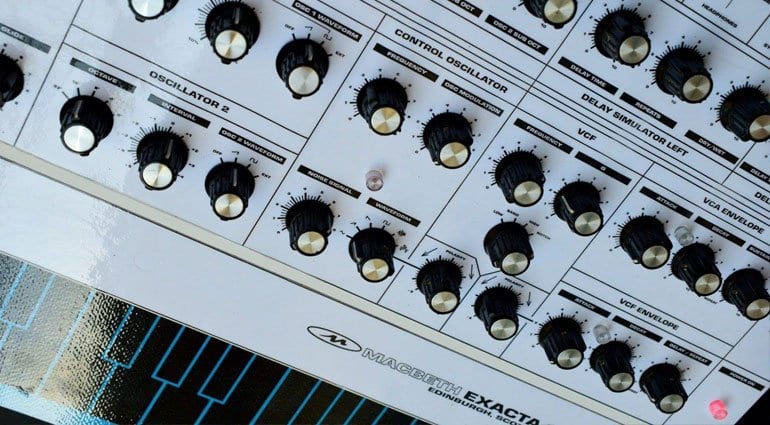 MacBeth Exacta Synthesizer · Source: https://www.facebook.com/photo.php?fbid=1563046493711132&set=pcb.1563046577044457&type=3&theater
MacBeth Studio Systems up in Edinburgh build vintage style synthesizers and modules. They use as many golden age components as possible to reach that authentic sound. Their MO is usually 5U and 3U modules, or desktop versions of them, and so it's with some interest that we see images of something a bit different in the "Exacta".
Exacta
On Facebook MacBeth founder Ken MacBeth posted three photos of the MacBeth Exacta Synthesizer. The layout is that of a Eurorack lunchbox, with a row of 3U modules and 1U processors. But this doesn't appear to be a bunch of modules. Instead, it looks like a prewired, normalled and complete synthesizer. It even has a Buchla style touch capacitive 2-octave keyboard built in.
Ken describes the post as being something that's happened after an "acid bath". He's probably referring to the creation of the PCB for this synth. It might also explain the slightly rough around the edges look to it. The front panel looks a lot like it's made from sticky backed plastic, and is probably a prototype bit of printed vinyl.
From the comments we can glean that the stereo delay is two of the Tape Delay Simulators from the Elements (a similar sized synth they released a couple of years ago). Ken says he built this over the holidays and any production model would be several months away.
For now, we're going to have to wait and see on the pricing and availability. Hopefully, SuperBooth '17 in Berlin in April will shed some light on it. More information on the MacBeth website and Facebook page.