StudioLinked Studio Rack is a no-frills, great-looking multi-effect plug-in to get stuff done
Approximate reading time: 2 Minutes
If you are at least an intermediate producer, slapping a general purpose multi-effects on your channel strips probably doesn't make much sense to you. But there's good value in such plug-ins – less experienced mixers will insert it and it will immediately make their audio sound bigger and more exciting.
They will start trying presets, tweaking them, and learning more about how each individual effect affects the output in its own special way. Meanwhile, more experienced producers can certainly appreciate the convenience of a good-sounding, cool-looking multi effect that saves them time in place of building an effects chain from scratch.
So let's give Studio Rack by StudioLinked a warm welcome. It's designed as a visually pleasing time-saver that comes with plenty of built-in effects and a boatload of presets ready to grace a budding producer's tracks.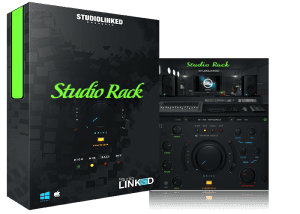 There are delay, reverb, chorus, drive, compressor, filter, and saturation effects – bread and butter stuff that works on anything and everything. They are exceedingly simple to tweak, offering just a single knob for most effects, or the very basic Gain and Mix sliders for the compressor and Cutoff/Resonance/Lo-Hi Pass controls for the filter. This may seem overly simplified, but sometimes it's all it takes to get the sound you're after.
As far as such plug-ins go, Studio Rack is priced affordably at $60. It's available as a 32 and 64-bit AAX, AU, and VST plug-in for Mac and PC platforms. Comparable products, such as ToonTrack's EZMix 2 or any version of iZotope Ozone, are priced quite a bit higher, though they offer more extensive functionality.
But with that comes a bigger learning curve as well. And having less options often leads to greater productivity. So a simple multi-effects like Studio Rack that's going to do the job for many novice producers doesn't seem redundant at all!  More information can be had here.