Squier rolls out new FSR Classic Vibe 60s Esquire models
With double bound bodies and a single alnico pickup
The new Squier FSR Classic Vibe 60s Esquire models look great. They have double bound bodies and a '60s style logo, so look very much the part. And don't be fooled by these single-pickup style guitars, as they have bags of tones on offer.
Squier FSR Classic Vibe 60s Esquire
The Squier FSR Classic Vibe 60s Esquire has a nato body and comes in Sunburst, Lake Placid Blue and Black finishes. As they are Sixties models, each has a bound body and back, which I think looks really nice. Especially on the Lake Placid Blue and Sunburst versions, as it really makes those two finishes pop!
Custom Esquire
The C profile maple necks have 9.5" radius Indian Laurel fingerboards with 21 tall narrow nickel frets. The necks are finished in a vintage tinted gloss that fits right in with the '60s aesthetic. The logo mimics that era as well.
Single Pickup
You get a single-coil Alnico pickup in the bridge position that is wired via a three-way switch, plus a single volume and tone control. With an Esquire, those three positions are normally wired as: pickup straight out with no tone control, pickup via the tone control and, finally, pickup via a fixed capacitor for a faux neck pickup tone. That is what, I'm presuming, we have here.
The hardware is nickel-plated throughout and fits the overall vibe of these instruments really nicely. You get the traditional '60s-style three steel saddle strung-through-the-body bridge, which I prefer. The '60s saddles are threaded, so the strings stay in place easily, unlike brass saddles which are normally smooth. There was a similar run from Squier of '50s style Esquire models back in 2019 that were very popular at the time. I think these models will be just as popular at least. The price is about right and the styling is very nice indeed. Or maybe I'm just a sucker for an Esquire.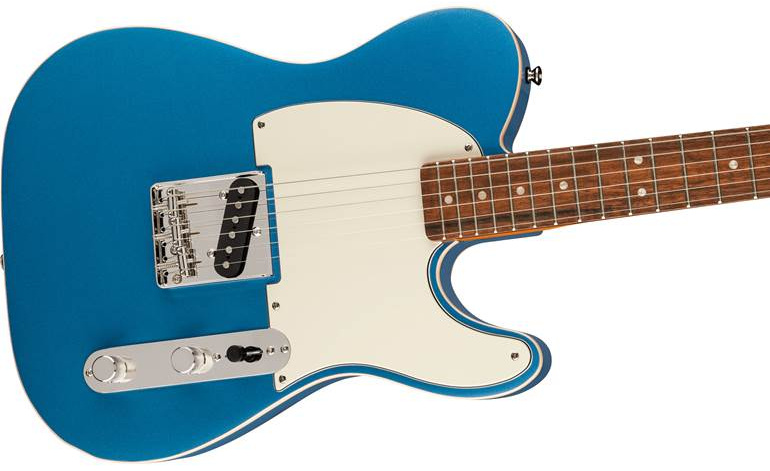 Squier FSR Classic Vibe Series
I own the '60s bound Squier FSR Classic Vibe Telecaster and it is a seriously good guitar. It holds up well against some of my other guitars at four or five times the price. Therefore, I am hoping these are as good as the one I own, which probably means I'll have to buy one of the Lake Placid Blue models when they come out!
Currently, you'll have to pre-order the Squier FSR Classic Vibe 60s Esquire, in case you're thinking about grabbing yourself one. I can't see them on the main Fender site yet, but I'm sure it will be updated soon.
More Information
This post contains affiliate links and/or widgets. When you buy a product via our affiliate partner, we receive a small commission that helps support what we do. Don't worry, you pay the same price. Thanks for your support!
Image Sources:
Lake Placid Blue: Thomann
Sunburst: Thomann
Black: Thomann
Squier FSR Classic Vibe 60s Esquire with '60s style logo: Thomann
Squier FSR Classic Vibe 60s Esquire Lake Placid Blue with bon body: Thomann