Soldano SLO Pedal: Boutique amp-like tone and feel?
Mike Soldano distils the SLO 100 tone into a stompbox
The new Soldano SLO pedal seeks to emulate the legendary SLO 100 all-tube 100-watt amp. But how close can this new circuit get to the original boutique high-gain amp?
Soldano SLO Pedal
Will this Soldano SLO pedal sound and feel like the real thing? Well, Mike Soldano himself is behind the project and so it has a good chance of doing the job. Back in 1987, Mike released the original Super Lead Overdrive, a 100-watt tube amplifier and it spawned a whole movement of boutique high-end amps.
Cascading Gain
The Soldano SLO pedal was developed with the same cascaded gain levels as the flagship amplifier and should therefore get that Soldano sound to your pedalboard. Controls for gain, volume, presence and a 3-band EQ on the front of the pedal mimic the original 100-watt tube amplifier.
Deep
The side–mounted deep switch ensures the deep bass punch of the amps. According to the manufacturer, you can cover a wide range of sounds with these controls from harmoniously rich crunch to one of the most famous high-gain sounds in history.
The analogue circuit consumes just 32 mA and can be powered via an ordinary 9 V connection. Making it pedalboard friendly.
What does the Soldano SLO pedal sound like?
Nowadays, many players shape their sound via pedals on the pedalboard, often they no longer even have a real amplifier. The idea behind this pedal is that you could in theory recreate a huge 10-watt high gain amp tone. Just at much more manageable volumes. Use a clean amp or go straight into your recording setup using this pedal.
The official demo video below sounds a bit lacking to my ear, but it could just be a poor representation of what this pedal is capable of in real life. The price is pretty cheap when compared to a full-sized boutique all-tube amp. But, it will only be worth it, if it sounds close to an actual Soldano SLO amp head.
Of course, we have already seen the Soldano SLO Mini amp heads, and they tend to get favourable reviews from owners and so this new pedal could be a winner.
MSRP – USD 229 / EUR 259 *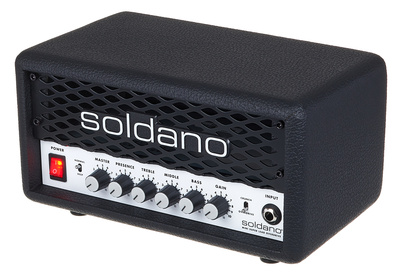 Soldano SLO-Mini Amp Head
More Information
Video
* This post contains affiliate links and/or widgets. When you buy a product via our affiliate partner, we receive a small commission that helps support what we do. Don't worry, you pay the same price. Thanks for your support!
Image Sources:
The SLO Pedal mimics the original Soldano amps: Soldano
Deep Switch: Soldano
Mini SLO: Soldano