Sequential renews the legend of the Prophet-5 and adds the Prophet-10
Approximate reading time: 3 Minutes
What?!? Sequential is bringing back the Prophet-5? And wait, there's a Prophet-10? What in holy analog synthesizer heaven is going on? (genuine reaction).
Prophet-5
How can this be? After 36 years they just decide to reintroduced the synthesizer that changed the world, the synthesizer I drooled over as a kid and still remains the synth I secretly desire out of all the other polysynths that came after it. Dave Smith has just changed the game by reaching back and pulling a legend back into being. He says that it will embody all three versions of the Prophet-5. It will use genuine Curtis analog VCOs and filters (Rev3), the original 2040 filter as well as a new 2140 low-pass filter designed by Dave Rossum.
The result is as pure a renewal of an analog classic as you could wish for, with the authentic, muscular sound of the original and the roadworthiness of a state-of-the-art modern instrument.
They've created a "Vintage Knob" that lets you dial in the crankiness of the earlier versions. They've researched every aspect of what made the Prophet-5 awesome and built it into the way the analogue components react to one another.
Poly Mod is there along with an enhanced Unison that can go up to 5 voices with variable detuning and chord memory. Even the Glide now works both in and out of Unison. There are 200 permanent factory presets including the original 40 from 1978 and room for 200 of your own. Out the back you have MIDI, USB and Gate and CV in/outs.
The Prophet-5 looks exactly like it should – like a Prophet-5, with steel and hand-oiled sustainable black walnut heartwood and a deceptively sedate look of simplicity and power. Wow, just wow.
Prophet-10
Dave Smith is not done yet. As far as I can work out the Prophet-10 is exactly the same as the Prophet-5 but with 10 voices. Back in the day Dave designed the Prophet-5 so that it could also be a 10-voice with an additional voice card but they had problems with stability and overheating. They ended up boosting the synth into the dual keyboard Prophet-10 to improve the situation. But this time around we're assuming the issues have been sorted and we find the new Prophet-10 in its original single keyboard form. Makes you wonder why they just didn't bump the 5 up to 10 voices – would that be ridiculous?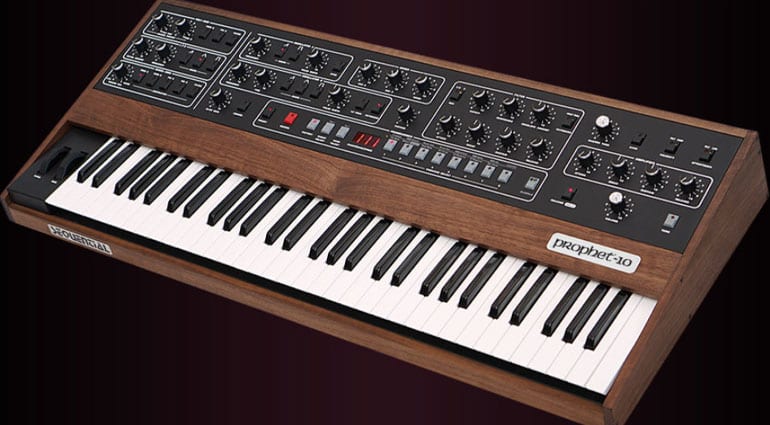 Sequential Prophet-10
Dave had said back on his birthday back in April that he was working on a new synthesizer and I guess this was it. It's his 70th birthday gift to the world.
I am blown away by the audacity of Dave Smith and what he's doing with Sequential. This isn't a clone or a reimagining this is the original company bringing back a much-cherished product in an uncompromising way and the synth community is going to go nuts.
Both models will be available in October. The Prophet-5 has a price of $3,499 or €3469 and the Prophet-10 comes in at $4,299 or €4265.
More information