Rode, Harley Benton, Focusrite: Deals of the Week
Deal
Monday is deal day at Gearnews! We've collected three of the best deals in recording! Harley Benton's JB-62CC Bass is not only one of the best entry level JB models. It's also on sale! And audio-interface heavyweight Focusrite Scarlett 2i2 3rd Gen is over 30% off! And for all your podcasting and live streaming duties, Rode Microphones X XDM-100 is 20% off!
Harley Benton JB-62CC Bass: Jazz Bass with seven colour options
Back in October 2022 when the Harley Benton JB-622CC was introduced, we were impressed by the variety of colors and the sound of the entry-level Jazz Bass homage. Their caramelized maple D-profile neck with a 12′′ radius laurel fretboard comes with twenty medium-sized frets. In addition, Roswell JBA-B/JBA-N Alnico-5 pickups give you plenty of range to shape your sound. The JC-62CC comes in seven colors: Sunburst
Shell Pink, Seafoam Green (in both right and left-handed versions), Olympic White, Lake Placid Blue, Dakota Red, and Black.
The whole range of Harley Benton JB-62CC Bass is down to 159€ from 179€ at Thomann* right now.
And while we're at it: Markbass Compressore, tube compressor for all your bass compression desires, is down almost 50%, at 199€ at Thomann*.




Harley Benton JB-62CC SFG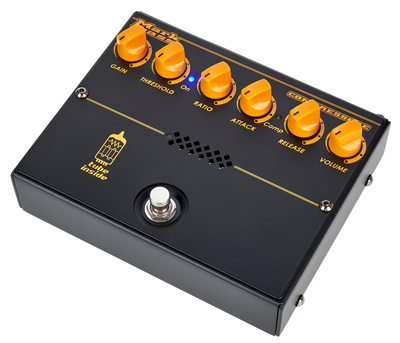 Focusrite Scarlett 2i2 3rd Gen: Most popular audio-interface
Few audio interfaces are as common among beginners as Focusrite's Scarlett series. Solid build, great sound, long-lasting – it's hard to find any fault in the six different Scarlett interfaces for beginners. The third generation brings an optional "Air" mode, which when engaged, adds a brighter sound quality to your recordings, when you connect your Rode mic for example. With the Focusrite 2i2 3rd Gen you'll get two combo inputs (XLR and line), USB-C connectivity and a 19kHz/24-Bit converters. What's even better is the fact Focusrite offers drivers not only for Windows and Mac, but also for Linux systems.
Focusrite 2i2 3rd Gen is 30% off right now and runs at 143€ at Thomann*.
Rode X XDM-100: For all your podcasting desires
Rode X XDM-100 is part of the X series from Rode aimed specifically at creators, gamers, and podcasters. USB-C connectivity, headphone output for direct monitoring, and an ultra-low noise Revolution High-Gain preamp make this large diaphragm mic perfect for live-streaming and gaming setups. In addition, a built-in DSP chip offers low latency noise reduction, a high-pass filter, a noise gate, and a compressor.  Included in the package is not only the mic, but also a 3 meter USB-C-to-USB-C cable. a shock mount, a foam pop shield, and a permanent license to the UNIFY software for streaming and recording scenarios.
Rode X XDM-100 is more than 20% off at 236€ from 299€ at Thomann*.
Soundcraft Signature 12MTK: 12 Channel Mixer with USB audio interface is down over 30%
If you're looking for a 12 channel compact mixer from one of the most recognized brands, look no further. Soundcraft Signature 12MTK is on sale this week and for the price, it's a steal! In total, you'll get 8 mono inputs and 2 stereo inputs, 3-band-EQs per channel, 3 aux sends, 60 Millimeter (that's 2,3 inches) faders, and dedicated mute and solo buttons per channel. In addition, a USB-audiointerface for all twelve channels is integrated so you can record every channel direct to disc.
Soundcraft Signature 12MTK is down more than 30% at 509€ at Thomann* right now.
More on Rode, Harley Benton, and Focusrite
* This post contains affiliate links and/or widgets. When you buy a product via our affiliate partner, we receive a small commission that helps support what we do. Don't worry, you pay the same price. Thanks for your support!