Rhodes, Universal Audio and IrcamLAB – software deals of the week
Deal
Our weekly software deals include plugins from Rhodes, Universal Audio, and IrcamLAB. Rhodes has finally made the official software version of its beloved instrument available. And Universal Audio has added the most expensive and oldest compressor to its lineup of native plugins. No DSP or Hardware needed! And the tools from IrcamLAB are both useful and unusual – worth a look! 
Rhodes V8 Pro and V8 – the classic arrives
You've probably heard it already: there is now an official plugin version of the original Rhodes MK8! It has been announced a while back and now it's available. Now you can take your beloved Rhodes sounds on the road on your laptop – at a cheaper price than the humungous hardware! And Rhodes went all in with this software version. More than 30.000 samples, 127 velocity layers, 14 different articulations, and even mechanical noises get this VST as close to the original as technically possible.
In addition, there is a carefully crafted Preamp section with EQ, Drive, and Panning settings. With the bigger pro version, you'll also get the effects compressor, delay, chorus, and phaser. Also exclusively in the pro version, you'll get extremely detailed settings per note.
Rhodes V8 Pro is on sale at Plugin Boutique* right now. The intro offer is €218.12 down from €297.18, almost 30% off! If you just need the normal Rhodes V8 version, you can get at its undiscounted price of €178.45 also at Plugin Boutique*.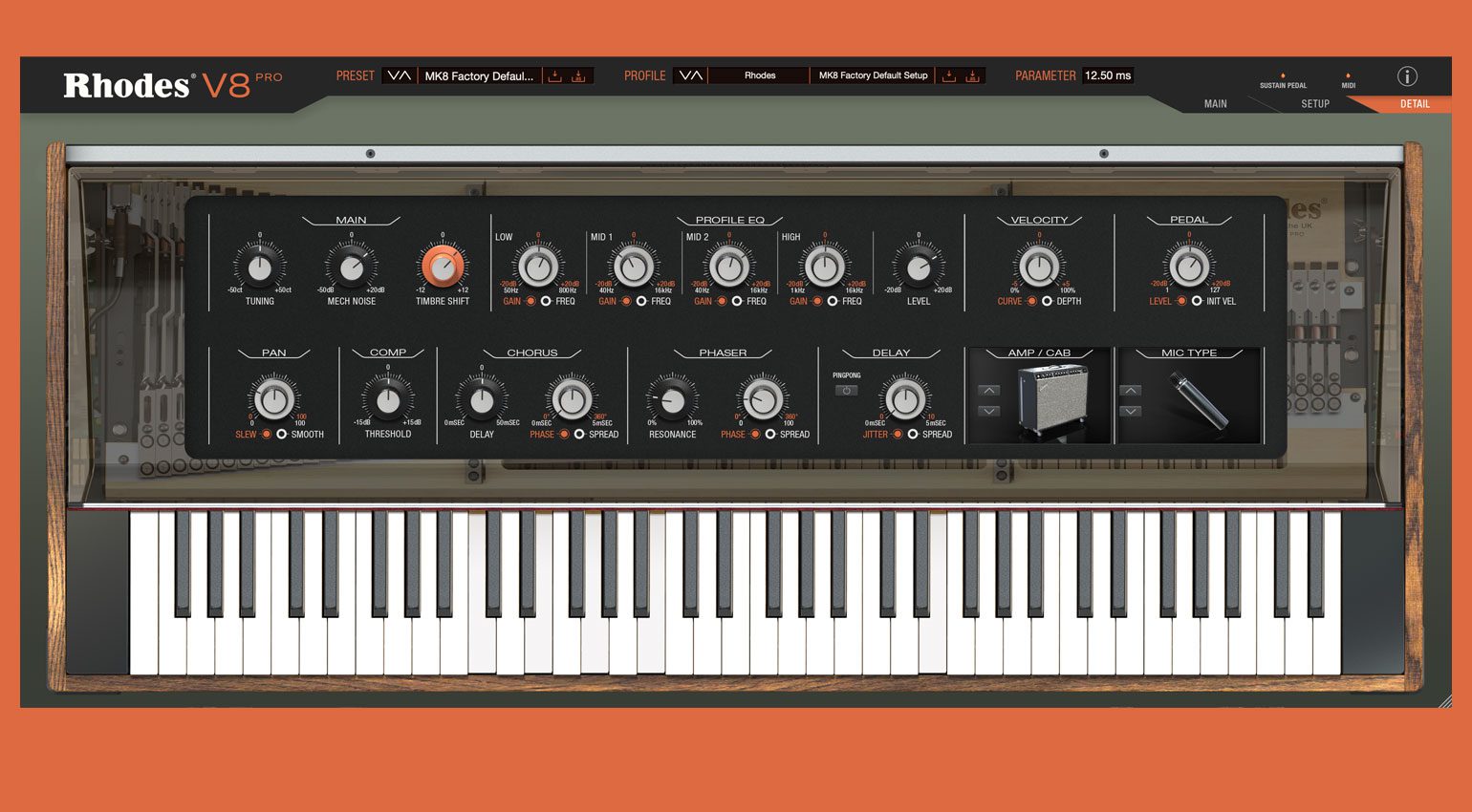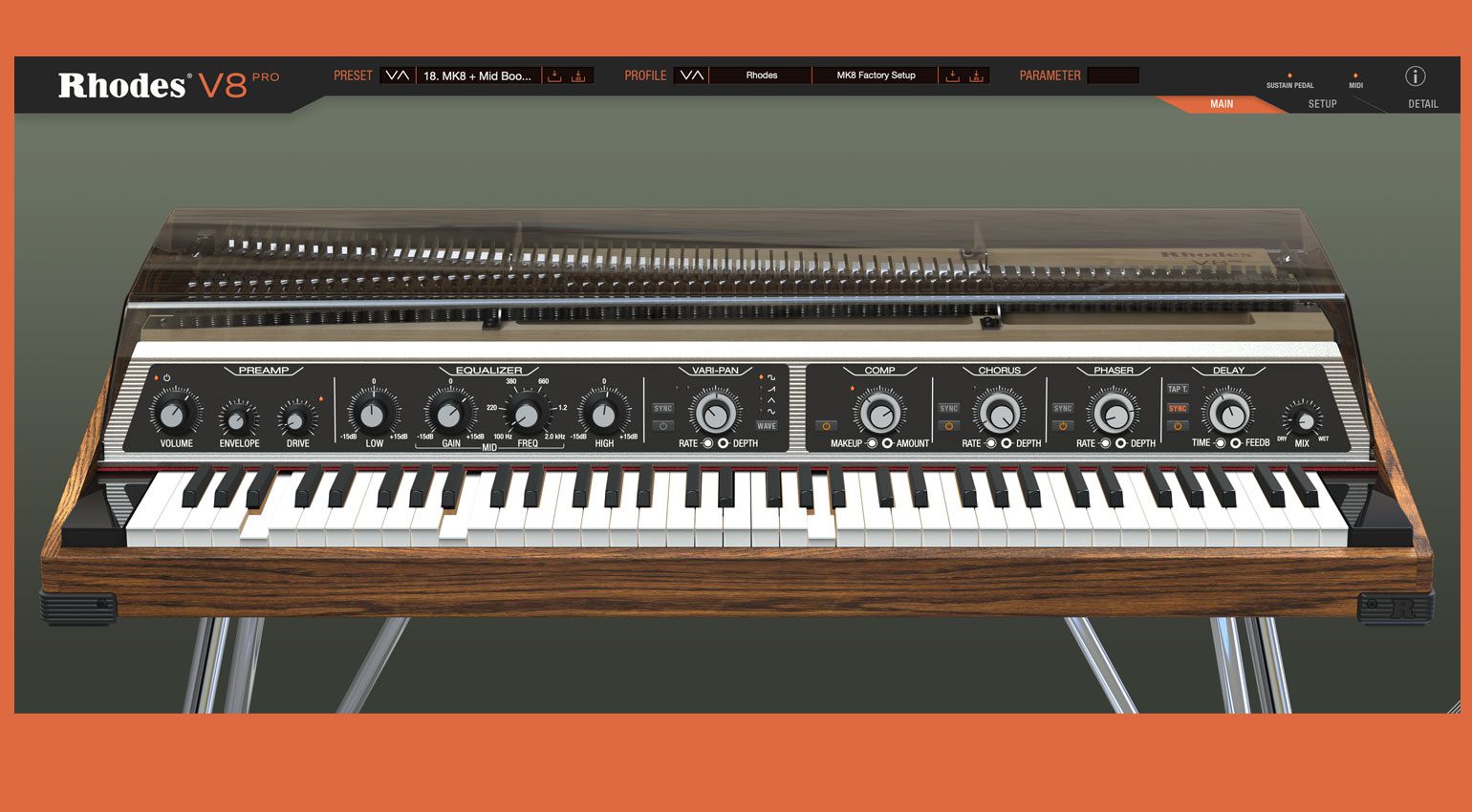 Universal Audio Fairchild Tube Limiter Collection – Vintage Vibes
Universal Audio recently announced that many of their beloved software instruments and effects will be available natively and even outside its Spark subscription! So you can get the most authentic LA2A emulation and one of the best Minimoog emulations right inside your DAW without any UAD hardware! And one of the earliest additions to its native plugin package was the mother of all analog compressors: The Fairchild 670. part of the Universal Audio Fairchild Tube Limiter Collection together with its sibling, the Fairchild 660.
From countless Motown records to recordings from Pink Floyd or The Beatles, these tube monsters have been at the core of vintage productions. The beloved hardware original had 20 tubes and 14 transistors creating its magical vibe. And UADs plugins aim to recreate that as closely as possible. And since this is flexible software, after all, you get some additional features that the hardware didn't have. A dedicated mix knob for all matters of parallel compression is there as well as a sidechain filter to narrow in on that part of your Rhodes signal you want to compress the most.
Right now, the Universal Audio Fairchild Tube Limiter Collection is running at €161.64 instead of €324.28 over at Plugin Boutique*. That's more than 50% off!
IrcamLAB TS2 – Time-Stretching at its best
French sound design powerhouse IrcamLAB is known for its left-field, innovative products in the business. And two of its plugins are on sale this week! TS stands for time-stretching and time-stretch it does. TS2n is an audio editor with the sole purpose of high-quality time-stretching and pitch-shifting. So, if you have a recording that you need to slow down quite significantly and the time-stretching algorithm of your DAW isn't cutting it, look no further! TS2's Super VP Engine is among the best and most transparent engines, with very clear signals still at speed reductions of 30 BPM or more! Even with jangly Rhodes recordings.
IrcamLAB TS2 is on sale at Thomann* right now. It usually runs at €239, but it's going for €49! 
IrcamLAB The Snail – Tuner, key finder, and more – even for your Rhodes!
At first glance, IrcamLAB The Snail is nothing more than an oddly shaped tuner. But it's much more than that. Not only can The Snail very accurately display the key of the current recording, with its Sonogramm View you'll get all the notes of chords! So if you're struggling to find the chords of a song you're practicing on your new Rhodes, this might be the thing.
IrcamLAB The Snail has just been updated to run natively on Apple Silicon systems. It's on sale for €29 at Thomann*, compared to the usual asking price of €99.
More on Rhodes, Universal Audio and IrcamLab
* This post contains affiliate links and/or widgets. When you buy a product via our affiliate partner, we receive a small commission that helps support what we do. Don't worry, you pay the same price. Thanks for your support!
Image Sources:
Rhodes V8: Rhodes
pb: Plugin Boutique
Rhodes V8: Rhodes
Fairchild collection: Universal Audio