Review: UAFX Ruby, Woodrow & Dream amp sim pedals from Universal Audio
Universal Audio joins the "amp in a box" crowd with the new UAFX Ruby, Woodrow & Dream amp simulation pedals. We got hold of some pre-release examples and can give you the full low-down on this exciting new pedal line.
UAFX Ruby, Woodrow & Dream
So, what do we have here then? Nestled in three, very premium boxes we find three premium pedals, each with its own visual and tonal signature. If they look visually familiar to you, that's because these pedals join the lineage of 2021s UAFX pedals. Cast your mind back to April last year and you might remember our review of the Golden Reverberator, Starlight Echo Station and Astra Modulation Machine.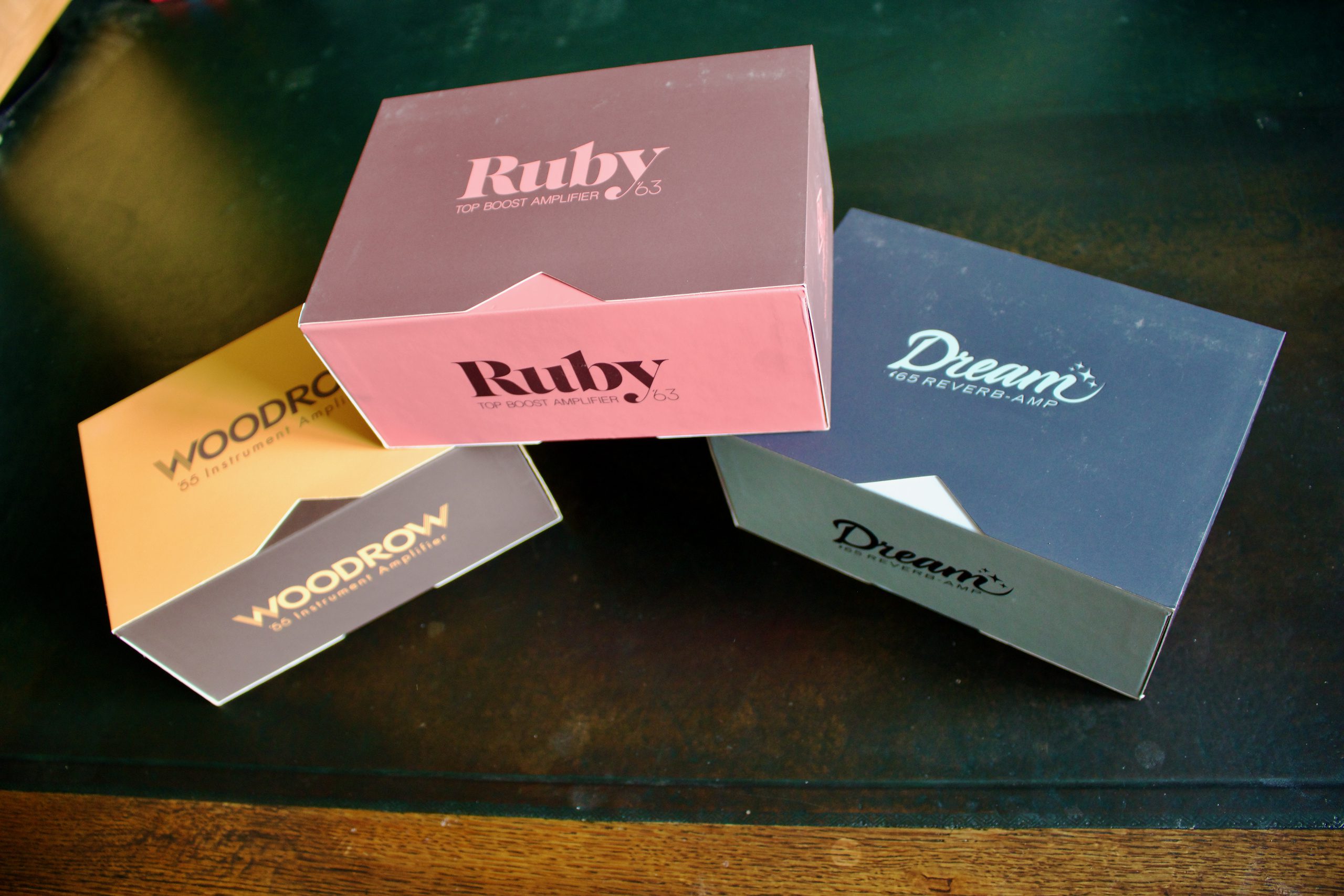 We really rated those first UAFX pedals and as a result, I'm very excited by these new "amp in a box" pedals. The concept is that you get a complete simulation of a vintage amplifier, miced up in a high-end studio. You can use these pedals for direct recording, or with an existing guitar amp (more on that later). Each pedal has its own unique take on a famous vintage guitar amplifier:
Ruby Top Boost Amplifier '63 (based on a 1963 Vox AC30)
Woodrow '55 Instrument Amplifier (based on a 1955 5E3 Fender Tweed Deluxe)
Dream '65 Reverb Amp (based on a 1965 Fender Deluxe)
Additionally, each pedal gives you access to modelled versions of effects and speakers associated with that particular amplifier.
Versatile connectivity
Something I really like about these pedals is the versatility on offer from the connection options; these are way more than just a conventional guitar stompbox. You can, of course, use these inline with your guitar amp to add a totally different flavour. What's very clever, however, is the ability to use a "four cable method" with any guitar amp with an effects loop. In this way, you can use one of the UAFX pedals as a pre-amp replacement. Imagine adding a Fender clean channel to your 100W Marshall for example.
Equally, if you're mainly interested in recording then you can run a stereo input and output directly to and from your audio interface. Looking for a "one box" amp tone? Want to add an amp flavour to a synth? The possibilities are huge. By the same token if you need a solution to fly-dates, where you're running guitar direct to the PA, then these pedals should also work superbly.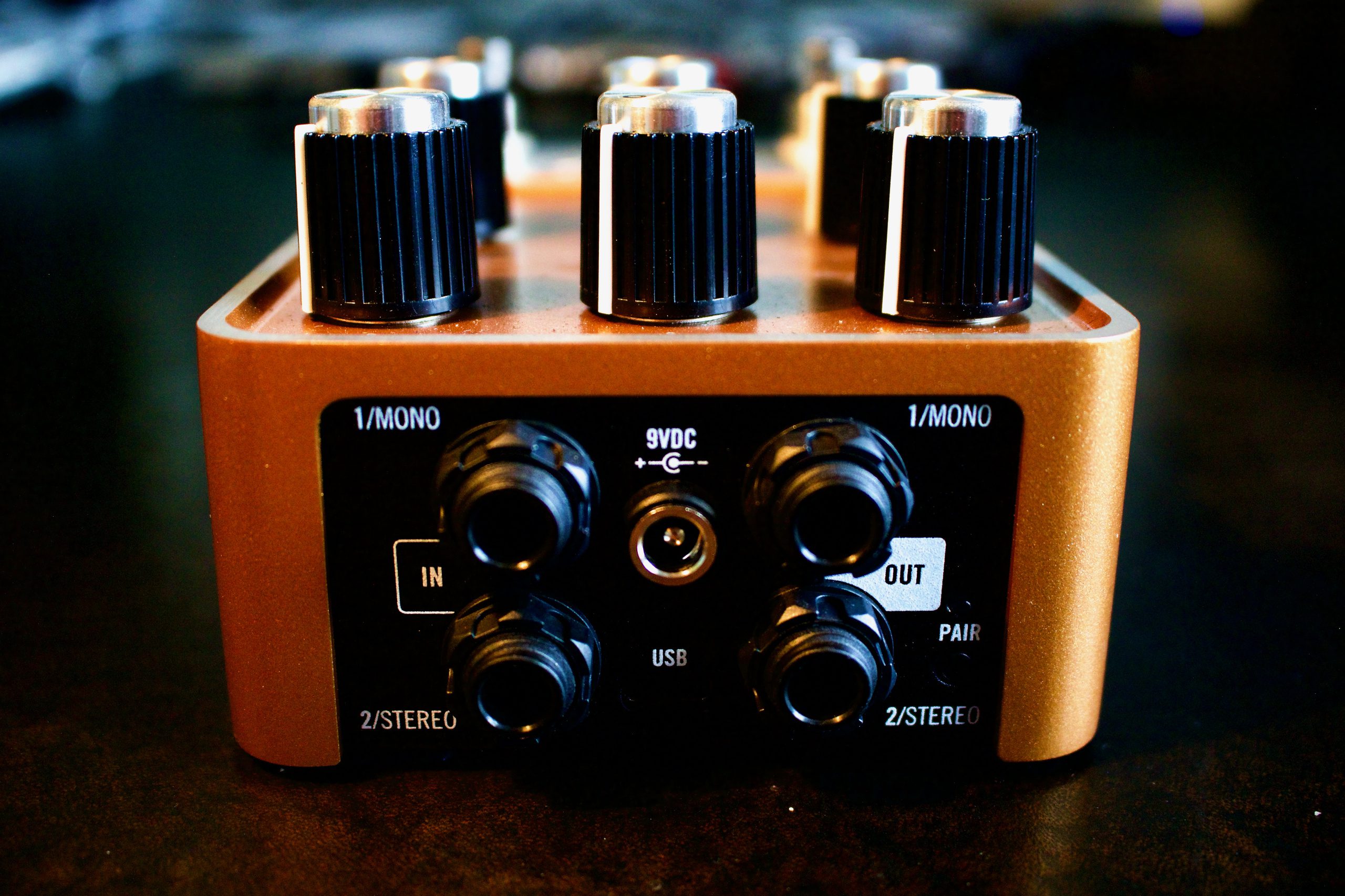 First impressions of UAFX Ruby, Woodrow & Dream
Each pedal feels suitably nicely engineered with all of the controls having an authentic "amp-like" tactility. Each pedal feels suitably premium, which at this price point you would rather hope they would!
If you're planning on chucking one of these pedals onto your pedalboard, then good news! Each pedal accepts power via a 9V centre negative power supply; in other words exactly what you use with your other pedals! My only gripe would be that the pedal won't accept power over its USB connection. If you're buying one of these as a studio tool then you may not have a pedal power supply knocking around within arms reach!
It's perfectly possible to use any of these UAFX amp sim pedals completely stand alone, without going anywhere near a computer, smartphone or tablet. To do so though would be to miss out on some very useful extra functionality.
UAFX Control App
Downloading the latest version of the UAFX Control app to my iPhone, I was quickly able to connect to the pedal and access a wealth of additional features. For tone-hounds, the first of which would be three free cabinet sims which you'll receive upon registering with Univeral Audio. It's worth noting that you can access those additional cabinet sims from the front panel of each pedal (the bonus sims are denoted by the speaker select LEDs lighting up green).
So what's the advantage of using the UAFX app then? Well, first off, you gain access to a bunch of really great presets, contributed by professional session guitarists and amp techs. Secondly, you're able to unlock some advanced features that can transform the way in which you use your UAFX amp sim pedal.
You can save and recall multiple personal presets and select which one acts as your default preset. Additionally, you can configure the way in which the bypass/preset buttons work. For example, the on/bypass footswitches can be configured to different functions. Perhaps you'd rather the bypass button configured to toggle boost on/off? Maybe you'd prefer the preset button to toggle between live/preset mode?
Finally, the UAFX app is the place where you'll toggle the use of the four-cable mode, allowing you to integrate any of these pedals into your existing amp rig seamlessly. Altogether then, very impressive stuff!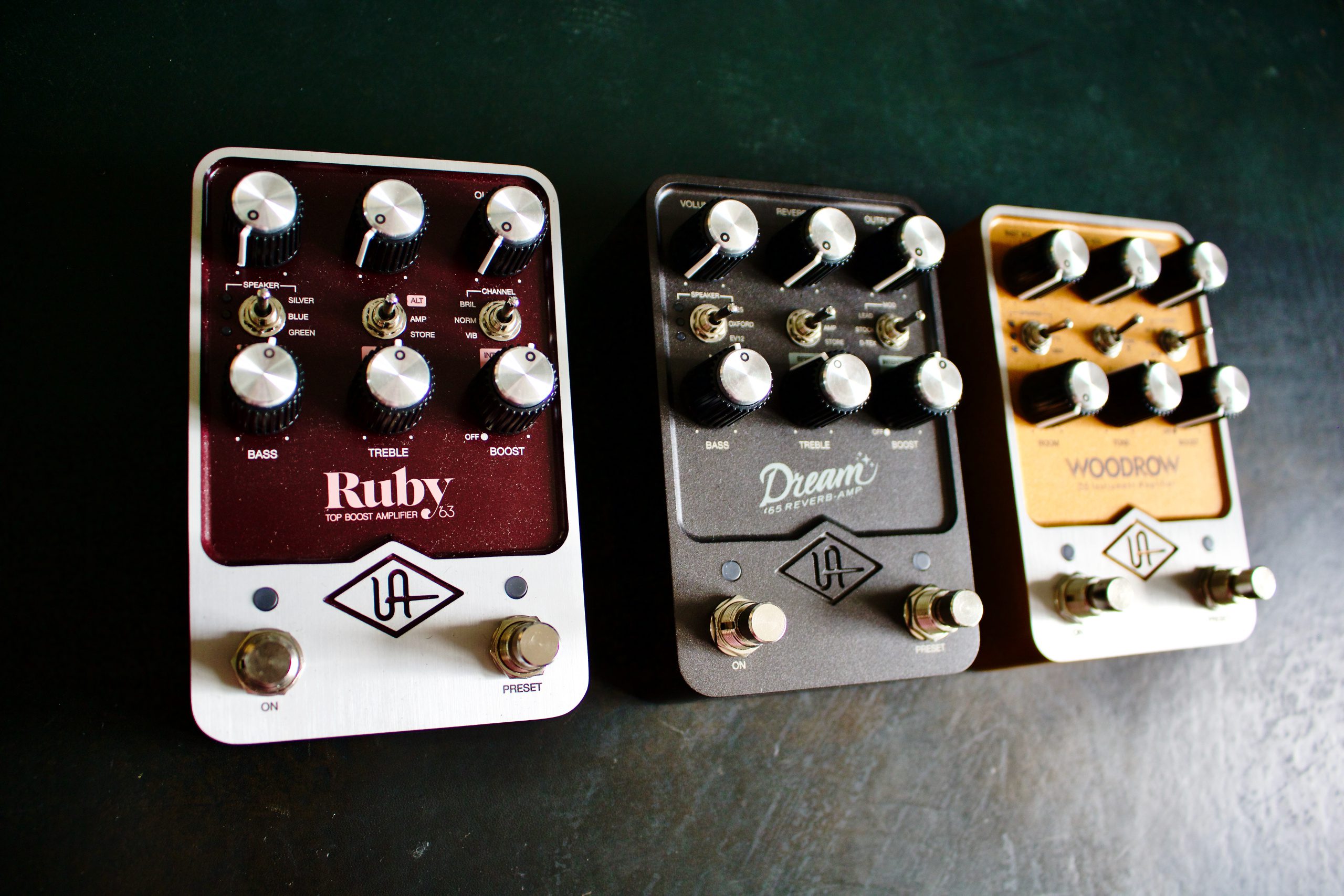 Crank it up!
Grabbing my trusty Fender Japan Telecaster, I tested the pedals direct, into my audio interface and monitored using my studio speakers. I'm pleased to say that in this regard getting a good sound dialled in on any of the pedals took just seconds. Unquestionably, If you can dial in a good amp tone with a real amp, then you can dial in a good amp tone with any of these UAFX amp sim pedals.
I found that it was entirely possible to configure the footswitch modes and presets in such a way, that you could use just one pedal as a complete rig. Tones from clean and jangly, through to the edge of break up and full on rampaging dirty drive are just a tap of the footswitches away. There's a surprising amount of versatility on offer here with clever use of the UAFX app to configure your tones.
UA Ruby '63
I was keen to try the Ruby '63* first, as I'm a big fan of the amp it's based on, the Vox AC30. Having played a number of AC30s, including a few vintage examples, I can confirm that this pedal absolutely nails the tone and feel of the real deal. In particular, The AC30 vibrato channel is deep and wide enough that you could swim in it. Glorious!
As a lifelong fan of Brian May, I had to see if it was possible to approximate that cranked, Queen tone. Switching to the normal channel, ensuring the Blue speakers were selected and cranking the volume got me in the ballpark. Cleverly, UA has included a boost circuit model which really drives the model into saturation. Bring up the "room" knob and you're in for A Night at The Opera!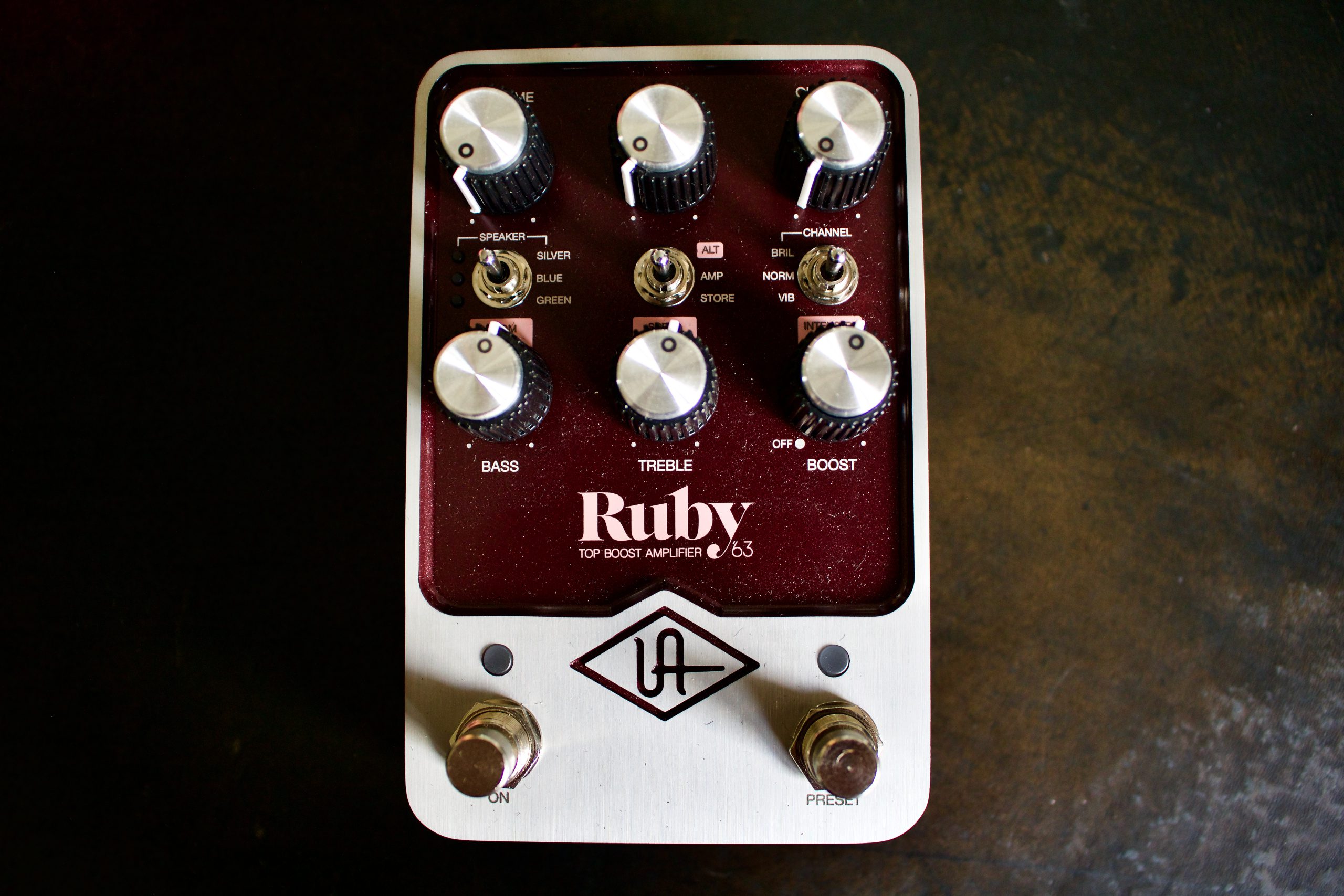 UA Dream '65
Next up was the Dream '65*, and once again based on my experience with vintage Fender amps, this recreation is dripping in authenticity. In every situation you could find yourself needing a vintage Fender clean tone, this little box will deliver. From twangy country pickin' through to Dick Dale style surf sounds with crashing reverb, I was immediately impressed.
Furthermore, the added value of modelled mods and boost circuits means you could easily push the sound into dirty territory. If you like that early Santana tone or maybe even something with a little Sex Pistols flavour, then you'll find it here as well.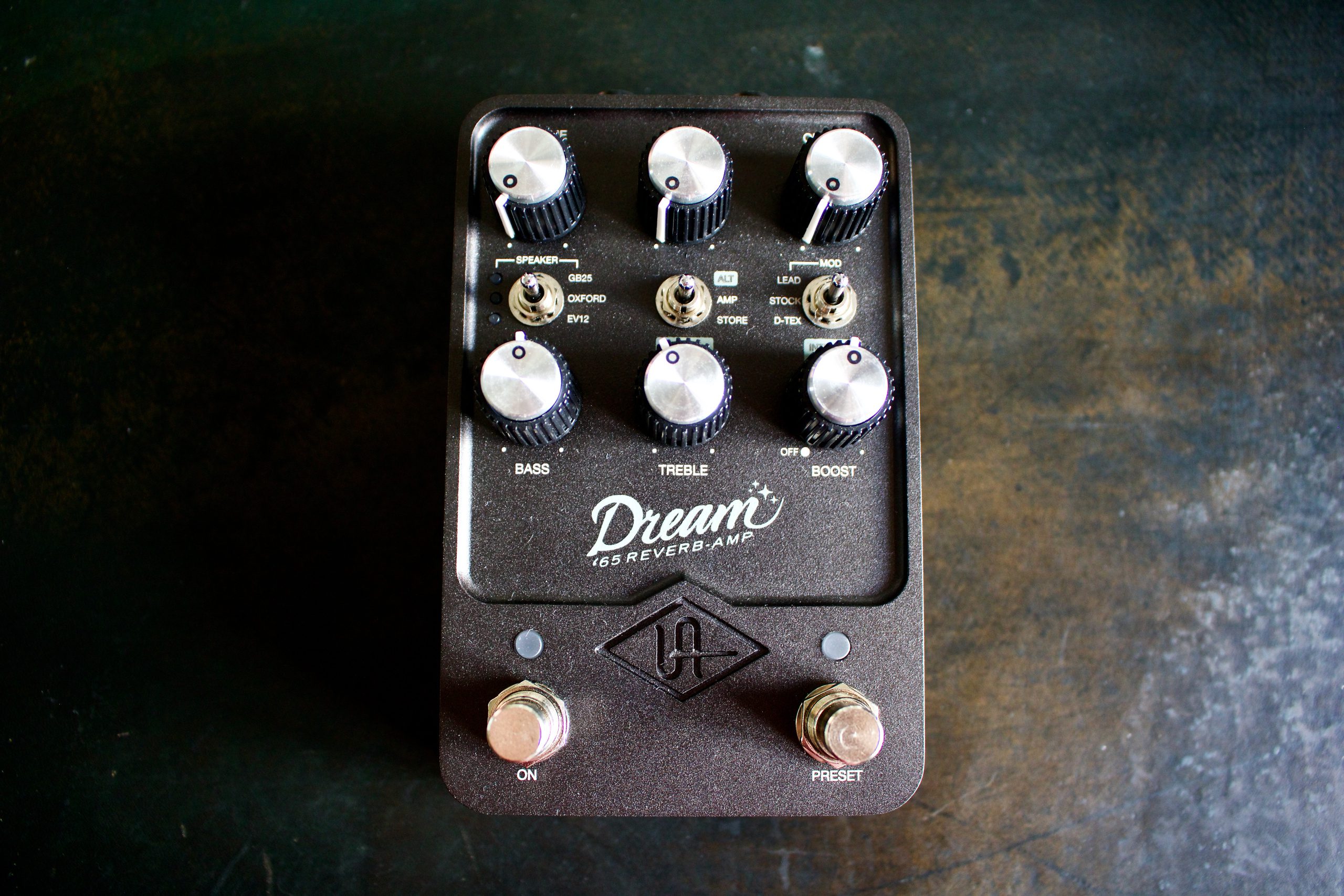 Woodrow '55
Of the three pedals here, I found the Woodrow '55* the most challenging to dial in an initial tone. Admittedly, I put that down to my own lack of experience with 50s tweed Fenders. Undoubtedly, once I got the vibe of what the amp model was all about, then I was quickly able to dial in some great tones.
If I had to sum up the Woodrow '55 it would be "vintage dirt"; if you're after a tone akin to Sticky Fingers era Rolling Stones, then this is your box! What really impressed me about the Woodrow '55 was how accurately it felt. Playing feel is something that's often sacrificed with digital simulations; yet with the Woodrow '55 I could really feel the amp sag you'd associate with a valve rectifier. This pedal really surprised me and has a whole mojo and vibe all of its own.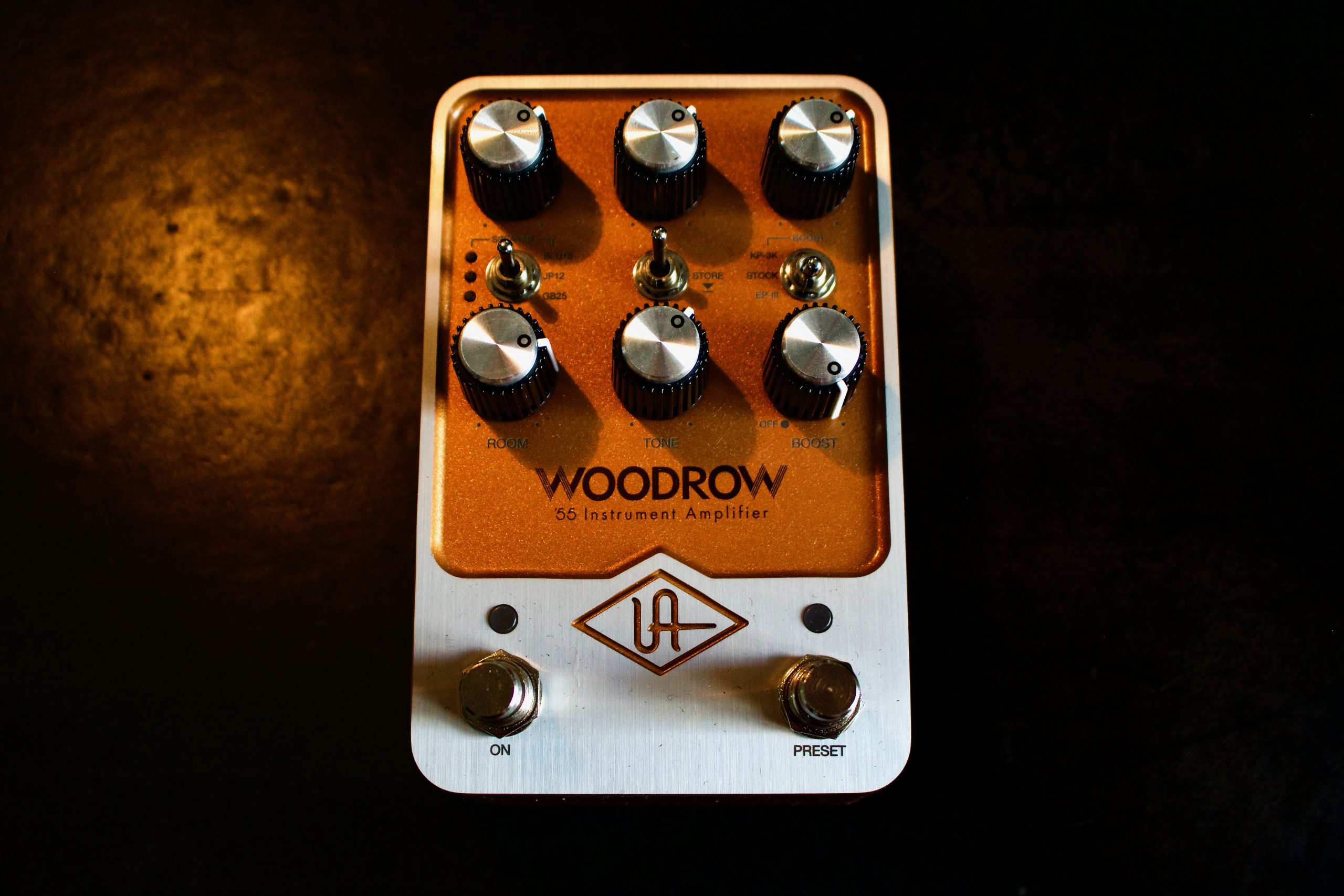 Conclusion
Altogether, then, has Universal Audio got it right with these new "amp in a box" additions to the UAFX line? From my brief experience with them, I would say a very solid yes! The quality of tone, feel and accuracy of recreation is deeply impressive. The ability to use these pedals direct for recording/live use, or incorporate them into your amp rig adds extra value.
Reservations? It's a shame that the output jacks aren't on balanced TRS connectors which would save carrying DI boxes to live shows. Admittedly, these are all relatively minor gripes in what is an impressive package!
At an MSRP of €399/£345 do these pedals make sense? You could argue that at that price point, you could buy a real valve amplifier. Admittedly, that would be to miss the point of these pedals and to overlook the convenience and versatility they offer. Undoubtedly, these are premium pedals from a premium brand with equally premium tone and features.
All I can now hope for are some high gain amp models for those of us who like things harder, faster and heavier in tone. Could we have some Marshall, Mesa and Engl models next please UA? Pretty please?
Likes
Great Tone
Premium Construction
Amazing playing feel
Spectacular room reverbs
Versatility
Dislikes
No option for USB power
Unbalanced outputs
More information on UAFX Ruby, Woodrow & Dream 
* This post contains affiliate links and/or widgets. When you buy a product via our affiliate partner, we receive a small commission that helps support what we do. Don't worry, you pay the same price. Thanks for your support!
Image Sources:
UAFX Ruby, Dream, Woodrow boxed: Bob Malkowski
UAFX Guitar Amp Emulator Connections: Bob Malkowski
UAFX Ruby, Dream & Woodrow Pedals: Bob Malkowski
Universal Audio UAFX Ruby '63: Bob Malkowski
UAFX Dream '65 Reverb: Bob Malkowski
UAFX Woodrow '55: Bob Malkowski