Presonus mix it up with new StudioLive AR hybrid range
Cheap and cheerful, the new range seems to offer a lot of features for a decent price...
When it comes to realising what the market needs, Presonus often lead the way. We have cheap multichannel audio interfaces and even affordable digital live mixing solutions, but what if you need both to facilitate your varying day to day needs. Sure enough, as an engineer I would love to see an update to their StudioLive AI range to better compete with the likes of the X32, but that's not what this new AR range is all about. Utilising what Presonus already know about building compact mixers, here they're offering the ideal solution for working musicians, as well as adding some useful new features. For use in the studio via USB, at a rehearsal with simple SD card recording and live with Bluetooth connectivity, there's a lot for Presonus to shout about.
StudioLive AR: Every Eventuality
I've been saying for a while now that regardless how great some of the audio interfaces and live sound mixing products are these days, there's still a gap in the market. Whilst these new AR consoles don't fill the gap for me as an engineer, they are exactly the sort of thing I can see musicians relying on everyday. Perhaps there are some features here, such as the Bluetooth connectivity and SD card recorder, that we will see again on future Presonus products.
The only slight surprise for me with these new desks is the amount of analogue electronics. With so much experience in the DSP world and software already available to Presonus, I would have expected the mixer element to be DSP powered. I imagine this is cheaper to mass produce and would have provided a better feature count. Perhaps this would have meant the AR range would be to closely compared with the likes of the classic 16.0.2 and AI consoles by Presonus. At least they've been able to say 'analog mixing', albeit not that special.
Feature wise, the StudioLive AR desks offer standard analogue inputs with minimal EQ and level control, a 'Super Channel' for stereo inputs, on-board digital effects, monitor sends, a main output for live PA's as well as a separate control-room output for the studio. The Super Channel actually boasts a selection of inputs including analogue line inputs, a return from the USB connection, the SD card player and a Bluetooth receiver. This enables the desks to be paired with a mobile phone for example, to play a track to the band during a rehearsal, or to play background music at the beginning of a gig. A USB connection is included for tracking a recording session or a live show in multichannel form, onto any DAW for both Mac and PC. The number of channels depends on the model you choose, plus the main mix. There is a limitation to the number of return channels from the USB connection, which is only 4 on any model. If you want to record a rehearsal or just the stereo mix from a gig, then the new on-board SD card recorder is certainly one of the easiest ways to do this. The card player/recorder will support wav and mp3 files on cards up to 32GB in size.
3 New Models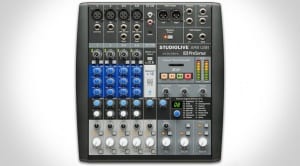 StudioLive AR8
8-channel Mixer with 4 mic pre's and 1 monitor mix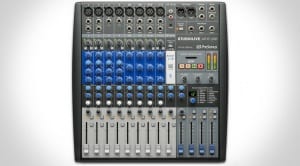 StudioLive AR12
14-channel Mixer with 8 mic pre's and 2 monitor mixes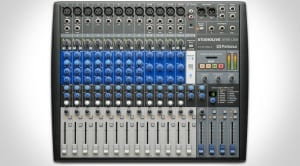 StudioLive AR16
18-channel Mixer with 12 mic pre's and 2 monitor mixes
Pricing and Info
For more information visit the Presonus StudioLive AR webpage. Prices for the UK aren't clear yet, but in the US suggested street prices are 599.95 USD for the AR16, 499.95 USD for the AR12 and 299.95 USD for the AR8. These new desks should be available later this summer and with those prices they are sure to be hugely popular. Well done again Presonus, can't wait to see what else is coming.
Here's a 30 second teaser video by Presonus on their YouTube channel:
Image Sources:
Presonus StudioLive AR8: presonus.com
Presonus StudioLive AR12: presonus.com
Presonus StudioLive AR16: presonus.com