Our five best Kontakt alternatives – Free and Paid
Looking for Kontakt alternatives? We have the five best for you! Native Instruments Kontakt as part of the Komplete bundle or individually isn't exactly cheap, even when there is a sale going on. Depending on what you want, there is a suitable alternative – both paid and free!
Originally published on Gearnews.de by Julian Schmauch. Translation by Julian Schmauch.
Kontakt alternatives – What to look for?
The plugin Kontakt is a sampler, sample player, and software instrument. The VST loads so-called libraries. These are packages from Native Instruments like Noire or Playbox or from third-party providers such as Heavyocity like Damage 2. This means that you load Kontakt as a virtual instrument in your DAW on a MIDI track and then a library in it. And then you play the loaded library on your MIDI keyboard.
If you just want to get your feet wet, there is a free version from Native Instruments called Kontakt Player. You can load and play a variety of ready-made libraries in it. So, if you are only interested in using a ready-made Kontakt library and don't care about Kontakt's sampling capabilities, you might not have to look any further for Kontakt alternatives.
Just use Kontakt Player for free and buy the library. Very important note: check on the library manufacturer's page before buying it, if the library is compatible with Kontakt Player and not just with the full version of Kontakt!
You can't load Kontakt libraries in other plug-ins. It's a proprietary format that only works in Native Instruments´sampler. In this case, check if a sample manufacturer offers the library you want to get in more than one format. +
If you are looking for Kontakt alternatives, ask yourself these questions to find out which alternative is best suited for you:  Do you want a more modern interface or more sampling options? Or are you looking for a big variety of additional sound packs? Or maybe you just want to create your own sample libraries? The Kontakt Factory Library is 43 gigabytes in size and comes with 900 sounds.
UVI Falcon – Most versatile Kontakt alternative
UVI Falcon is often mentioned first when it comes to Kontakt alternative. One of the reasons why is, unlike Kontakt's user interface, Falcon's GUI development didn't stop 25 years ago. Because, if you look under the hood of  Kontakt libraries to adjust something, or you want to create your own instruments, the tiny, beige-colored miniature sampling interface is not exactly inviting.
UVI Falcon is not only a very complex sampler. The VST also brings 17 different synthesis types and 100 effects to the table! 25 different sequencers like the new Ostinato Arp are also included. Like Kontakt, Falcon comes with its own scripting language for creating and manipulating sample instruments down to the smallest detail.
Falcon also comes with over 1,500 presets with an additional 22 extensions in a wide variety of genres. And the VST is, unlike Kontakt, MPE-capable and can be used in spatial audio productions with setups up to 10.2. The plug-in is only available via UVI's online store for 349 Euros.
Steinberg HALion 7 – FM, spectral oscillator, and high-quality library
Steinberg HALion 7's GUI is not quite as straight-forward and tidy as Falcon's, but the user interface still beats Kontakt by a long shot. In addition, a powerful FM engine borrowed from Steinberg's parent company Yamaha (with traces from the legendary DX7) and a spectral oscillator have been added in the recently released version 7.
If you are heavy into mangling sounds and destroying samples in new, creative ways, then the spectral oscillator is worth a look or two. It offers sound design possibilities that are not available in any other plugin.
From the perspective of a Kontakt alternative, HALion 7 comes with a 35-gigabyte library with 3,500 sounds that more than rival Kontakt's sounds in quality and variety. Like Falcon, HALion 7 can be used in spatial audio productions, and it can manage up to 64 MIDI channels (4×16). There is also a huge number of additional libraries for classical, rock, pop, film music, and more in Steinberg's online store.
IK Multimedia Sampletank 4 – Biggest library among the Kontakt alternatives
If you're just looking for the one choice with the most sounds and the biggest library among the Kontakt alternatives, take a look at IK Multimedia Sampletank 4, especially the Max version. It does not get much bigger than that. The Max version is sized 640 gigabytes with over 18,000 sounds. That's almost as much as the much more expensive Komplete bundle!
In terms of sampling capabilities, Sampletank 4 is a bit more limited compared to Kontakt, Falcon, and HALion. There are fewer modulation options and effects. On the other hand, the VST is capable of layering up to 16 individual instruments. Sampletank also contains effects from popular plug-ins Amplitube and TRackS plug-ins from the same manufacturer.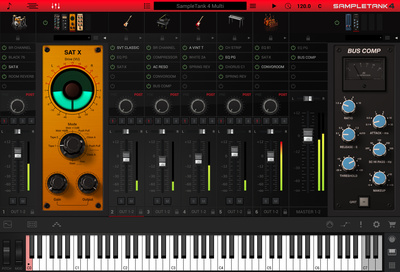 IK Multimedia SampleTank 4 Download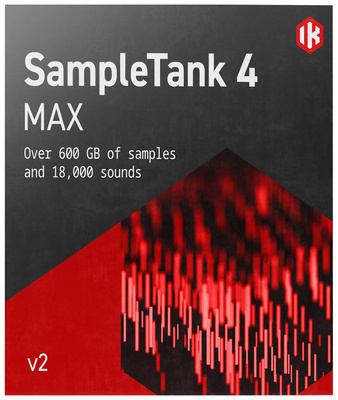 IK Multimedia SampleTank 4 MAX Download
Soundpaint – Cheapest and latest alternative
Soundpaint is one of the youngest plug-ins among the Kontakt alternatives. And good news: the VST is free! However, a sampler without libraries is rather useless. Luckily, Soundpaint offers five free instruments to start with. In addition, there are now 150 instruments in the company's online store. Many have been sampled with the manufacturer's special ultra-deep sampling technology. They often sound more realistic than similar instruments in Kontakt. You can also import your own samples into Soundpaint and create your own instruments.
Soundpaint has also made it a point to never have a sale and to always keep the prices of their sampled instruments the same. So the instruments in the store range from 10 to 50 dollars, which is pretty affordable for the amazing quality you get! In addition, the plug-in also offers a state-of-the-art workflow and rather unusual sound design possibilities. For instance, you can morph up to eight of their sample packages. Kontakt can't do that!
Decent Sampler, Freetakt, TX16WX – free Kontakt alternatives
If Kontakt Player isn't your cup of tea, you don't like Soundpaint, and you'd still like to create your own multi-sampled instrument, take a look at the free Decent Sampler. Developer Dave Hilowitz is constantly improving the plug-in and has uploaded several detailed tutorials on his YouTube channel. In addition, there is a growing number of excellent free libraries, both on Decent Sampler's website and the large sampling community Pianobook!
Free plug-ins Freetakt (so far only available for Windows) and TX16WX are both strongly based on Kontakt in terms of workflow and their interfaces. So if you want to get your feet wet in sampling and create your own instruments without entering the world of NI right away, these two free Kontakt alternatives might be just the thing.
Videos on Kontakt alternatives
* This post contains affiliate links and/or widgets. When you buy a product via our affiliate partner, we receive a small commission that helps support what we do. Don't worry, you pay the same price. Thanks for your support!