NAMM 2022: Audient announces ASP4816-HE mixer with Vintage Bus Mix
Audient is on a roll, showcasing its beautiful new ASP4816-HE analog console just days after it presented theiD44 MKII and EVO 16 audio interfaces. The ASP4816-HE (Heritage Edition) is both a facelift and revision of the manufacturer's cozy ASP4816 studio desk. Let's have a look!
Audient ASP4816-HE
As an update, the ASP4816 Heritage Edition leaves the most important things right where they should be. So we're still talking about a decked-out analog mix desk with 16 mic preamps and channel strips, 6 AUX paths, 2 CUE sends, 4 stereo returns, and 4 monitor outputs. A total of 48 inputs are available.
The cool new stuff in the Heritage Edition starts from Vintage Mix Bus processing with transformer drive. Taking cues from early mastering EQs, Audient also added low bump and high lift EQs. The new Vintage Mix Bus should provide more of that analog charm to mixes, especially when used in combination with the already present Mix Bus compressor.
The latter gets a high-pass filter for its sidechain circuit to help with tighter bass and added punch. Also new is the upgraded headphone amp, latching footswitches for remote control of talkback, and a VU meter for gain reduction. Finally, the aesthetics are touched up with a dark wood armrest. It's a beautiful analog console that eeks out as much emotion as it does sound.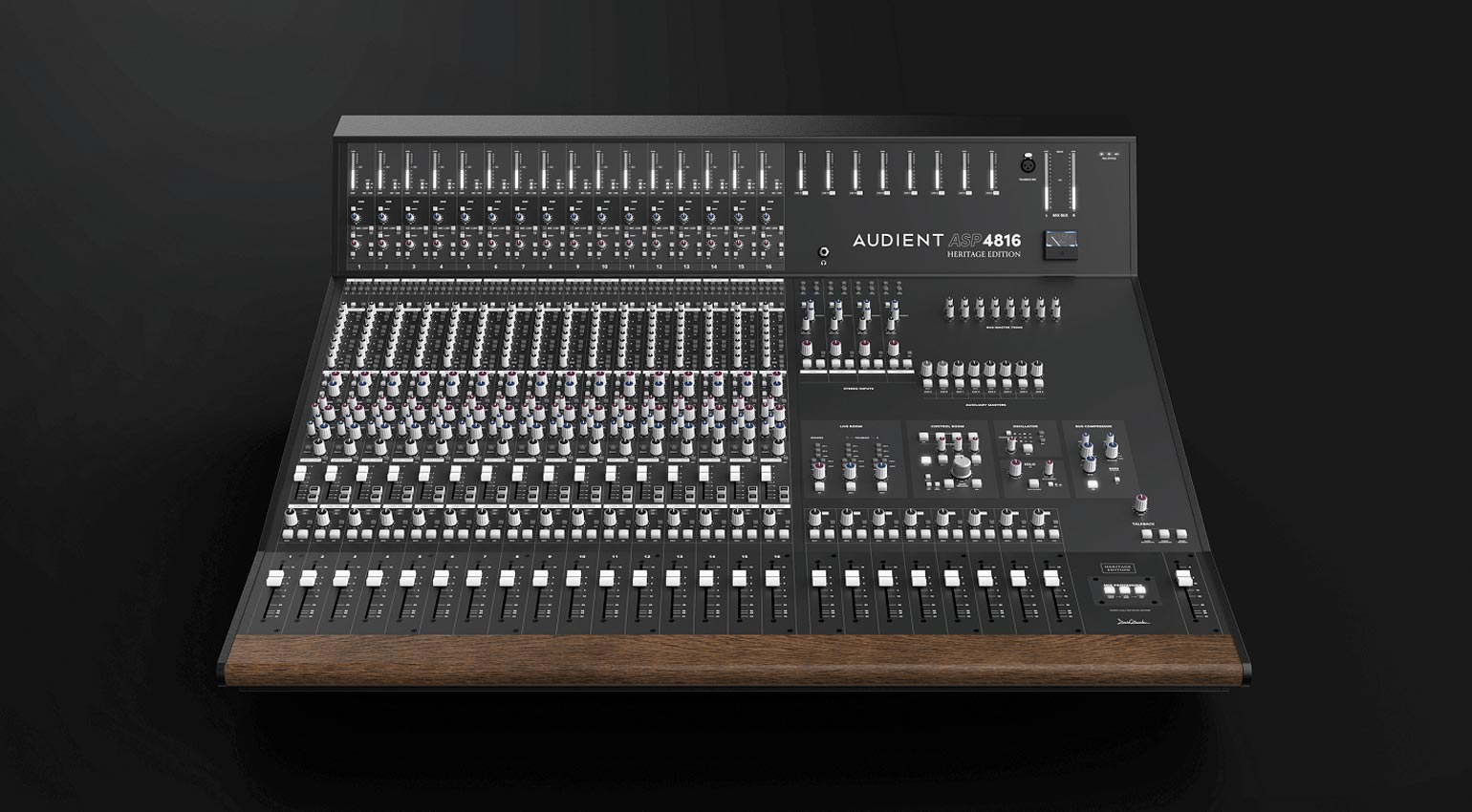 Price and availability
Audient will keep selling the ASP4816 with a slight visual makeover. That version, and the ASP4816-HE will be ready for order sometime in July. The ASP4816 will stay at roughly USD 17,860 while the ASP4816-HE will cost USD 19,999.
Learn more about the Audient ASP4816-HE
* This article contains affiliate links to help us fund Gearnews. If you buy something through these links, we will receive a commission. Don't worry – the price for you always stays the same. Thank you for your support!
Image Sources:
Audient ASP4816-HE: Audient