NAMM 2020: RME 12Mic, M-1610 Pro, AVB Tool
Germany's RME Audio brought loads more to NAMM than the BabyFace Pro FS and a painted-black ADI-2 Pro DAC. Here are three brand new pieces of high-end RME equipment:
RME 12Mic – digitally controlled preamp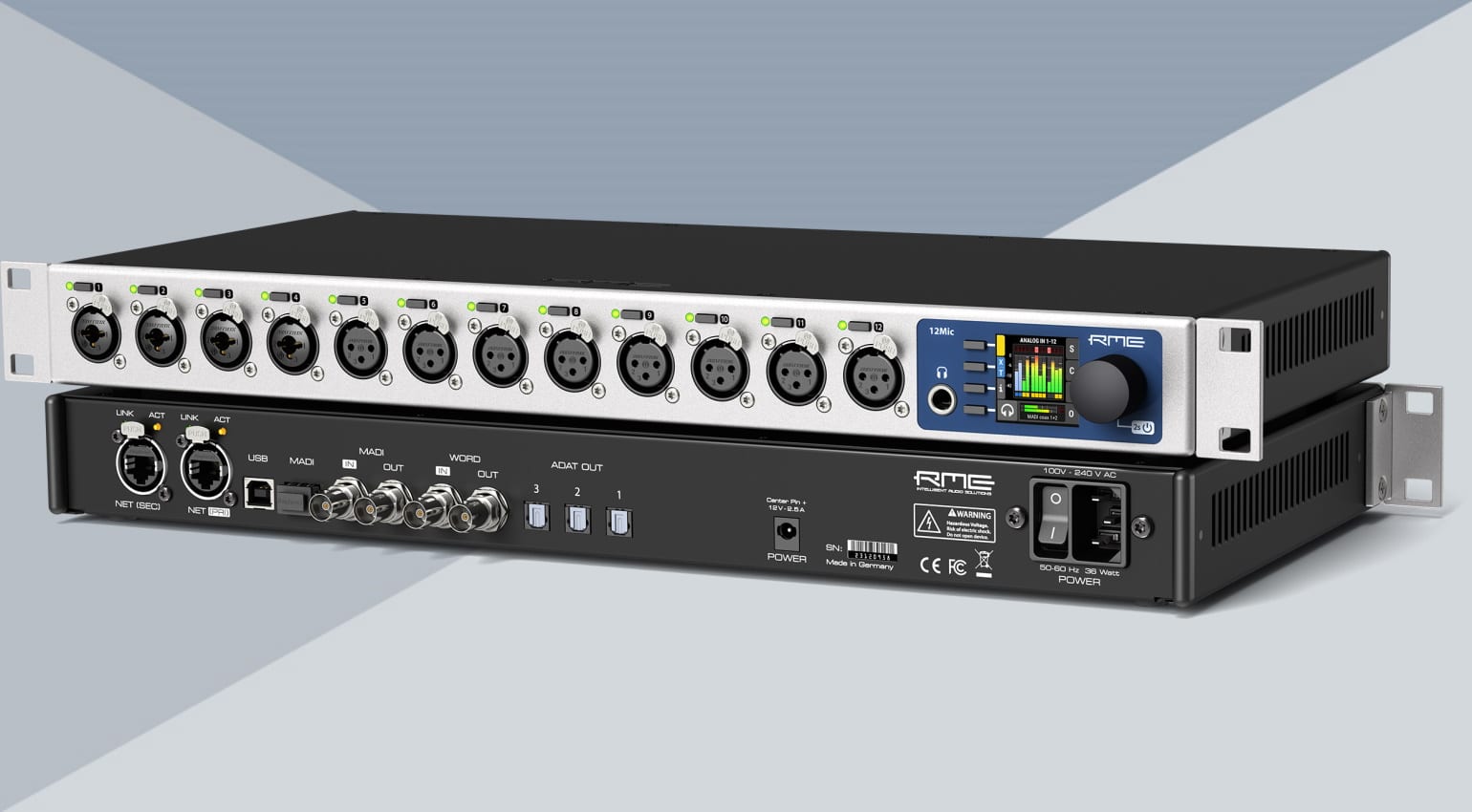 12Mic is a digitally-controlled 12-channel mic pre with inbuilt AD conversion, MADI, and dual AVB for redundancy. Featuring fanless cooling and full-color display, the 1U unit has four XLR/TRS combo jacks with switchable Hi-Z inputs while the rest are male XLR jacks. Maximum gain is 75dB with a signal-to-noise ratio of 121.2dB after digital conversion. There are also Word Clock I/O and three ADAT outputs. All in all, you can route 268 inputs to 282 outputs via the unit's routing matrix, contained within a browser-based web interface. Computer connection is established over USB (Type B connector).
Price: EUR 2590. Available from the second quarter, 2020.
RME M-1610 Pro converter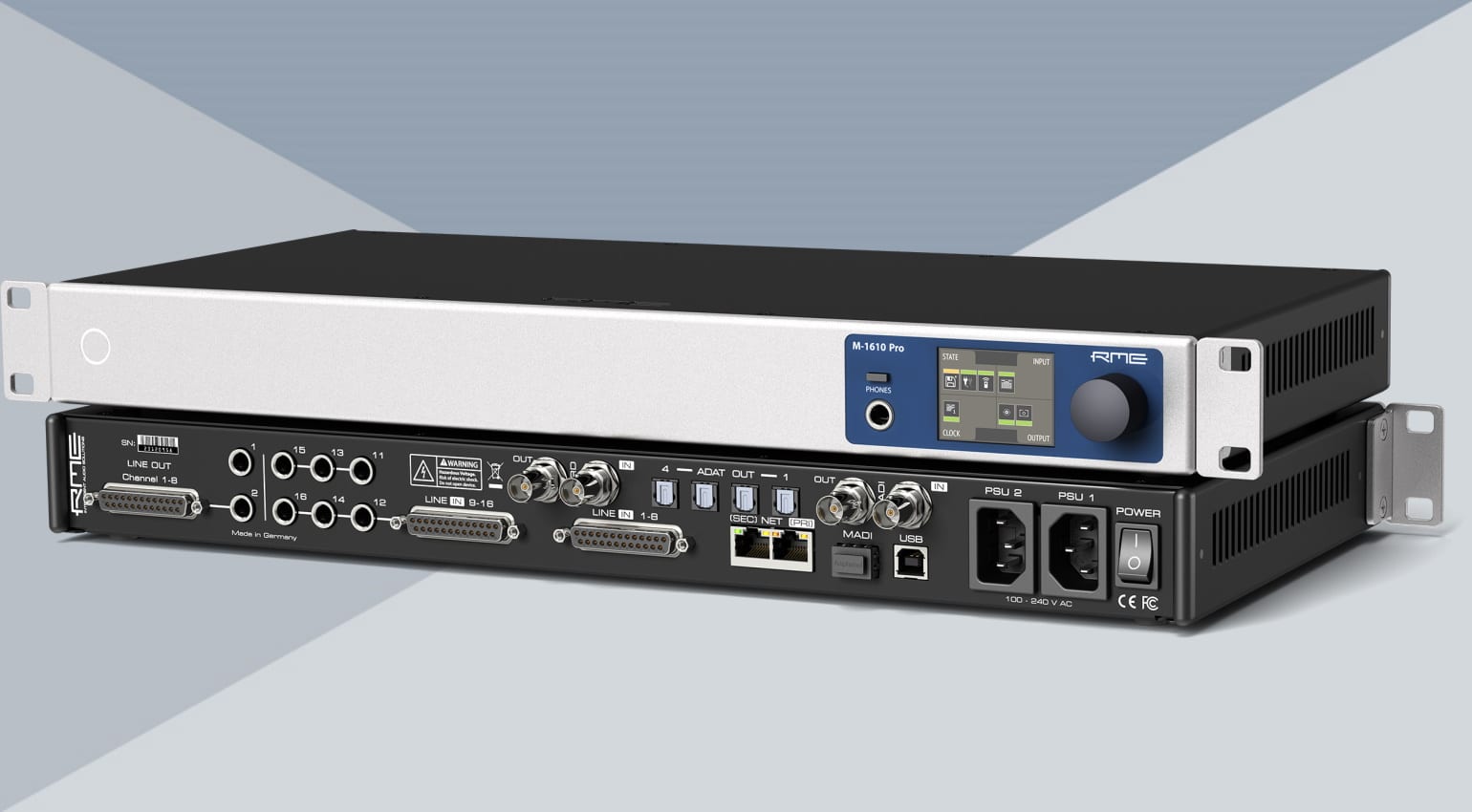 M-1610 is a 16-channel converter in 1U format. Connectivity possibilities include 16 analog balanced inputs, 8 analog balanced outputs, 128 MADI channels per coaxial I/O, and 32 ADAT output channels. Redundancy is facilitated by two Gigabit Ethernet ports for up to 8 AVB streams and up to 64 audio channels, along with two power supply inputs. The front panel offers a full-color screen, secondary headphone output, and a switch for three line levels (+13, +19, +24dB).
Price: 2690 EUR. Available from the second quarter, 2020.
AVB Tool – the little helper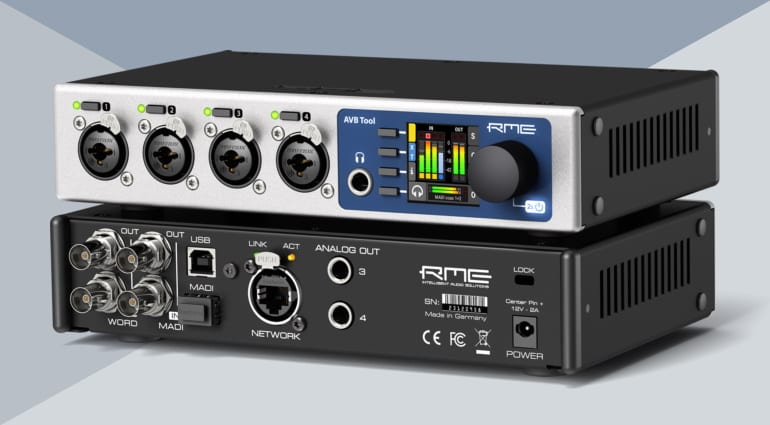 No bigger than a typical 4-channel audio interface, the RME AVB Tool offers four mic preamps on combo inputs, MADI / AVB conversion and a routing matrix for analog, digital, and network-based audio signals. The unit is meant to be integrated in existing MADI/AVB environments as a front-end extension. Other connections include Word Clock I/O, USB Type-B for computer, and a pair of analog outputs. The front panel offers a headphone output, full-color screen, rotary control, and Hi-Z switches for the four mic/line inputs.
Price: EUR 1590. Available from the second quarter, 2020.
A solid RME line-up, overall. These units look genuinely useful, with functionality that's tightly focused. I expect them to continue RME's fine reputation for reliability and sound quality among pro audio personnel.
More information
Image Sources:
RME 12Mic: RME Audio
RME M1610 Pro: RME Audio
RME AVB Tool: RME Audio