NAMM 2020: KORG teams up with Mackie and Watts for two hybrid mixers
KORG is firing on all cylinders in the days before NAMM with eclectic product launches. Shifting focus away from the synthesizers it built its legacy on, the Japanese corp announced a pair of hybrid analog/digital mixers for live and studio. The MW-2408 (24 channels) and MW-1608 (16 channels) are developed in partnership with mix desk gurus Greg Mackie and Peter Watts, of Mackie and Trident fame, respectively.
KORG enters the mix
Both desks feature HiVolt preamps worked out by KORG and Peter Watts, so think Trident in terms of sound. KORG says these pres have the largest headrooms of comparable mixers. Each channel is equipped with one-knob compressor, 3-band EQ with sweepable mids, four AUX controls, FX and pan potentioneters. Each gain control gets a switchable hi-pass filter and a mute toggle.
Outputs include XLR, TS, Main Out, Monitor Out, Group Out 1 – 8 and four AUX outputs. So you get individual XLR/jack outputs for each channel, which is pretty great! No dedicated headphone outs, but you can hook your cans to any of the outputs. There's an USB port for computer connection (recording is supported at 24/48), a footswitch input, and a Talkback microphone connector.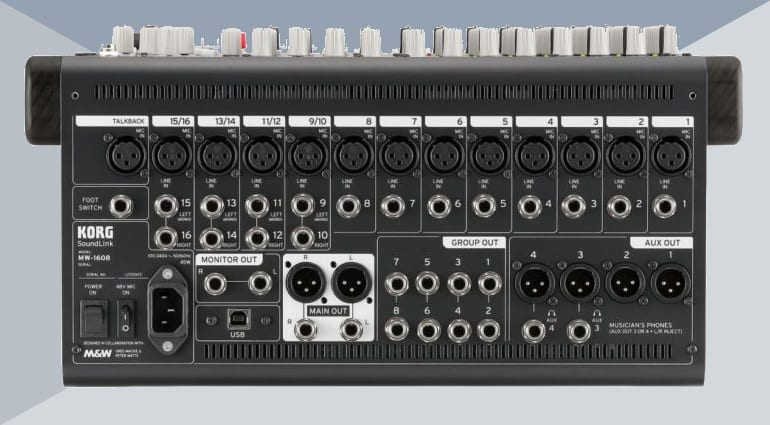 As for the digital section, the DSP offers a 31-band EQ with nine active bands, compressor, limiter, noise gate and spectrum analyzer with peak hold function. You also get reverb, delay, chorus, flanger, exciter, sub bass booster and test oscillators/signal generators. Some of the effects can be routed individually to the main outs, or Aux 1 and 2 for a bit of added flexibility.
While not particularly innovative, KORG's mixers look solid as a block and have reputable origins. If the price is right, and KORG is not one to be outrageous with it, these will suit plenty of live and studio soundguys and gals. Check out the link below for full details on the new mixers.
More Information
Image Sources:
korg soundlink 1608 outputs: KORG