Musikmesse 2017: PreSonus completes digital mixer line-up with StudioLive 24
What's a comfortable spot between 16 and 32 audio channels? That would be 24, and PreSonus' new StudioLive 24 digital console and recorder should cover that middle ground for live sound pros.
Like its brethren, the console features touch-sensitive motorized faders and recallable XMAX Class A preamps. All audio channels can be addressed digitally via USB and ABV connections.
Predictably, the board runs PreSonus' Capture recording and virtual soundcheck software. It lets you bring your recorded audio and preset mix parameters straight into a Studio One session on your computer, in addition to many interesting possibilities.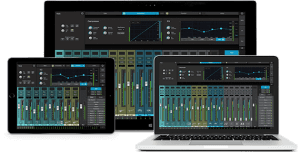 The mixer is tightly integrated with PreSonus' range of software, including the UC Surface touch-control app for Mac, Windows, and iPad. You can add up to four screens for a faster workflow. The recallable XMAX preamps and Fat Channel processing can be controlled remotely with the included Studio One Artist DAW. Moreover, musicians can control their monitor mixes onstage with the free QMix-UC app. As an added treat, PreSonus is giving away the Studio Magic Plug-in Suite for Mac and Windows, which includes seven popular plug-ins in VST, AU, and AAX formats.
Audio processing has been paid proper attention to with the Fat Channel section's simulated vintage-style EQ and compression features. A 6-band parametric EQ covers all mix outputs.
The console's digital brains also give lots of routing freedom. Any channel, DCA master, or bus fader can be routed anywhere for a personalized workflow. This can include multiple iPads and a computer, each running PreSonus' UC Surface software with different "views" to manipulate all the controls you need at a given time.
Engineers get a total of 10 FlexMixes on analogue outputs, 6 on XLR connectors, and 4 on ¼-inch TRS. The other 6 are routed over USB or AVB. These 16 FlexMixes are in addition to 4 fixed subgroups that are also available via USB or AVB, giving a total of 20 mix buses – not counting the main mix, solo, and FX buses. PreSonus also provided 24 DCAs for easier and more flexible control over groups of channels.
Price and release date
PreSonus will start selling the StudioLive 24 this quarter, targeting a USD 2500 price point. More information is available here.