Midas HD96-24-CC-IP Live Digital Console takes up the mantle of the Heritage D
Approximate reading time: 3 Minutes
Way back in 2016, we published a story about a rumoured Midas console – called the Heritage D. Now Midas has finally begun to ship the Heritage D – or the HD96-24-CC-IP as it's also called. Although many of the specs have been known for a while, we wanted to take another, closer look at what is a major milestone for Midas.
Midas Heritage
When it comes to live sound consoles, there are a few brands that seem as old as the industry itself. And Midas has quite a legacy. In fact, two Midas consoles made our list of 7 Live Mixing Consoles That Changed The Industry Forever.
"Heritage", of course, is a name from Midas' "greatest hits". The analogue Heritage console was one of the consoles on stadium level tours in the 90s and 00s. If you take a look on Midas' website nowadays though, you'll see that it's digital consoles that form the backbone of the current lineup.
A Midas you can Touch
Let's take a closer look at the new Heritage D – or the HD96-24-CC-IP, as it's officially called. The first thing that hits your eye, is, of course, that large full-colour 21″ TFT capacitive touch screen. Midas is pinning a lot around this touch screen display, describing it as "finally a Midas you can touch".
Naturally, conventional faders and buttons still feature on the HD96-24-CC-IP. You'll find a total of 30 100 mm faders and 66 touch-sensitive rotary controls.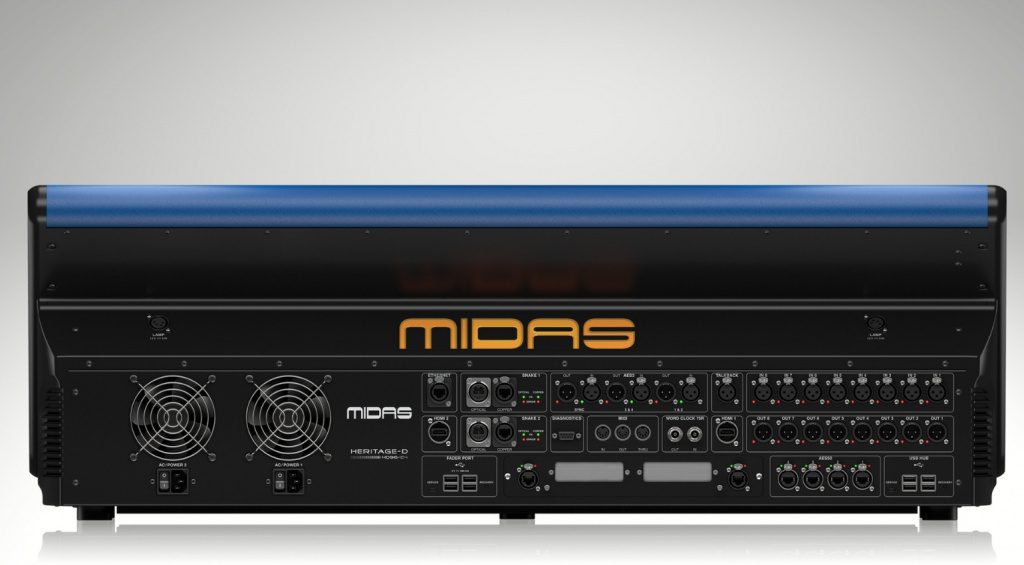 Vast I/O and Mix Capability
I/O count is staggering, with 144 simultaneous inputs available at 24/96kHz with 576 inputs and outputs available in total via AES50 and HyperMAC networking. We also understand that Dante, USB and MADI interfaces will be available as expansion cards, further broadening the appeal of this mighty console.
In the mix, you'll enjoy access to 24 VCAs and 96 stereo four-band EQs. As you'd expect there's a fully-featured, dynamically assignable FX pool; you'll enjoy dynamics and modulation effects from TC Electronics as well as various emulations based on classic Midas processing.
Additionally, Midas has included a feature called Flexi Aux, which apparently gives the ability to send aux to aux for group or stem style mixing. This should provide greater flexibility for adding processing to IEM mixes, for example.
Graviton Mk2 Mix Engine
The quality of the mix engine architecture has a huge influence on the sound of your final mixes. With this in mind the new console features the Graviton Mk2 mix engine. Midas says it's a new 64-bit summing mix engine with an increased dynamic range. Looking at Midas' blurb, they also claim to have paid a lot of attention to delay compensation in order to avoid comb filtering when mixing and summing.
The Verdict?
Looking at the feature set, the successor to the Heritage D is a hugely impressive console. What I'm struggling with a little is understanding the target audience of this desk. It's priced considerably higher than the M32 at around €30k. And yet it seems to offer the sort of functionality that might rob customers from Midas' more expensive touring consoles. Perhaps the smaller footprint and more portable nature of the HD96-24-CC-IP might make it more appealing to today's mid-level tour professionals.
More Information on Midas Heritage D HD96-24-CC-IP