Leak: NI Kontakt 7 is under development, possibly for Komplete 14
Hardware and software manufacturer Native Instruments appears to be developing a major update for its Kontakt sample player. Kontakt 7 is being shown on a screenshot published via reddit. Rumors about Kontakt 7 and a new Komplete 14 bundle have been brewing for some time, as the NI is selling bits and pieces of the bundle at very low prices.
Native Instruments Kontakt 7 leak
Apparently, a beta tester couldn't keep his hands still and posted the changelog from NI Kontakt 7 as a screenshot from the Native Access installation software. So it seems clear that Native Instruments will be releasing a new version of the sample player and engine soon. In addition to Retina compatibility for the plug-in and the browser, a new Factory Library, and two new effects (Psyche Delay and Ring Modulator), the list only contains bug fixes and performance updates. So nothing super-special that would make a for a big new version, but incremental updates and a new factory library are pretty awesome.
On the other hand, there's nothing in stone to say about Komplete 14, yet. We're all crossing our fingers for an early update to all NI plug-ins (Komplete, Maschine) for native compatibility with Apple Silicon computers. I also think many NI users want more new instruments and effects (and not just new sound packs). That shouldn't be a big problem considering NI is part of Soundwide. We expect Native Instruments will focus on Kontakt, Maschine and Traktor with additional DSP mojo amply supplied by iZotope and Brainworx. Moreover, NI will be extending its subscription model and we will not be surprised if the standalone Komplete download / SSD version goes the way of the dodo at some point. We will know, sooner or later!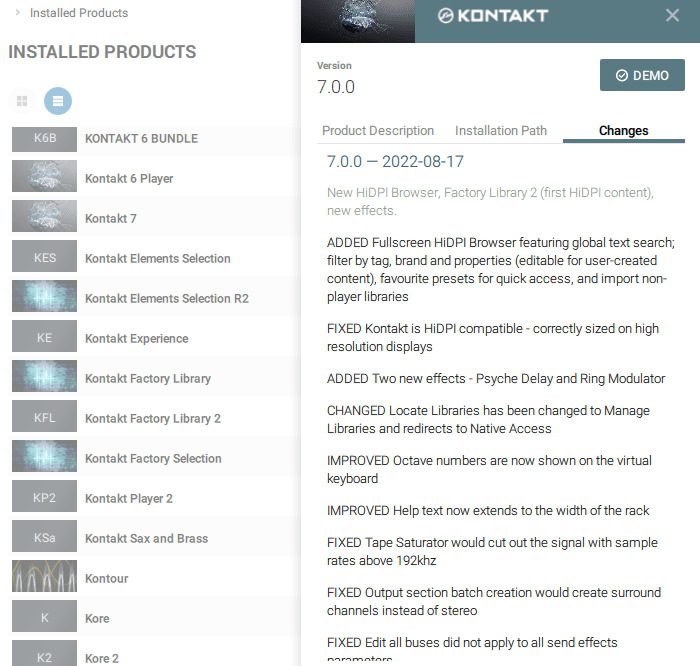 More information
NI Kontakt 6 Video
Image Sources:
NI Kontakt 7 leak: reddit