iZotope lets Ozone 8 and Neutron 2 mastering and mixing tools communicate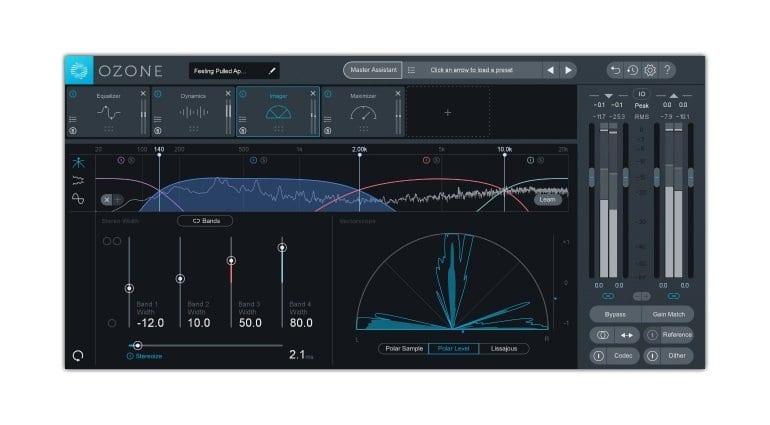 iZotope made Ozone 8 look even more gray and dull, but at least the important information is focused and organized · Source: iZotope
iZotope has just announced the next versions of its popular Ozone mastering software and Neutron mixing tool. The biggest new feature in Ozone 8 and Neutron 2 is having the two work together through the Tonal Balance Control plug-in. This way, problems in mixing can be solved before heading to the mastering stage, iZotope say, for a more balanced sound. Sounds interesting, but just how is iZotope going to achieve this? Read on…
Ozone 8
Ozone Version 8 comes with a redesigned interface and a new Spectral Shaper module, designed to help with harsh or problematic frequencies. This brings the number of available modules to 12 – Spectral Shaper, EQ, Dynamic EQ, Post EQ, Maximizer, Imager, Exciter, Dynamics, Vintage Limiter, Vintage Tape, Vintage EQ, and Vintage Compressor.
The new Master Assistant feature uses intelligent algorithms to analyse your tunes and come up with a nice-sounding preset to get you started with mastering. Such analysis has become very prominent among flagship plug-in makers, and we expect artificial intelligence will become increasingly relevant in audio processing.
iZotope has also upgraded the Maximizer module with a low-latency mode, Transient/Sustain adjustment, Stereo Independence adjustment, and Learn Threshold functionality. Meanwhile, the Exciter gets the ability to apply different saturation modes (Warm, Retro, Tape, Tube, Triode, and Dual Triode) to individual frequency bands. You can concoct a mighty dangerous saturation cocktail by treating the low, mid, and high freqs with different algorithms.
Given that Ozone felt very complete by version 7, we are impressed with the new functionality and improvements introduced by iZotope. Their hard work shows Ozone still has ways to go, despite its years-long status as one of the music industry's go-to mastering processors making one think "what else could they come up with at this point?"
Neutron 2
The sequel to Neutron comes with an improved Track Assistant feature where track analysis comes up with an optimal starting point for mixing. Neutron 2's Visual Mixer is capable of visualizing the complete soundstage with control over individual tracks including pan, width, and gain. The useful Masking Meter identifies frequency clashes across tracks and the sound can be treated with six audio processors – complete with a new Gate with Hysteresis feature. Neutron also includes a True Peak Limiter for mixing in surround.
Neutron 2 is a decent upgrade from its predecessor and it exists to co-work with Ozone 8 through the Tonal Balance Control plug-in. Here's a little more about it below.
Tonal Balance Control
The brand-new TBC is a tool for visual analysis that measures how energy is distributed across frequencies. Your audio is compared to optimal targets which iZotope designed after analysing "tens of thousands" of commercially available tracks across different musical styles. TBC can also do that with custom tracks uploaded by you.
The most interesting bit about TBC that's emphasized by iZotope is inter-plug-in communication. By making Ozone 8 and Neutron 2 talk to each other, problems from the mixing stage that may result in mastering difficulties can be identified and fixed more easily. The visual guide provides a roadmap (of sorts) for aligning the frequencies to come up with a more even, balanced mix. iZotope considers TBC as the "missing link" between mixing and mastering, and its clever concept will probably expand in the future to fill more of the gaps between these two production stages.
Price and availability
Ozone 8 and Neutron 2 Standard and Advanced versions are available online and from iZotope retail distributors. They can be purchased separately, or as part of iZotope's Music Production Suite, which includes other products like the RX 6 Standard audio repair software, Nectar 2 vocal processor, VocalSynth synthesizer, and Trash 2 distortion effects. The software is available for Windows and Mac computers.
Prices start at $199 for Ozone 8 and Neutron 2 Standard each. The Advanced versions cost $399 each. Currently, the most cost-efficient ways of obtaining the products legally is buying the O8N2 bundle (Ozone 8 Advanced and Neutron 2 Advanced) for $499, or the Music Production Suite for $699. These introductory prices will hold up until the end of October. Upgrade prices are available as well.
Additionally, Ozone 8 Standard and Neutron 2 Standard are available on Splice's innovative rent-to-own platform. You pay $10/mo for each plug-in, or $15/mo for both until you pay off their full price – with no interest. The subscription can be halted and resumed at any time. This makes iZotope's latest mixing and mastering technology available on a tight budget.
Besides, the rent-to-own plans start with a free 3-day trial, so you can test-drive AND have Ozone and Neutron without any risk or financial obligation. Very good and bold move on iZotope's part!
More information
Video
Image Sources:
iZotope made Ozone 8 look even more gray and dull, but at least the important information is focused and organized: iZotope
Neutron 2 is all about waveforms and making things sound proper: iZotope
Tonal Balance Control: the missing link between mixing and mastering? : iZotope