Ibanez Artcore and Artstar Vintage range of hollow-bodied distressed guitars and basses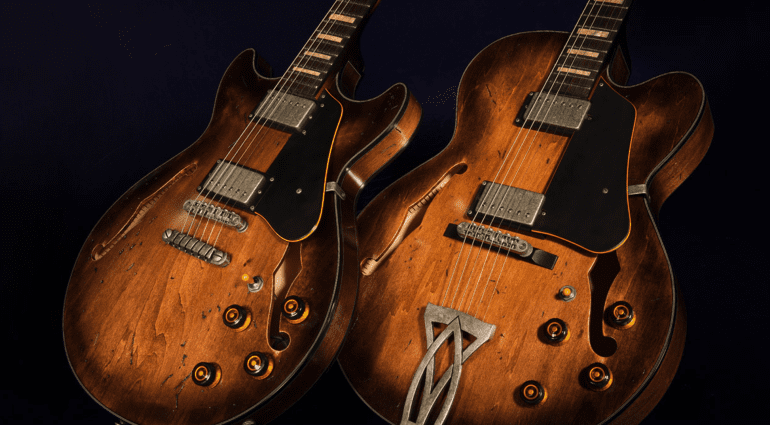 New ArtCore Distressed range from Ibanez · Source: http://www.ibanez.com/usa/news/f_products/2016/vintage/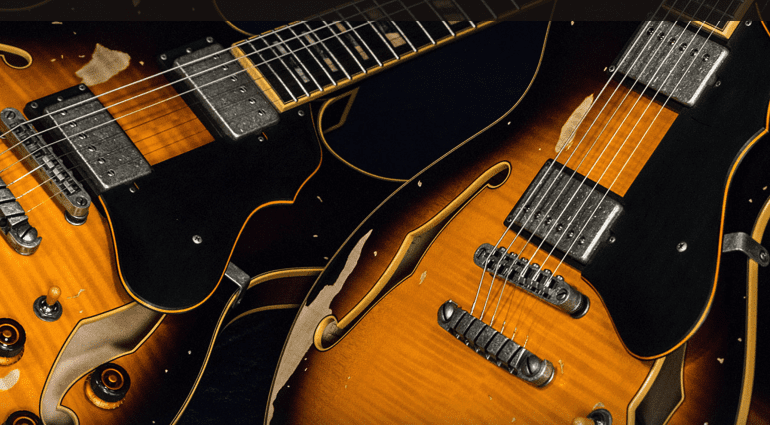 New ArtCore Distressed range from Ibanez · Source: http://www.ibanez.com/usa/news/f_products/2016/vintage/
The Ibanez Artcore Vintage range were released to simulate an old worn, aged guitar or bass. Following on from the whole relic or road warrior guitar style, which has been a thing for a good few years now. have Ibanez lost the plot with these instruments or do they offer anything new to the marketplace?
The Artcore Vintage range all sort of slid under the radar earlier this year during the NAMM Show back in January. It's only now that these guitars are starting to finally become available at dealerships. The whole premise is to take some classic looking semi-hollow instruments and make them look as though they have played a few thousand gigs in smokey bars at a downtown venue all their lives. Or does it just look like a monkey has hit them with a bag of rocks, chipped the paint work, dragged them around a bit and added badly aged hardware to them?
Well, its subjective isn't it, so I couldn't say either way. The guitars themselves are separated into three ranges. The Artstar range features two models, namely the snappily named ASV100FMD and the AMV100FMD. Then there's the Artcore range that includes the ASV10A, AMV10A AFV10A and the AGV10A. And then come the basses: AFBV200A, AGBZ200A and the AGBV205A.
Okay my first impression was: Why name these guitars so badly?
If you are going to take the time to age and give them a used look, even if they are based on specific models, then give them a decent name to differentiate between the various incarnations. I don't know, maybe something like 'Blues Dog' or 'The Louisville Slugger', but please anything other than just numbers and letters!
I know Ibanez guitars are generally called RG550, RG560 or Rg2550 etc. But it really doesn't fit with the vibe they are going for with this type of worn-in instrument. I think if anything they may want to re-think this strategy in the future if they are going to keep making 'relic' instruments.
I love Ibanez guitars and own a few of the old RGs from the '80s, so I think they can make some amazing instruments. I am not sure if I like the look of these aged ones, as judging by the photos on the Ibanez site the aging work looks a little bit over the top and heavy handed. However, I will reserve judgement until I can go try a few out in person and see the finishes with my own eyes.
The range is far too confusing to list out with all the individual models, so I have put a link below to the Ibanez page listing all the variations.
Artstar Vintage RRP EUR €1,184
Artcore Vintage RRP EUR €522 -€639
Artcore Vintage Bass EUR RRP €589