HeadRush Prime, AmpliTube 5 and more on Deal Prices
This weeks' Guitar Deals on Thomann
Deal
This week's Guitar Deals include a range of savings across various great bits of guitar gear. Including HeadRush Prime, and the IK Multimedia AmpliTube 5 package. Plus, the Boss Cube-10GX combo, Harley Benton SC-400 SBK Vintage Series and the Morley ABC-G Gold Series A/B/C Switch.
HeadRush Prime
The HeadRush Prime is currently on a great deal over at Thomann at €1199 instead of €1439.99, which is a pretty decent saving on the list price. It has only just been released and you can read the full details from our original article here.
It gives guitarists access to onboard guitar FX, amp, cabinets and microphone emulations, plus smart amp cloning and IR loading. Plus, it now features Antares Autotune technology that you can run your vocals through.
Deal Price – EUR 1199 *
Amplitube 5
IK Multimedia's AmpliTube 5 software bundle gives guitarists a whole suite of great tools for recording guitars and getting flexible virtual guitar rigs. The package includes 47 stompboxes, 34 amps, 27 cabinets, 14 speakers, 11 microphones, 36 rack effects, and 8 rooms
It allows the user to run up to 57 effects, 3 cabinets and 3 amps simultaneously, which makes for a very flexible guitar rig. It runs within all major DAWs as a plugin and also standalone.
This means you have the option to use it for recording, practising or playing live.
Deal Price – EUR 229 *
Roland Cube-10GX
The Roland Cube-10GX offers guitarists a small compact combo amp with their COSM technology. This 10-watt amp has Clean, Crunch and Lead tones available via three channels
Plus, it comes loaded with chorus, delay and reverb (plate/ spring) effects.
A great little practice amp and the 8″ speaker is complemented by a headphone/record-out jack as well. Making it pretty flexible for most home uses.
Deal Price – EUR 159 *
Harley Benton SC-400 SBK Vintage Series
The Harley Benton SC-400 SBK Vintage Series gives guitarists a very wallet-friendly price for a single-cut style electric guitar.
This twin humbucker-loaded model has traditional styling, yet it is based around a basswood body and a maple neck. This model comes in a matte black finish.
Deal Price – EUR 111 *
Morley ABC-G Gold Series A/B/C Switch
This Morley ABC-G Gold Series A/B/C Switch is currently on a deal, along with a lot more Morley pedals over on Thomann.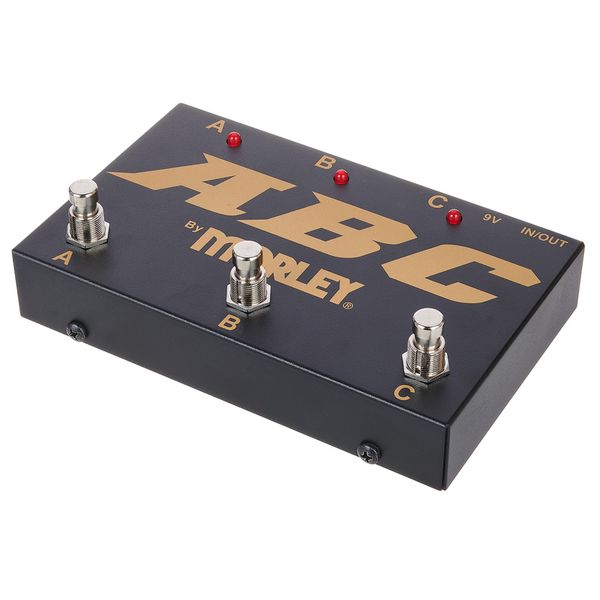 It allows flexible signal routing and can be used as an input or output selector.  Inputs and outputs can be used in both directions (one input to three selectable outputs or three selectable inputs to one output)
Deal Price – EUR 229 *
* This post contains affiliate links and/or widgets. When you buy a product via our affiliate partner, we receive a small commission that helps support what we do. Don't worry, you pay the same price. Thanks for your support!
Image Sources:
Now with AutoTune: HeadRush
IK Multimedia AmpliTube 5: Thomann
Roland Cube-10GX: Thomann
Harley Benton SC-400 SBK Vintage Series: Thomann
Morley ABC-G Gold Series A:B:C Switch: Thomann
Headrush Prime: Thomann