Guitar Gear Gems: Gibson lost archive of pre-'70s blueprints found
Gibson Special
This week on Guitar Gear Gems we look at a host of Gibson news for the last week and specifically a whole treasure of lost blueprints discovered on an auction site. We also look at the new Gibson Greenybucker pickup set. And finally, we remember the famous Gibson Les Paul player, the late great Bernie Marsden.
Gibson lost archive
Gibson has discovered a lost archive of pre-'70s blueprints for amps and effects, along with product information for brands they own including Maestro and Epiphone.
This lost archive was shared by Mat Koehler, Gibson's VP of Product via Instagram.
The find includes all of the  Gibson Brands amplifier and effects archive from 1936-1969 and includes schematics, blueprints, parts lists, work instructions, promo photos, frequency analyses, notes and memos.
Online Auction
The lost Gibson files were found on eBay and had been listed by a former employee who had rescued them from being thrown out.
These blueprints and documents had been taken from Gibson's original Kalamazoo building and then moved to Chicago when Gibson's parent CMI decided to relocate the service centre. Then later under the ownership of Norlin (from 1969) they were again repeatedly moved.
Thankfully, they are now back with Gibson, so we could see a whole glut of amp and effect issues based on original designs sometime in the near future.
Greenybucker
Gibson has also announced the launch of the new Greenybucker pickup set and these are the humbuckers that come in the Kirk Hammett USA Greeny signature model.
The tone of these pickups is pretty famous and is associated with early Fleetwood Mac and also Gary Moore, and now Kirk Hammett.
Peter Green Tone
They are now available to buy separately and offer those unique PAF-like tones, as made famous by Peter Green. Plus, they have that distinctive sound that is partially from the out-of-phase middle switch position due to the neck pickup's reverse magnetic polarity.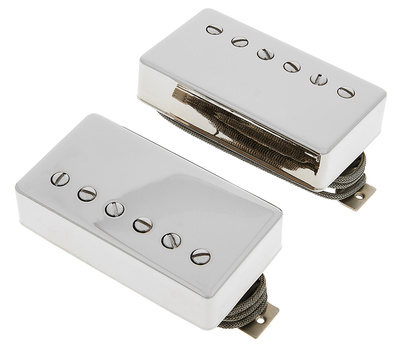 Gibson Kirk Hammett Greenybucker Set


Gibson Kirk Hammett "Greeny" LP Std.
Bernie Marsden
The sad news of Bernie Marsden passing on 24 August 2023 has rocked the world of guitar.
Whitesnake & The Beast
He was famous for many things including Whitesnake's timeless classic, Here I Go Again, which he co-wrote and for being the owner of "The Beast" a 1959 Gibson Les Paul Standard.
Guitar World Rocked
Always a gentleman and a man who had time for everyone. Tributes from all over the guitar world have been shared on the internet, as he was genuinely loved by all.
I'm hoping that at some point Gibson will release a new model based on The Beast and help keep Bernie's memory alive for younger players, as he gave so much to the world of music and the guitar.
RIP Bernie John Marsden 7 May 1951 – 24 August 2023
This post contains affiliate links and/or widgets. When you buy a product via our affiliate partner, we receive a small commission that helps support what we do. Don't worry, you pay the same price. Thanks for your support!
Image Sources:
Blueprints Archive: Instagram/matkoehler
Kirk Hammett's USA Greeny signature model GreenyBucker: Instagram/Gibson
Whitesnake, around '82: Instagram/Bernie Marsden
The Beast: Instagram/Bernie Marsden