GC Audio Inherit: modular analog preamp system & 500 Series rival
What if you could swap analog preamps like they were presets? Or, more closely, video game cartridges (remember those?) Well, GC Audio has incorporated its experience in designing 500 Series analog modules into something alike. The manufacturer's Inherit system is a 2U chassis with power, metering, and controls that lets you insert preamp 'cartridges' for different tones. There are currently four to choose from (RE-73, Tube Heat, RE-4K, RE-98), and four more to come. What's more, the GC Audio Inherit is very real and can be ordered straight away with a build time of up to 6 weeks.
GC Audio Inherit modular preamp system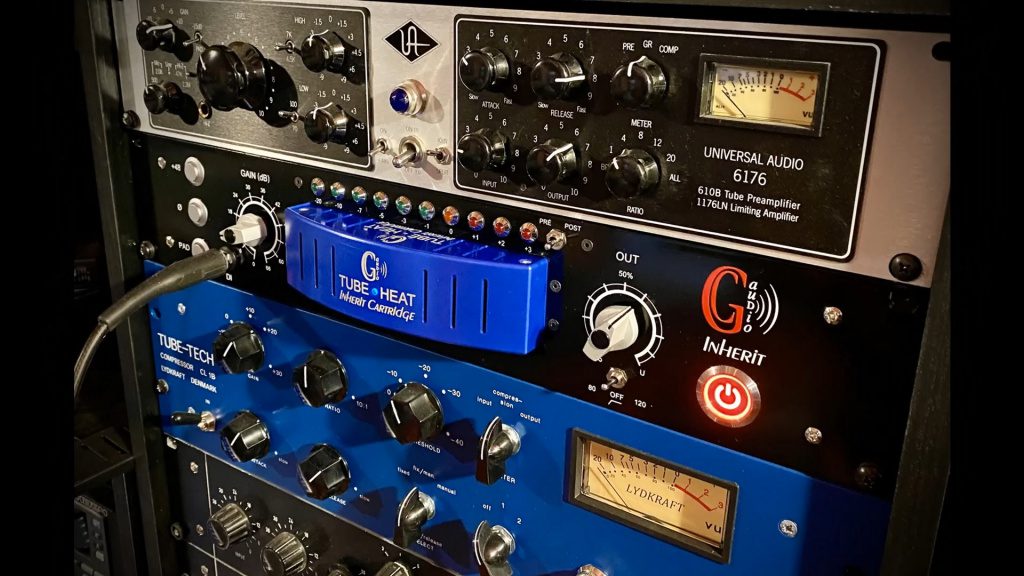 It's true that you can get a similar experience out of a regular 500 Series rack. Stuff it full of preamp modules and you'll never be bored, right? The Inherit system does offer practical improvements for consideration. Chief among them is the power supply which delivers 240mA current whereas the 500 Series standard is capped at 130mA. This makes it possible to power all-tube preamp modules which the API system wouldn't handle. Plate voltages of around 300V are also covered in order to cook up those tubes. Additionally, swapping cartridges means no fussing about with patch cables and signal routing.
The Inherit chassis' front plate has the cartridge slot in the middle, surrounded by 48V / Phase invert / Pad buttons, LED gain metering, a Gain knob, an Output knob, low-cut switch, and an On/Off button. The cartridges containing the preamp circuitry are, predictably, artist impressions of classic analog console pres. Pro audio is built on IP piracy, not unlike most engineering disciplines (especially auto). The initial offering has four cartridges:
RE-73 (Class-A, Carnhill transformers)
Tube Heat (high-voltage)
RE-4K (Original Jensen 115 input transformer, ultra low-noise OA for preamp & balancing)
RE-98 (Class-A differential preamp with Lundahl output transformer)
The Inherit system is something not seen before, certainly not in this exact incarnation. It's an interesting product that's going to draw attention. I like the clever, practical thinking behind it and the system is sanely priced (though not inexpensive).
Price and availability
Up for order from the GC Audio website with a build time of up to 6 weeks, the Inherit system starts at EUR 1740 for the chassis + RE-4K bundle and reaches EUR 3580 for the chassis + all 4 cartridges bundle. Individual cartridges start at EUR 560. That's all fairly typical boutique gear pricing, I'd even say it's on the lower end of the niche.
More information
Video
Image Sources:
GC Audio Inherit system - Microphone _ inst preamplifier - Namm Tec Awards finalist: GC Audio
GC Audio Inherit system Microphone Inst preamplifier cartridges: GC Audio