First Look Review: Harley Benton DNAfx GiT Pro Digital Multi-FX and Modeller
Top build quality, lots of great sounds and a low price – that's what the first Harley Benton DNAfx GiT managed to deliver. Now Harley Benton has launched the DNAfx GiT PRO, an expanded version with more of everything. Claudius, a guitar contributor for our German-language sister site, wrote this cracking little review, which we've translated for Gearnews.com.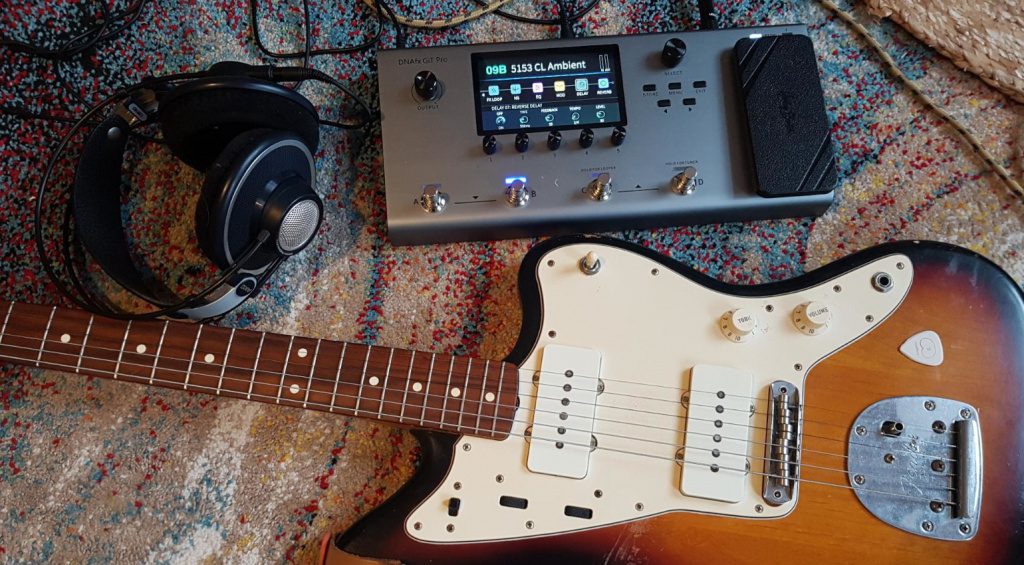 Harley Benton DNAfx GiT Pro Features
In case you missed Harley Benton's announcement of the DNAfx GiT Pro multi-effects floorboard, read it here. To recap, here are top features:
51 amps
31 cabinets via IR
a bunch of effects
4 footswitches, 1 rocker switch
Large, colourful display
Mono / stereo
MIDI
USB
FX Loop
XLR Out for PA/FOH/Studio
Sturdy aluminium housing
Amp Control
Expression In
Construction + workmanship
Like with the smaller version, which I also reviewed, I couldn't find any deficits in the workmanship. The DNAfx GiT Pro impressed me as an absolutely high-quality product. Reason enough for me to take an extra meticulous look at everything! But I really couldn't find any flaws. All pots turn well, the foot treadle has a high-quality, stable feel, the footswitches are solid and don't click, and will probably last 100 years. The display is really great: High resolution, easy to read, colourful. It's bright enough even for daylight and the layout is sensible.
The only thing I could criticise here is the use of plastic for the jack connections on the back. Of course, effect pedals with plastic jacks have been around for ages without causing any problems. Only time will tell.
Connections and controls
Here came my first surprise: Rather than just offering a simple input and output, the entire back panel of the DNAfx GiT Pro is packed with inputs and outputs. Besides the guitar input, there's so much more: Aux In, Amp Control, (Expression) Pedal 2, Send, Return L, Return R, Output L, Output R, Headphones (3.5mm), Output L and R each as XLR plus Ground/Lift switch – and a MIDI 5-pin DIN socket that functions as In and Out. Oh yes, and a USB type B port for connecting to your computer.
I find it very cool that Harley Benton not only used the standard 9V barrel connector with centre negative polarity, but also included an On/Off switch right next to it. For me, it's a small but welcome little detail.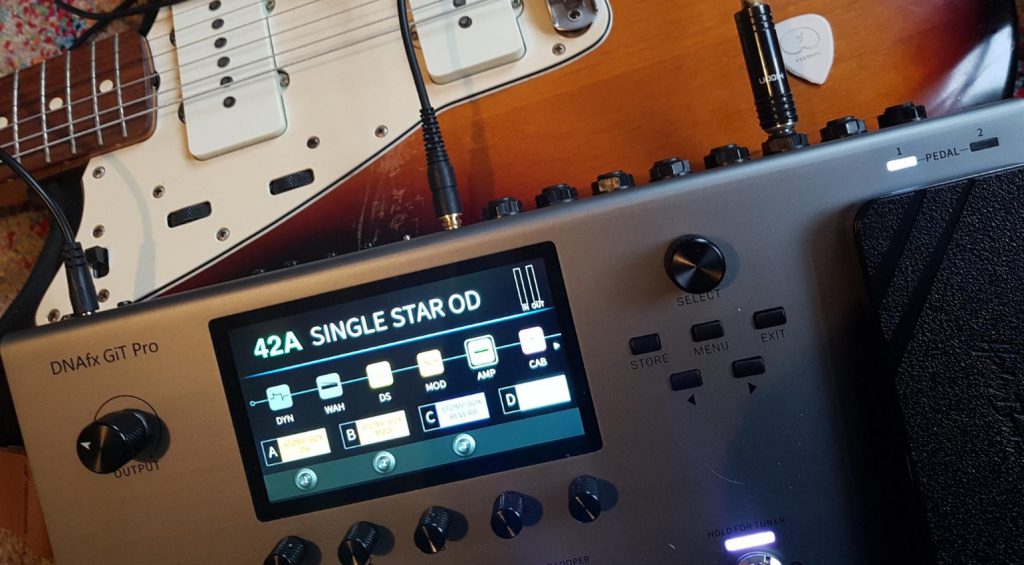 Harley Benton DNAfx GiT Pro
Usability + operation
So much for the rear panel! After all, it's the top panel we spend most of our time with. The top panel has a very large colour display in the centre (I think it's OLED), without touch functions. Below that are five digital knobs with push function, (analogue?) master volume, a push-able Select rotary knob, five buttons, four footswitches with corresponding RGB LEDs and a foot treadle that changes parameters continuously and can be used as a wah, for example.
Rather than a manual, my review had a short description of the operating elements, so getting into the details was trial and error. A full manual is included with the regular product as shipped. For my purposes, however, it was ideal. As a reviewer, it's the only way to be sure that the designers gave enough thought to ease of use. The basic design is intuitive. But there are a few things that are just not logical for me, as someone who isn't an experienced user of multi-effects.
Switching through presets is easy, as is activating the looper and (unlike its predecessor, the very usable) tuner. Going through preset banks worked the way I expected from other floorboards. When I reached a bank, I selected the preset with one of the footswitches A-D. Pressing twice gets you into live mode, where you can activate the preset functions or effects with the footswitches.
If the live mode is active, you access the edit mode via the D footswitch and can then go to the corresponding slot via select-push button, then adjust everything there via the knobs below the display. Some amp and effects settings, however, are hidden on page 2, which you can only reach via the right push button (accessible once I discovered the little arrow). Tap Tempo, on the other hand, is activated in live mode by pressing one of the knobs 1-3, which puts the effect on/off toggle control out of immediate reach.
All this can be solved using external controllers, of course. But with the DNAfx GiT Pro I feel a little limited by the somewhat illogical operation. It also took me a long time to figure out how to use the foot treadle as an expression control for parameters. It's actually quite simple: In edit mode, simply press and hold the pot under the corresponding value and assign the corresponding pedal. This even works with several parameters. Once you get the hang of it, it makes perfect sense.
It's a pity that Harley Benton missed the opportunity to let you use multiple instances of an effect type. It is not possible to use overdrive and booster in parallel or even serially. Or chorus and pitch shifter. Each effect type can only be assigned once per preset. At least I didn't find an option to double one of the types. What a pity. But this is a digital device, so this could possibly be remedied with a firmware update. Harley Benton, go for it!
Unfortunately I couldn't try out using an external expression pedal, MIDI or the amp control feature. But I can't imagine that anything wouldn't function as advertised. The menus offer lots of settings for those functions, especially for MIDI.
What does it sound like?
Let's get down to brass tacks: On the whole I wasn't keen on the presets. With my Jazzmaster and its single coils, they sounded a shrill. Due to the lack of humbucking guitars at home, I wasn't able to try the sounds with other pickups. Presumably, however, many of the presets were created with those guitarists in mind. But that wasn't a bad thing, because it forced me to get to grips with the device.
And lo and behold: it can sound very, very good. But be ready to do some tweaking. The learning curve is steep and you can (well, have to) listen to all the amps and cabinet IRs. That acquaints you with the scope of what the DNAfx GiT Pro has to offer. It's really versatile. And for me, the cabinet IRs play a crucial role. Just like in the real world, it doesn't matter how good an amp sounds, if the speaker sucks… Of course, personal taste is important. Some love a boomy sound, others like their tones without any audible bass range and others still "hate" mids. There is something here for everyone.
By the way, the effects and amps sound consistently good or very good to my ears. I found one exception with an amp, but maybe that's just a matter of taste.
My favourite sound: Tube Overdrive at 50% gain with slightly lowered treble with Amp #18 (Plexi), with Gain at 11-12 o'clock and treble at 0% (!), and the Freeman speaker plus a noise gate (very important with my single coils) as well as a spring reverb at 20% wet. Exactly my tone! Thanks to the togglable overdrive, it works like a two-channel amp, at least on my home setup with my AKG 702* headphones. Really cool stuff.
Unfortunately, the DNAfx GiT Pro doesn't play well with effects in front of it. My Dirty Little Secret*, Small Clone* and my Green Big Muff* sounded terrible. That's probably because the input is buffered. In the FX loop, the distortions didn't really make a good impression either, but it was audible that the Small Clone was happy about its new position in the signal chain. By the way, the FX loop can be placed at any position in the signal chain and activated by footswitch.
The drum computer, on the other hand, was no more than a practice tool. It's useful and there's plenty to adjust, but sound-wise it's just about OK and definitely no substitute for a drummer or the Beat Buddy. But then again it's not designed to be. Likewise, the looper is good, at best. The functions all work, but it can't do more than a Ditto*, except adjusting to the tapped tempo. But it's perfectly adequate for practice purposes. And hopefully no one expects a Boss RC-500 or RC-600 loop station here.
Conclusion: How cool is the Harley Benton DNAfx GiT Pro?
TL;DR: For the money, you get a lot of great sounds, a lot of flexibility and great build quality. If Harley Benton tweaks the presets, or – which you should do anyway – if you take 30 minutes to adjust the presets to suit your guitar, this is an effects unit you can be happy with. I would definitely recommend it to beginners, despite the higher price.
Above all, the variety of I/O and the possibilities that come with it are amazing and leave room for future development. The Harley Benton DNAfx GiT Pro can not only produce sounds, but also control your amp by switching channels, a bonus for those setups.
Even if the comparison is not appropriate: Compared to the DNAfx GiT Pro, my first multi-FX pedals – Zoom 606 and 707 II – were complete rubbish. These days, you can expect excellent gear for your money. Nice.
Now I'm hoping for a firmware update that allows multiple instances of the same effect type and also brings a few more presets for single coil guitars.
More about Harley Benton and DNAfx GiT Pro
Harley Benton is an inhouse brand of Thomann. Our publisher, Remise 3, is a Thomann daughter company.
*affiliate links
Image Sources:
Harley Benton's DNAfx GiT Pro, rear panel: Gearnews
Rear panel, DNAfx GiT Pro: Gearnews
Harley Benton DNAfx GiT Pro: Gearnews
Kitty likes DNAfx GiT Pro.: Gearnews
DNAfx GiT Pro, Edit screen: Gearnews