ElectroPhonic Model One: A new take on the "play anywhere" guitar?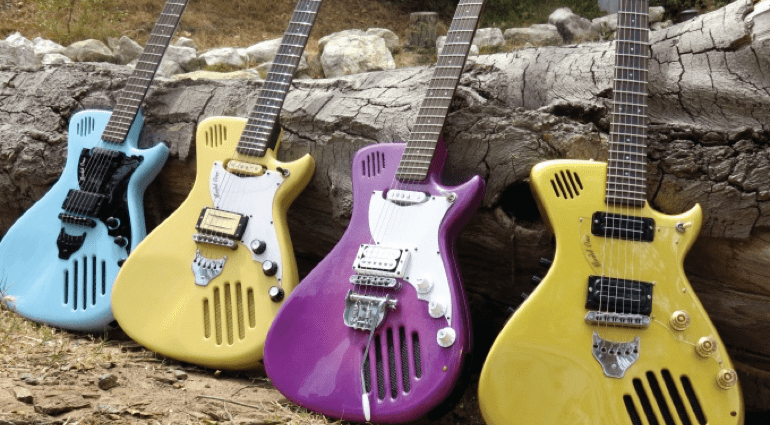 ElectroPhonic Model One range of colours and pick guard options. Retro looking, plus they look like a lot of fun! · Source: ElectroPhonic
A new Kickstarter venture aims to put the ElectroPhonic Model One guitar range into production in early 2017. The crowdfunding site has details of some pre-release versions of this "play anywhere" guitar.
Joe Floyd, one of the two people behind the venture, says the idea came to him in a dream and that they have already put 10 years worth of research and development into the project. ElectroPhonic are attempting to bring the travel or play guitar anywhere back into the world. It is not a new idea, in fact far from it as travel guitars with speakers and effects started back as early as the 1960s with companies like Vox making the Phantom VI Special. In more recent years, the Japanese-made 'elephant shaped' Fernandes Z03 also caused a stir.
This new venture is aiming to try and give us players both high quality modern hardware and more traditional guitar building techniques merged together. The specifications seem a little sketchy for me. For instance, they reference using 'select hardwood throughout' in their construction, yet haven't specified any particular wood species. They also allude to high quality effects yet give little indication on the actual effects themselves. Looks-wise, the Model One range are pretty retro looking and they have a few examples and colours to choose from.
However, they do include some info on the Kickstarter page about an analogue FET-based internal amplifier and two 8-Watt internal speakers. They claim the guitars have a patented Labyrinth tone chamber and that their choice of Class D amp with effects give these guitars a tube-like tone. These are bold claims and I would love it to be true. So, hopefully they will get this idea off the ground and into players' hands sometime in 2017.
The guitars are powered by rechargeable lithium ion batteries so I would expect a decent playing time. You can also use them as a traditional guitar as they have a regular jack output.  Inputs for mp3 players and a headphone output are also provided.
Personally I'd love these to do well as they could be a lot of fun. The looks will divide opinion, but I quite like it. I am crossing my fingers for them, as I would genuinely like to try one out someday.
For more product details and specifications, see the Kickstarter Page
Easy adopter pricing from USD $749 via pledging on Kickstarter.
Image Sources:
Electrophonic: https://www.kickstarter.com/projects/738447513/experience-a-guitar-beyond-anything-youve-ever-kno