EarthQuaker Devices Aurelius tri-voice chorus
Inspired by the Boss CE-1 Chorus
EarthQuaker Devices' Aurelius tri-voice chorus pedal gives guitarists a Boss CE-1-inspired chorus, with vibrato and rotary voices in one effect. Making this compact modulation pedal a versatile pedal and packed with classic effects.
Aurelius
The new EQD Aurelius tri-voice chorus was inspired by the classic Boss CE-1 Chorus pedal, which is a very popular vintage effect and used by many famous players.
Those original pedals are huge, quite noisy, mains-powered units, with an input designed for line/instrument level and not specifically just the guitar. They are fun, I have owned them multiple times, but they are also quite temperamental and so can be awkward in some situations.
Controls
Whereas, the Aurelius is a modern-day chorus with all the features we would expect. It is based on digital architecture and has 6 presets accessible via a rotary switch.
Plus, controls for Width, Rate and Balance. Any of these three can be assigned to an expression pedal. Finally, there is a Mode switch for choosing which type of effect the pedal is set to.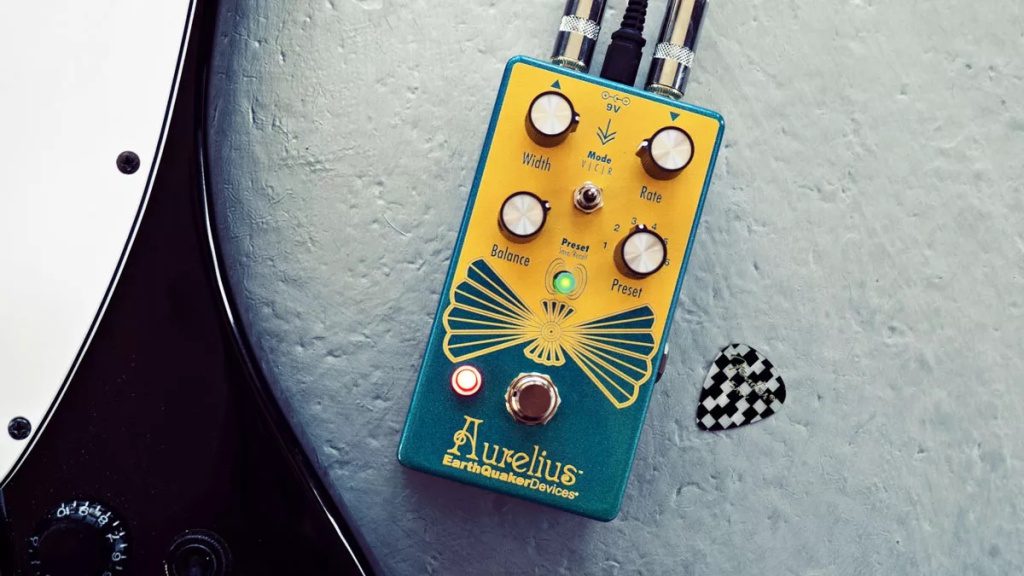 Flexi-Switch
The Flexi-Switch allows the effect to go between the pedal's current setting and a chosen preset and acts as a standard on/off as normal. This gives it even more flexibility and allows users to get quite expressive and creative.
Verdict
I really like that it is compact and also the added benefits that digital offers in terms of control and being flexible. The demo below shows what it can do and is well worth checking out. As they use it with both guitar and bass.
This could be a great chorus for any guitarist looking for a versatile, yet classic-sounding chorus effect.
MSRP – EUR 265 *
More Information
Video
* This post contains affiliate links and/or widgets. When you buy a product via our affiliate partner, we receive a small commission that helps support what we do. Don't worry, you pay the same price. Thanks for your support!
Image Sources:
Inspired by the Boss CE-1: EarthQuaker Devices
EarthQuaker Devices: EarthQuaker Devices