Der Mann mit der Maschine M4: Motorised faders for Eurorack
The Droid Eurorack control system from Der Mann mit der Maschine gains the M4 controller with motorised faders for some extraordinary mechanised modular action.
Droid
Droid is what Mathias Ketner, the man behind der Maschine, calls a Universal CV processor. It's a collection of Eurorack modules that, when used together, can generate any and every type of CV signal. The brain of the system is called the Droid Master and has 8 CV inputs and outputs. Using a Droid Patch you can turn it into any CV function you can possibly imagine (or there about).
You can create patches in the recently released Droid Forge using any of the 57 functions or "circuits" that are currently available. These include LFOs, envelopes, quantizers, sequencers, logic and so on.
M4
With the M4, Mathias is adding motorised and recallable faders to Eurorack. I think that's probably the first time we've seen this in a modular system. You can connect up to 16 controllers to a Droid Master so you could wire in four of the M4 controllers for an elaborate 16 channels of motorised fading. It can control any type of signal, so you could see it as a sequence, an envelope, a movement of modulation, a comparator or a visualiser of what's going on in your patch.
The use of haptic feedback also lets you create virtual notches. So if it was a sequencer, you can literally feel each note as you move the fader. Or you set it up like a pitch bend wheel where you push or pull the fader and it springs back to the centre position.
S10
Released at the same time is the S10 module. This adds a bunch of physical switches to the Droid system for purposeful selections and changes to things.
Universal control
The Droid system is building up to be quite a phenomenal machine. You could use it to design entire instruments, complete with a comprehensive control system. I wonder, as it adds another layer to your modular, whether it makes for an easier and more fluid workflow or if it adds further complexity placing you further from the act of musical creation. It's certainly fascinating.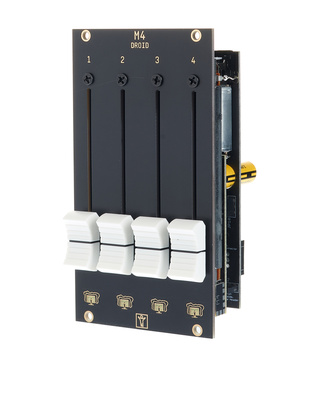 Der Mann mit der Maschine M4 Motor Fader Unit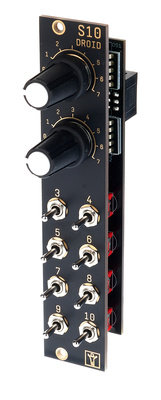 Der Mann mit der Maschine S10 Controller
Der Mann mit der Maschine Droid Master
Image Sources:
De Mann mit der Maschine S10 and Droid Master: De Mann mit der Maschine