Cycling '74 Max 8 is here: Look at what's coming to M4L in the months ahead.
Approximate reading time: 2 Minutes
Cycling '74 released Max 8, the latest version of the decades-old audio-visual patching environment most modern producers know from Ableton Live's Max4Live extensions. Max's latest version comes with lots of additions, including new tools, multichannel patching, MIDI learn, improved performance, and much more.
Multichannel patching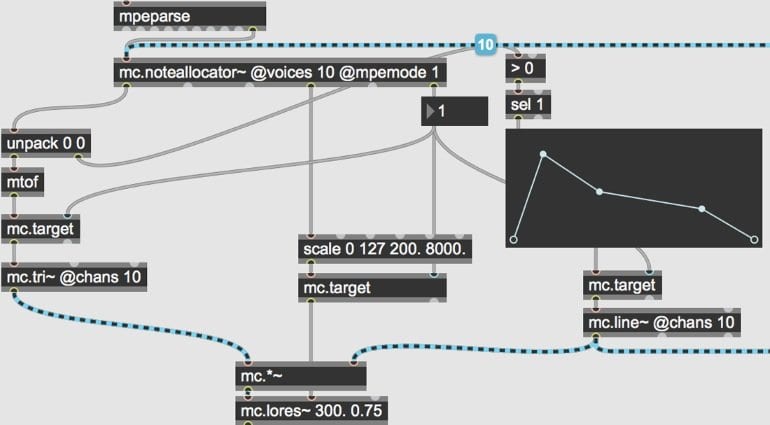 Within Max 8, any sound object can be made into multiples, just by typing mc. in front of the object name.
A single patch cord can incorporate any number of channels and you can edit multiple objects at once. MC enables polyphony, granular and additive synthesis, as well as MPE assignments from external controllers like the ROLI Seabord. It's a pretty big deal, all in all!
MIDI mapping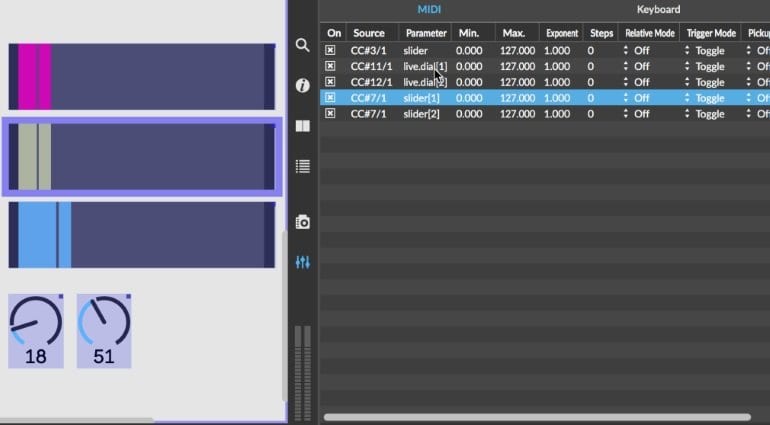 Max 8 can learn MIDI from controllers and keyboards easily, just by selecting a control and making the corresponding move on your device. Mapping also works with computer keyboards, and the overall workflow is very similar to that of Max4Live.
Performance optimisations
Max 8 starts up two times faster on a Mac, up to 20 times faster on Windows, loads patches four times faster, and has further performance improvements in critical aspects like the user interface, physics, and some objects. What's more, the Vizzie video modules library is now OpenGL-accelerated, letting you mix and match with Jitter OpenGL patching… if you are into that sort of thing!
Node.JS support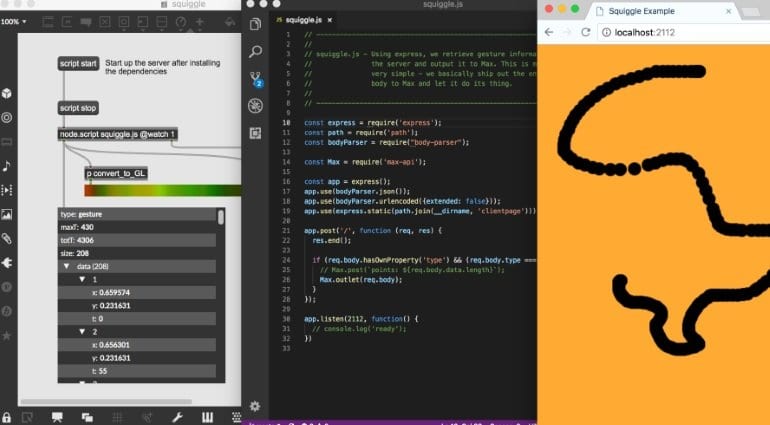 Yes, for all the JavaScript-proficient musician coders out there, Max 8 can have you running Node.js apps inside a patch. With great power comes great responsibility, though, so don't go insane building apps in Max 8.
Various Improvements
Patching has been made more intuitive; patching and unpatching objects is as simple as dragging them in and out of patch cords. Group dragging now works without accidentally selecting other objects. You can probe data flowing through patch cords by hovering over them. An "Operate While Unlocked" option lets you use controls without having to lock and unlock patches (an ordeal…). The console, colour themes, and search sidebar have been optimised for quicker work, and there's now external editor support, in addition to high-definition and multi-touch support on Windows, UI support for macOS Mojave, and plug-in scanning. All that is just at a glance, there's plenty more under the hood.
M4L, tho?
Now, Max is Max, and Max4Live is a different beast with the same blood. So when is M4L getting all these goodies? Cycling '74 isn't concrete on the subject, instead saying that Max 8 will become the basis of Max4Live in the coming months.
Price and availability
Max 8 is available now. Upgrades start from USD 149, with the full version sold standalone for USD 399. A crossgrade option is available for Ableton owners who want the full Max 8 application as well.
More information
Video
via CDM