Cyberweek E-Drum Deals from Millenium, Roland and Gewa
Expired
It's that time of year again, with Black Friday and Cyber Week deals coming thick and fast. Here are five amazing deals on e-drum kits.
If you're looking to get someone an e-Drum kit for Xmas or maybe you're looking to indulge in one for yourself, there's no better time to do so than during Cyber Week. Here are five great deals from our friends at Thomann that are just too good to miss!
Millenium MPS-450 e-Drum Set
Millenium Drums are fast establishing themselves as a really great brand to start on the e-drumming ladder. They combine exceptional quality with great feature sets. The MPS-450 is a compact kit that consists of four main drum pads, a kick pad, and three cymbal pads. All of these are securely mounted on a sturdy rack.
Drum pad sizes include a 10″ two-zone snare and 3x single-zone 8″ toms. The kick drum is also 8′ in diameter and all drum pads feature mesh heads for that realistic feel. Both main cymbals are 12″ single zone affairs with choke functions and the hi-hat is 10″ across.
The drum module contains 408 voices and 30 preset kits with space for 10 of your own. It also includes some practice songs and a built-in metronome. You get both the hi-hat and kick pedals, along with all the necessary cabling and a pair of sticks.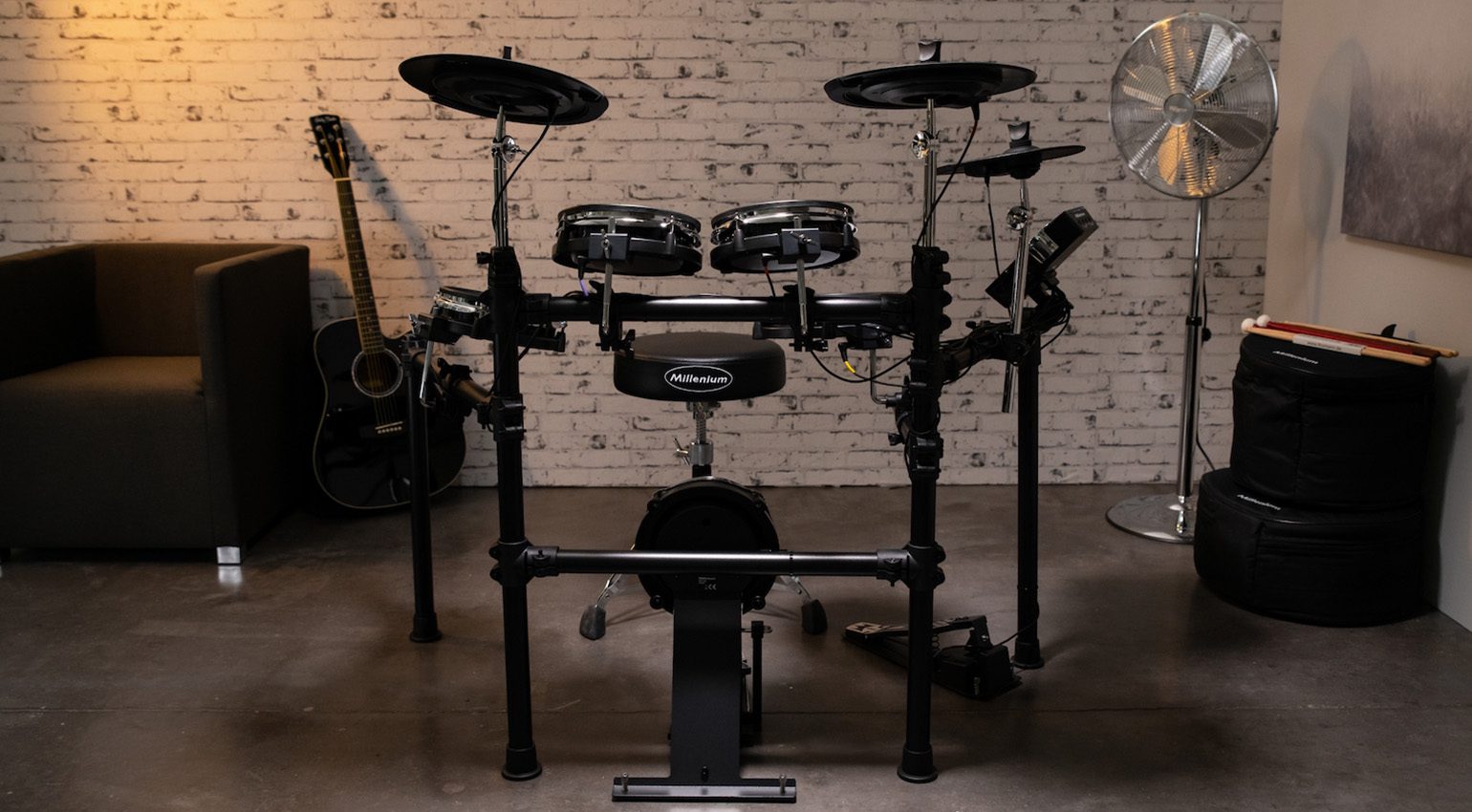 Roland SPD-SX PRO Sampling Pad
Since the original Octopad, Roland have always been present in the multi-pad game. The SPD-SX PRO is their latest venture and is jam-packed with great features.
The SPD-SX PRO has nine pads, six square pads, and three edge pads. Inside, there are over 1550 samples and sounds with 43 preset kits, all of which are erasable. There's also 157 User kits available. The SPD-SX PRO can import high-quality WAV/AIFF files as well as MP3s. The unit comes with 32GB of internal memory for samples, as well as backing tracks.
A nice, 4.3″ display gives you all the information you need and there's a ton of connectivity at the rear. This includes assignable and master outputs, all balanced. There are also sockets for up to 11 more triggers, including one for hi-hat control. Meanwhile, MIDI is handled via traditional 5-pin and USB.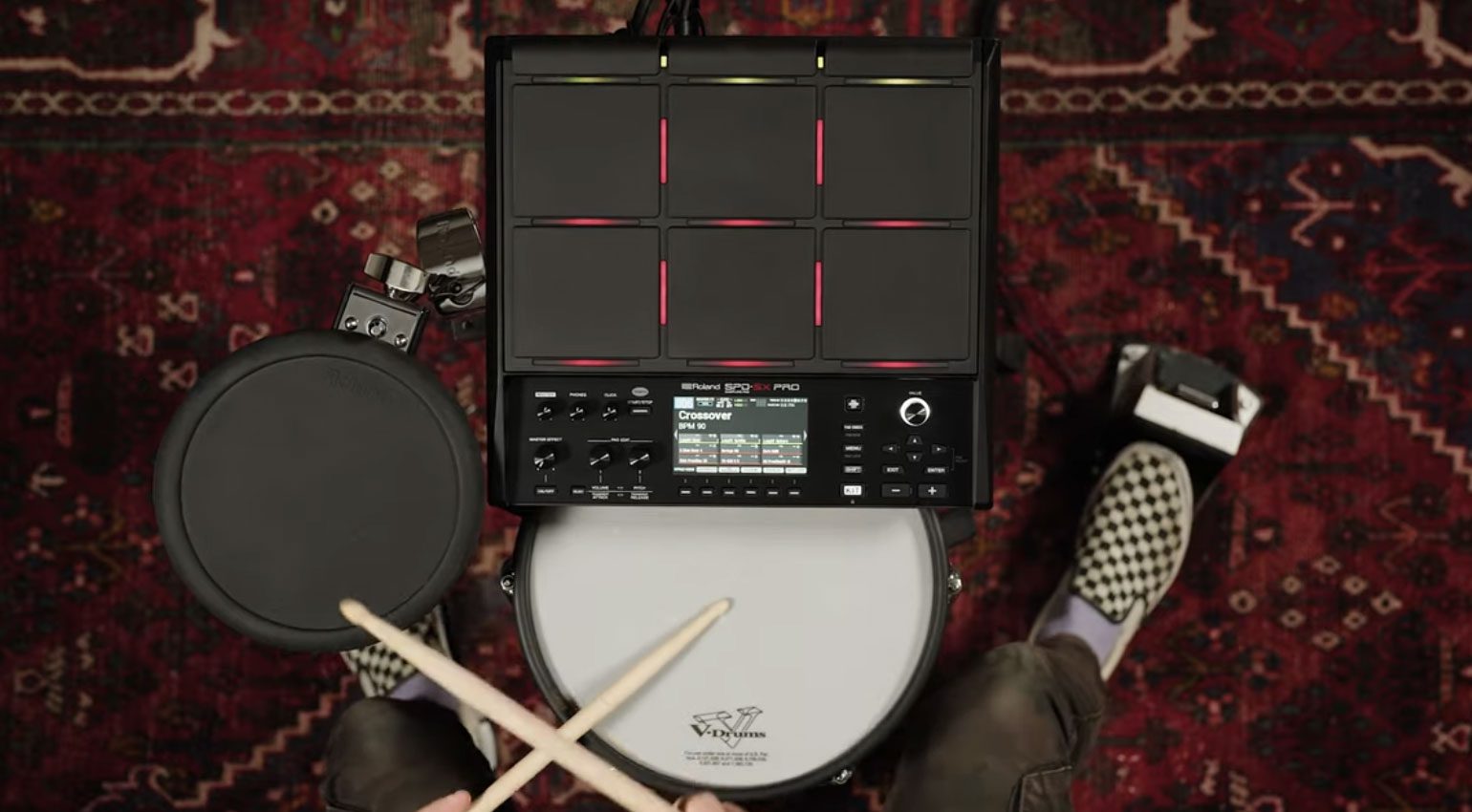 Millenium MPS-1000 D2 PW e-Drum Set
I can't stop going on about the MPS-1000 kit from Millenium. In a world where more manufacturers are bringing out e-Drum kits with full-size shells, Millenium has done the same. However, their MPS-1000 kit already rocks up at below $1000! So to see this in the Cyber Week deals is a very welcome surprise.
This particular version of the MPS-1000 comes in a Pearl White finish and in a 1 Up/2 Down tom configuration. The kick drum is a full-size 20″ x 16″ unit, with a 13×5″ snare and 6″, 14″ and 16″ toms. All drums of these, except the kick, are dual zone. You get 3x 15″ crash cymbals and an 18″ ride. All feature choking and the ride is a triple-zone affair.
The drum module is a neatly laid-out unit with its own stand. There's modest connectivity around the back, but you do get eight direct outputs on top of the usual stereo outs. MIDI is USB only and there is room for two additional triggers. 820 sounds, 40 preset kits, 40 user kits, and 70 songs are included, along with 23 effects and 335MB of storage for user samples. One of the best bits is that all the metal stands are provided, including the snare and hi-hat, the latter of which is a proper hi-hat.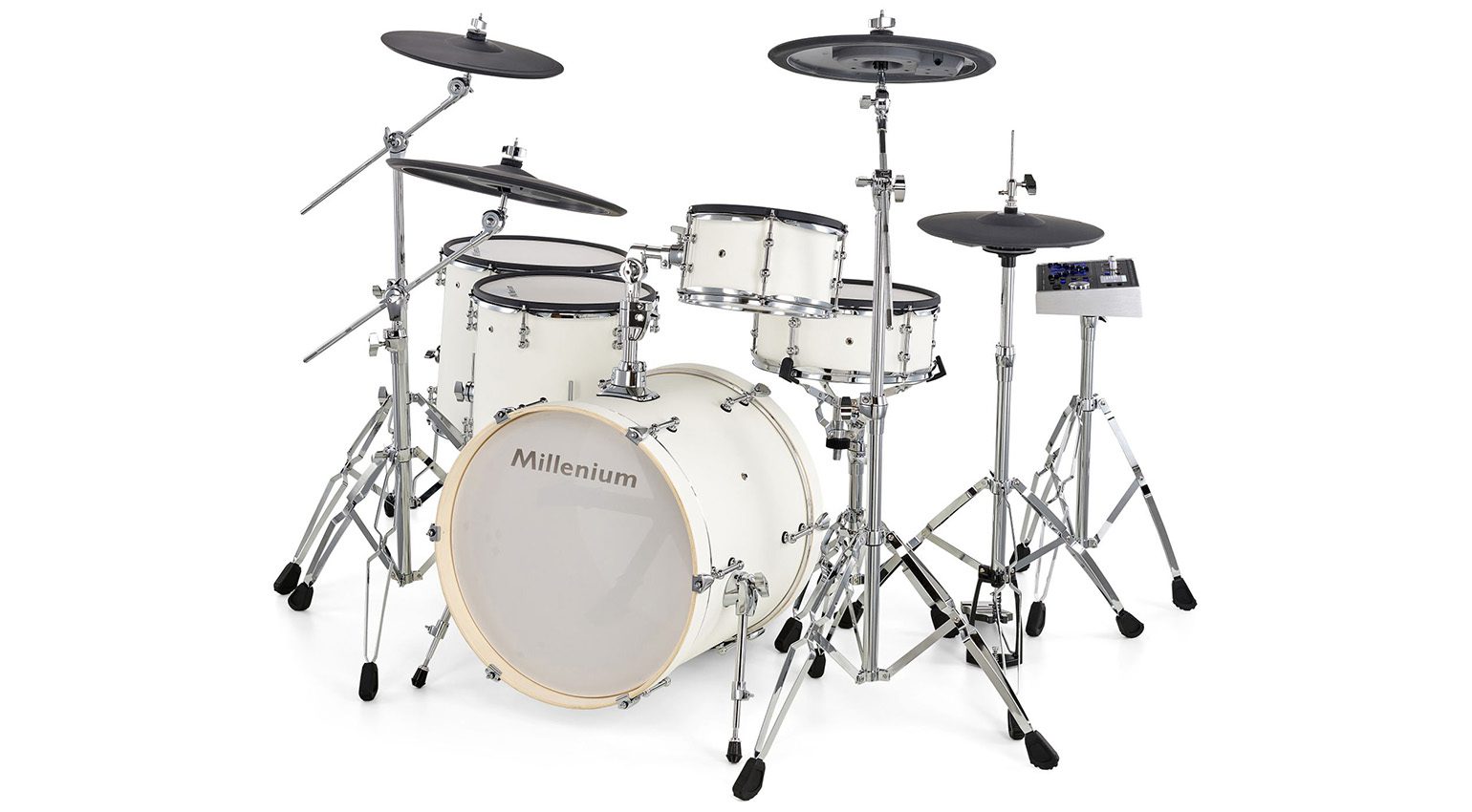 Gewa G9 Club 6 e-Drum Set
Gewa sits between Alesis and Roland, price-wise, but offers some truly top-of-the-line specifications that you might expect to pay more for. All the drums come with a lustrous lacquered wood shell with double-layered Remo heads. All the hardware is from acclaimed drum hardware manufacturer, Gibraltar.
The drum pads are shallower than the Millenium and Roland kits, but they really do look the business. All the cymbals, including the hi-hat, are triple zone and the hi-hat comes with its own stand.
One of the stand-out features of the Gewa kit is the beautiful 10″ touchscreen display on the drum module. This makes editing a dream. And there's a lot to edit inside. Over 900 sounds, 40 preset kits, 128 user kits, and up to 1000 individual samples per instrument. Many of those samples were recorded at the legendary Funkhaus Studios in Berlin. As well as all those sounds, the module features WiFi so updates are simple, and access to the Gewa cloud is seamless. There's Bluetooth audio and MIDI, a ton of FX, and space for your own samples.
Connectivity is superb with balanced XLR main outs, monitor outputs, assignable direct outs, full-size MIDI, USB, S/PDIF, and four extra trigger inputs.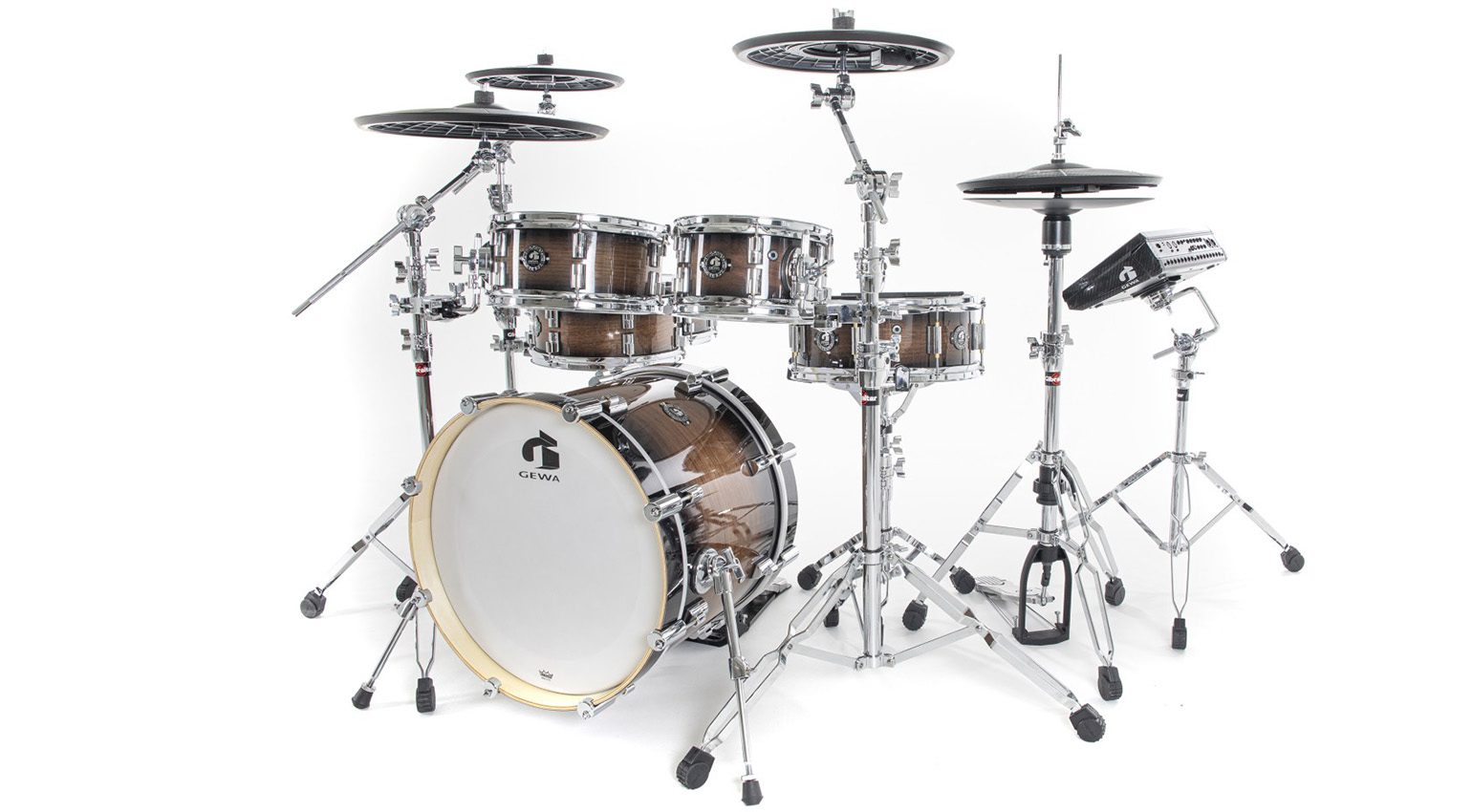 Roland VAD706-GN e-Drum Set
Last up in our Cyber Week deals for e-Drums is the Rolls Royce of e-Drums. The beautiful Roland VAD706-GN sports full-size shells, legendary V-Drum heads, and the class-leading TD-50X drum module.
The bass drum and toms are all wooden shells with the snare featuring a stainless steel shell. The VAD706 certainly looks the part. But it's not all about looks. The V-Drum mesh heads and thinner profile cymbals make all the pads lovely to play.
The centrepiece of the VAD706 is the drum module. The TD-50X is Roland's flagship unit, using Prismatic sound modelling technology. It is almost impossible to distinguish from the real thing. It's got connections up the wazoo, including a 10-channel audio output over USB. But fret ye not, as there are balanced XLRs, direct outs, extra trigger-ins, USB, and an SD card slot for importing your own samples.
The only downside of this most elegant and lavish of e-Drum kits is that Roland don't supply it with a kick drum pedal, hi-hat stand, snare stand, or stool. But still, with this saving, it negates that niggle nicely!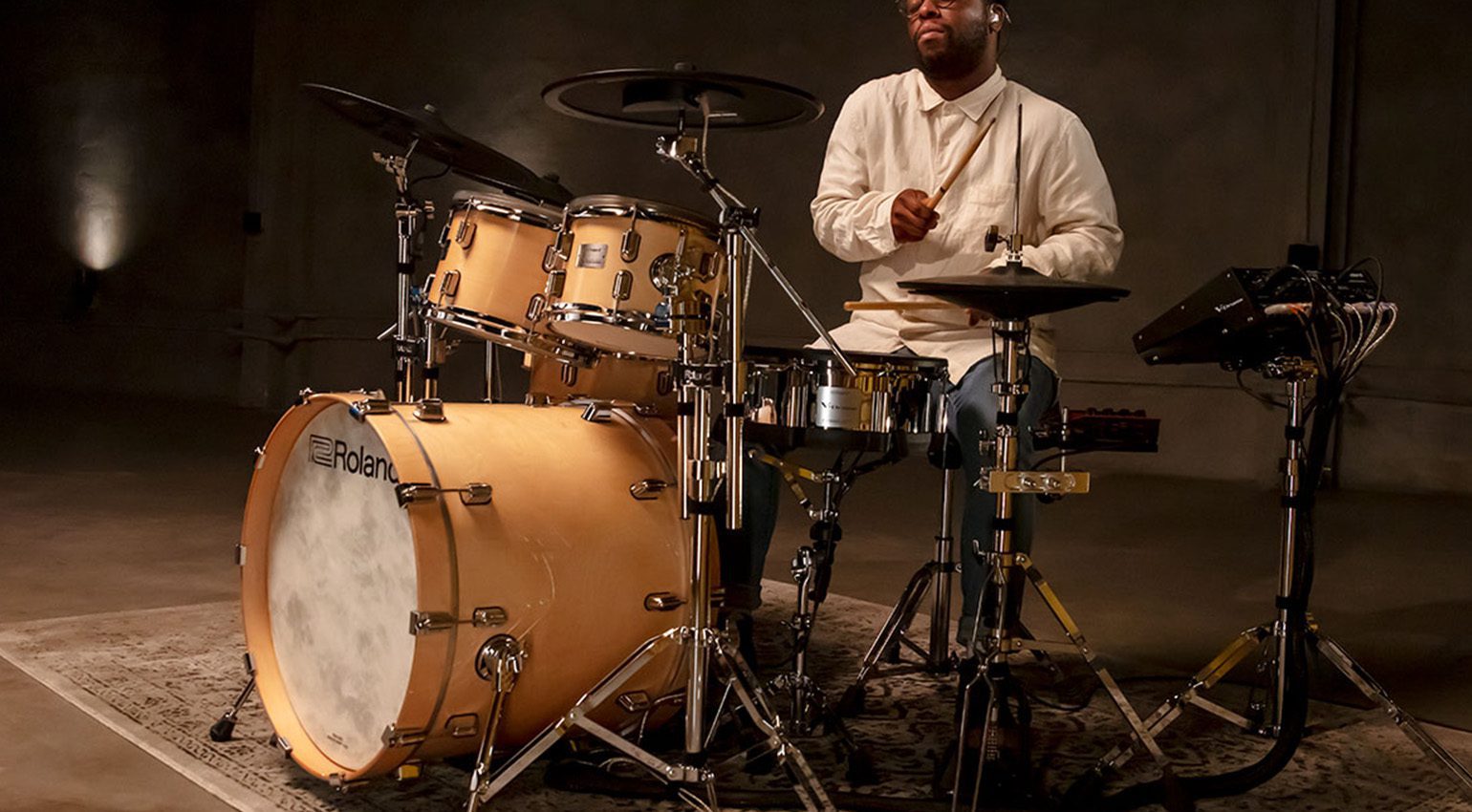 More Information
*Note: percentage discounts may vary according to your region and currency conversion rates on the day of purchase. Displayed percentage discounts are guidelines only.
Image Sources:
Millenium MPS-450: Millenium
Roland SPD-SX PRO: Roland
Millenium MPS-1000 D2 PW: Thomann
Gewa G9 Club: Thomann
Roland VAD706-GN: Roland
Roland SPD-SX Pro: Roland