Coming Soon! Boss RC 505 MkII Loop Station
The original Boss RC 505 Loop Station became a huge hit with beatboxers and internet sensations alike. If you loved the original then we have great news for you: Boss is soon to release an updated MkII version! 
A Classic Re-Born
The original Boss RC 505 soon became the "go-to" tool for live performers looking for a powerful live looping solution. The RC505 gives you the ability to record, effect, loop and manipulate multiple loops in real-time. You'll undoubtedly see the RC 505 being used by live beatboxers and performers such as Marc Rebillet.
You might then be excited by news that Boss is planning a re-vamped, revised version of the RC 505 appropriately called the RC505 MkII! Tipped to ship in the fourth quarter of 2021, we think it'll be worth the wait.
Many of the features you loved from the original RC 505 are still present and correct but now with more power and flexibility. You'll find 5 stereo tracks with separate controls for each track. Additionally, there are four simultaneous input and track effects, allowing you to give your performances even more expression.
Boss has listened to some of the most popular requests from long-time users and has equipped the RC 505 MkII with expanded inputs and outputs and improved mixing options.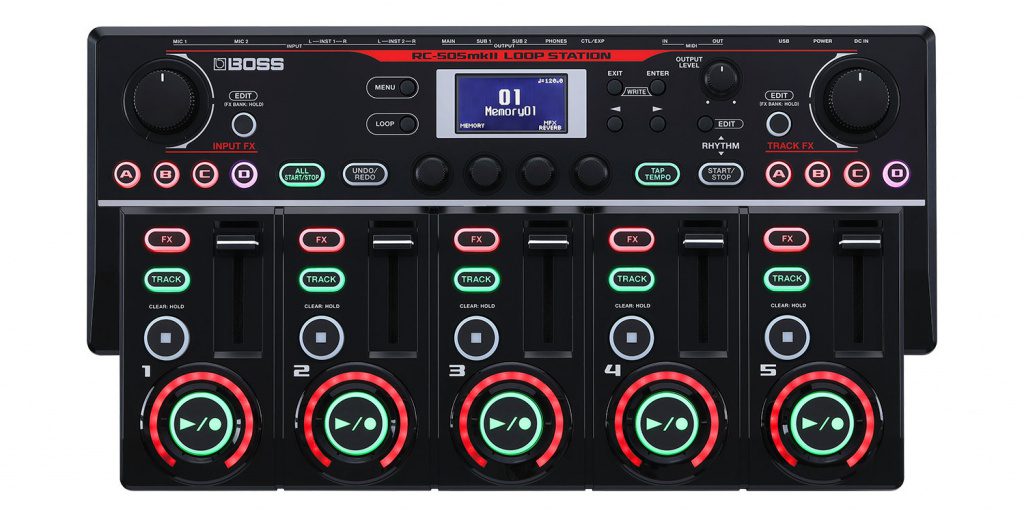 Upgraded Hardware
The MkII features improved hardware over the old 505 and it's perhaps here you'll find the biggest upgrades. Redesigned faders have a longer control path and enhance durability. You'll find an additional mic input on offer over the Mk1, giving you a total of two mic inputs with 48 V phantom power.
Additionally, there are now three stereo line inputs and outputs that offer you 49 input FX and 53 track FX types, including new Harmony and Electric effects and many others. These new tweaks have undoubtedly made the revised RC 505 MkII a proper performance powerhouse!

And… there's more
You won't be left wanting for memory locations, rhythm patterns, built-in sounds or connectivity, either. The RC 505 MkII offers 99 memory locations to store user-defined effects, playback settings, control assignments and more. You'll also be able to synchronise your loops with over 200 built-in rhythm patterns and 16 drum kits.
Additionally, there's USB connectivity for data backup, phrase import/export via the Boss Tone Studio app and pattern import with the RC Rhythm Converter. Last but not least, there are two external connections, each of which can be used to connect up to two-foot switches or an expression pedal.
More about RC 505 MkII and Boss
Image Sources:
boss-rc-505mkii_2-e1628245668305: Boss
boss-rc-505mkii_3-e1628245764757: Boss