Charvel USA Select Series now available: 80s shred is back!
Party On Dude! Get your shred on with these '80s rock machine guitars...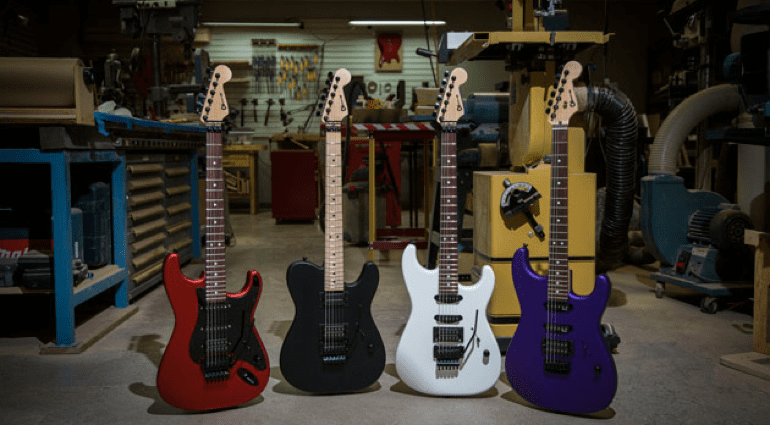 Charvel USA Select Range launching later this year. San Dimas Style 1 HSS FR, San Dimas Style 1 HSS HT, So-Cal Style 1 HSS FR and San Dimas Style 2 HH FR models. · Source: http://www.charvel.com
We talked about the Charvel USA Select Series when they were announced earlier this year at NAMM and now they have finally been made available to the buying public. This USA-built range of high-performance shredder guitars has been highly anticipated, so will they be as good as the classic '80s guitars they are based upon?
Dude!
The range includes the San Dimas Style 1 HSS FR, San Dimas Style 1 HSS HT, So Cal Style 1 HSS and Style 2 HH FR models. Each guitar is very '80s and not afraid of our modern taste for 1950s throwback relic guitars that are currently all en vogue.
If you grew up in the period when this style of guitar ruled the world, then you'll appreciate what you can do with these 'modern' (okay, they look retro now), super-easy-to-play shed machines. Yes, they are certainly an acquired taste, but some of those classic Charvel guitars were absolute tone monsters and on top of that they played beautifully.
Price
They aren't cheap, but then neither is a relic finished Fender these days, so choose your weapon. Do you want a faked 'road warrior' finish or do you like a pristine-looking high-performance instrument? There is of course no right answer, as it's all down to taste.
I think a good Charvel guitar can be an amazing instrument and I would happily buy one myself, as I don't fear the Floyd Rose. Unfortunately, many players do and that means that they miss out on some beautiful guitars.
I won't re-list all the specifications, as you can read my previous article for those here. Just take a look at the official Charvel video below to get an idea of what these guitars can achieve. You have to also remember they can do a lot more than just shred; as players like Guthrie Govan prove time and time again, tone is in the fingers, not the finish.
Available in Satin Plum, Torred, Pitch Black and Snow Blind Satin
RRPs: 
Charvel USA Select San Dimas Style 1 HSS FR: USD $2,758.61
Charvel USA Select San Dimas Style 1 HSS HT: USD $2,620.68
Charvel USA Select San Dimas Style 2 HH FR: USD $2,758.61
Charvel USA Select So-Cal Style 1 HSS FR: USD $2,758.61
Find out more about Charvel's USA Select series here
Image Sources:
Charvel USA Select Range launching later this year. San Dimas Style 1 HSS FR, San Dimas Style 1 HSS HT, So-Cal Style 1 HSS FR and San Dimas Style 2 HH FR models.: http://www.charvel.com