Best free plug-ins this week: Room041, LibreArp and FSUMpeg
This week was all about Superbooth. But let's not forget about our weekly collection of free plug-ins! We've got a beautiful reverb, an inspiring pattern arpeggiator and a lo-fi plug-in that takes you back to the digital stone age. Here's Room041, LibreArp and FSUMpeg.
You'll find many more free plug-ins in our archives.
Analog Obsession Room041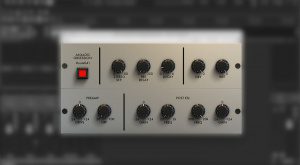 Analog Obsession, a long-time regular of our weekly freeware section, has released its first reverb plug-in. The developer says that Room041 isn't modeled after any particular hardware unit, and that it can also do plate reverb effects. The plug-in offers a preamp section with a +24 dB drive and a high pass filter (20-100 Hz), a reverb section with stereo separation, pre-delay and decay (up to six seconds) and a post EQ with two bands for shaping the reverb tail. Of course, you can also control the dry/wet mix.
Room041 is available for Windows and macOS in VST, VST3 and AU formats.
LibreArp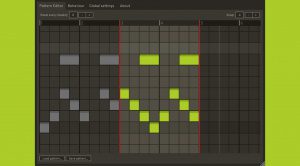 LibreArp is a free open-source project developed by the LibreArp contributors. It's a very useful MIDI effect that generates pattern-based arpeggios. You can play chords via the MIDI input on your keyboard or controller, and the plug-in will send the resulting arpeggio to the synth of your choice. For editing patterns, LibreArp boasts a neat piano-roll interface, which is easy to use and very visual. You can save user patterns and export and import arpeggios. Very cool!
LibreArp is available for macOS, Linux and Windows in VST3 and LV2 formats (64 bit).
Cybergrunge FSUMpeg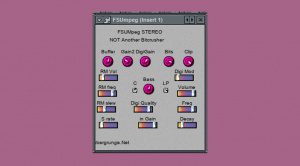 This is a digital lo-fi plug-in, but the developer is quick to point out that it's not another bit crusher. Instead, FSUMpeg emulates the sound of highly compressed, low-quality audio filters formats like low-res MP3s, cellphone voicemail compression and early 90s voice recorders. They even threw in two ring modulators to make it sound "extra sh*tty". If you've ever wished for a plug-in that helps you to relive the years you spent downloading MP3s from Napster, this is the one.
FSUMpeg is a VST plug-in for Windows.
Image Sources:
analog-obsession-room041: Analog Obsession
librearp-01: LibreArp
cybergrunge-fsumpeg: Cybergrunge