Best free plug-ins this week: MAXBAX, Triple Fader and Chromatic Tuner
This week's collection of free plug-ins features a passive Baxandall EQ, a useful tool for writing precise fader automations and a big, bright, accurate tuner. Here's MAXBAX, Triple Fader and Chromatic Tuner.
As always, head over to our archive for many more free plug-ins!
Analog Obsession MAXBAX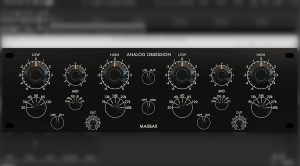 Analog Obsession has revisited the MASBAX plug-in and released a new version named MAXBAX. The passive Baxandall EQ now features an extra mid band, which will make it even more useful than before. It operates in L/R or M/S modes, with separate controls for the two channels. There's also a stereo link option. Moreover, MAXBAX offers a stepped ±6 dB output level control. Overall, a great update of an already very nice free equalizer plug-in.
MAXBAX is available for macOS and Windows in VST, VST3 and AU formats.
A.O.M. Triple Fader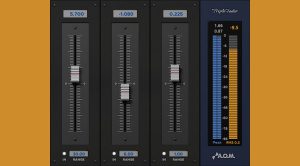 If there's ever been a plug-in whose name describes exactly what it does, this is it. Triple Fader by A.O.M. is just what it says it is: three gain faders. But why would you want that? Simple: You can specify a range for each fader, which lets you do highly precise adjustments and automations in your DAW – three times in a row. There's also a configurable level meter that displays RMS, VU or LUFS values. Sometimes simple things make a whole lot of sense.
Triple Fader is available for Windows 8.1 or higher and macOS 10.12 or higher in VST, VST3, AU and AAX formats.
Nembrini Audio Chromatic Tuner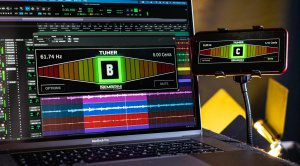 Another plug-in that says exactly what it does. Nembrini Audio is known for high-quality amp emulations, and here's a high-precision Chromatic Tuner to complete your rig. Besides a big, colorful display, a mute button and a cent display with an accuracy of ±0.01 cents, the plug-in offers a drop/capo mode that auto-transposes notes up or down by up to an octave. You can also set it to any pitch standard – and it even runs on your phone.
Chromatic Tuner is available for macOS 10.9 or higher and Windows 7 or higher in VST, VST3, AAX and AU formats. The iOS version requires iOS 9.3 or later.
Get Triple Fader here
Triple Fader on the App Store
Videos about free plug-ins
Image Sources:
analog-obsession-maxbax: Analog Obsession
aom-triple-fader-01: A.O.M.
nembrini-audio-chromatic-tuner-01: Nembrini Audio