Best free plug-ins this week: Kee Bass, MIDI Choir and Contrast Distortion
We've got three awesome free plug-ins for you this week: a funky 60's bass synth, a MIDI-controlled harmonizer and a distortion effect. This week's line-up: Martinic Kee Bass, MV's Plugins MIDI Choir and Lurker Beats Contrast Distortion.
You can find many more free plug-ins in our archives.
Martinic Kee Bass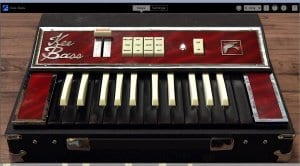 The Rheem Kee Bass, manufactured by a company otherwise known for its water heaters, is a cool monophonic bass keyboard from the 1960's. Martinic is bringing it to your DAW for free! The Martinic Kee Bass uses physical modeling to recreate the original's solid-state circuitry (no samples!), which is quite remarkable for a free plug-in. They've also nailed the design. The Kee Bass comes with a handful of funky combo-organ style switches for adjusting the sound, and a slider labeled "Bass Booster". The plug-in has a settings tab where you have access to advanced parameters like a filter and envelope. You can even tune each key individually, for that authentic decades-in-the-attic sound. Not bad at all for a freebie! Martinic Kee Bass is available for Windows and Mac in VST and AU formats.
Download Martinic Kee Bass here
MV's Plugins MIDI Choir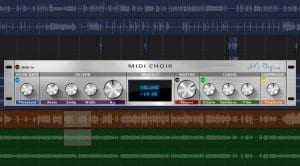 MIDI Choir from MV's Plugins has just been updated to version 3.0, and it deserves to be featured in this column. It's a polyphonic pitch shifter plug-in that turns a single voice into a choir using the supplied MIDI notes. The MIDI Choir has detailed tuning controls and built-in noise gate, compressor and reverb effects. According to the developer, the latest version comes with a new rendering engine and improved quality. If you'd like to turn your vocal into a choir on the cheap, the MIDI Choir is what you need. It's a Windows-only VST plug-in that can also be used stand-alone.
Download MV's Plugins MIDI Choir here
Lurker Beats Contrast Distortion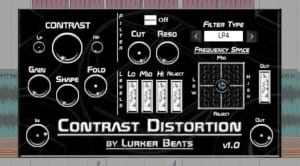 This one is actually two plug-ins. Contrast Distortion by Lurker Beats is available in "Mega" and "Mini" versions, both of which are free. Contrast Distortion Mini features a distortion effect with gain, shape and contrast controls, and a 4-pole lowpass filter. The Mega version adds fold, more filter types and an EQ, which can be controlled with an X/Y pad. Contrast Distortion looks like a nifty little distortion plug-in – two plug-ins, for that matter. It's available for Windows (64 bit VST2 and VST3) and macOS (64 bit AU).
Download Lurker Beats Contrast Distortion here
Video
Image Sources:
martinic-kee-bass: Martinic
mvs-plugins-midi-choir: MVS Plugins
lurker-beats-contrast-distortion-mega: Lurker