Best free plug-ins this week: Flying Delay, Giant Verb and Saturator
2021 is off to a good start thanks to these awesome free plug-ins! This week, we've got a delay, reverb and saturation effect – all free. Check out Flying Delay, Giant Verb and Saturator.
For loads of free plug-ins from 2020 and before, make sure to visit our huge archives!
SuperflyDSP Flying Delay
SuperflyDSP welcomes the new year with this retro-style delay plug-in. The delay time ranges from 50 ms to five seconds and can be synced to the song tempo. The other knob controls the decay time / feedback. Flying Delay also offers a ping pong mode and a tape slider, which lets you dial in some analog 'dirt'. A pair of high pass and low pass filters helps to shape the frequency spectrum. Flying Delay looks like a simple, but useful delay that covers all the essentials.
Flying Delay is available for Windows, macOS and Linux in VST3 and AU formats.
Digital Systemic Emulations Giant Verb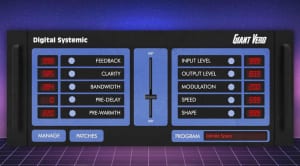 Giant Verb by Digital Systemic Emulations is just what it says it is: a reverb plug-in 'designed for infinite spaces'. Turn the feedback all the way up to 100%, and you'll get an infinite decay time. There's also a pre-warmth setting for 'analog input behavior' and a modulation feature for added chorusing. Giant Verb isn't your typical reverb that tries to sound as natural as possible, but rather an experimental effect for sound design and sonic explorations.
Giant Verb is available for Windows and macOS in VST and AU formats.
BPB Saturator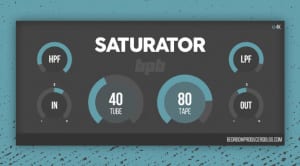 Bedroom Producers Blog designed Saturator as a 'colorful analog-style saturation tool'. It has independent controls for tube-style and tape-style saturation, which can be used separately or in combination. That's like having a tube preamp and analog tape machine in one plug-in. Saturator also offers a pair of high pass and low pass filters for dealing with unwanted frequencies. This one looks like a quick and easy way to add some warmth, grit and drive to your audio tracks.
Saturator is available for Windows and macOS in VST, VST3, AU and AAX formats.
Videos
Image Sources:
superfly-dsp-flyingdelay: SuperflyDSP, Gearnews
digital-systemic-emulations-giant-verb: Digital Systemic Emulations
bpb-saturator: BPB