Best free plug-ins this week: Fluctus, Cramit, NanoDynamics
This week's collection of the best free plug-ins features Fluctus, an open-source software synth for the new CLAP plug-in format. We've also got not one, but two multi-band compressors: Cramit and NanoDynamics.
nakst Fluctus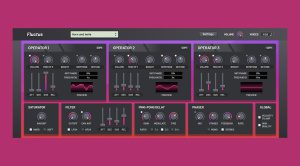 Here's a first: For the first time in this series, we're featuring a plug-in for the new CLAP standard introduced by u-he and Bitwig earlier this year. Fluctus is an FM synth with three operators, which modulate each other in a loop. It also offers a selection of built-in effects, including a saturator, filter, ping-pong delay, and phaser. The developer says that its simple structure makes Fluctus perfect for learning FM synthesis. More than 60 presets are included.
Fluctus is a Windows-only plug-in. It's currently available only for the new CLAP plug-in standard and in the native FL Studio plug-in format. This means that your choice of DAWs is limited to Bitwig Studio 4.3 and FL Studio 9 or newer at the time of writing. More options will be added when additional developers begin to support the brand-new standard.
Sixth Sample Cramit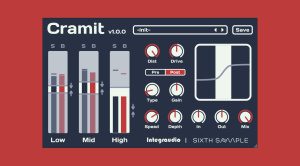 Cramit by Sixth Sample and Integraudio is a free multi-band upwards/downwards compressor and expander that offers the famous OTT effect and more. It splits the signal into three frequency bands, for each of which you can dial in the desired amount of upwards/downwards compression and/or expansion. In addition to this, Cramit offers pre and post distortion stages with seven distortion types for additional sound shaping possibilities. It comes with ten presets.
Cramit is available for macOS and Windows in AU and VST3 formats.
OneClickChords.com NanoDynamics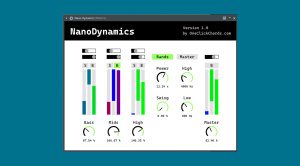 And here's yet another multi-band compressor for your dynamic processing needs. NanoDynamic also offers three bands for precise dynamic shaping of the bass, mid, and treble frequencies. The attack and release times are auto-detected by an algorithm. Furthermore, the plug-in includes a Maximizer for additional dynamic shaping of the combined signal. The developer says that it's beginner-friendly, but also offers useful tools for experts.
NanoDynamics is a VST3 plug-in for Windows.
Videos about free plug-ins
Image Sources:
nakst-fluctus: nakst
sixth-sample-cramit: Sixth Sample
oneclickchords-nanodynamics: OneClickChords.com