Best free plug-ins this week: BlackVibe, Codec, Oi, Grandad!
Plenty of variety in this week's collection of the best free plug-ins! We've got a custom tube amplifier by Analog Obsession, a digital degradation tool, and an open-source granular synthesizer with four voices. Check out BlackVibe, Codec, and Oi, Grandad!
For many more free plug-ins, be sure to visit our archive!
Analog Obsession BlackVibe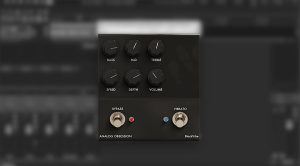 BlackVibe by Analog Obsession is a custom tube amplifier simulation with built-in tremolo. It's like you took apart some of your favorite F-type (Fender) and M-type (Marshall) amps and combined their components: The preamp and tremolo sections come from Fender, while the tone stack and power amp are Marshall territory. The developer says that it works great on guitar and keyboards. A cabinet isn't included, but you can combine it with KABIN (also free) for a complete amp sim.
BlackVibe is available for macOS and Windows in VST, VST3, and AU formats.
Lese Codec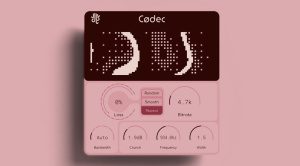 Codec is a digital degradation plug-in that works by running your audio through a compression/decompression algorithm like the ones used for internet publishing. If you've ever wanted to make something sound like it came from the early days of streaming, this one's for you. You can adjust the bitrate, packet loss, and bandwidth, and apply additional distortion with the Crunch section. An interesting alternative to other degradation effects like bitcrushers or tape simulations.
Codec is available for macOS and Windows in VST3 and AU formats.
Publicsamples Oi, Grandad!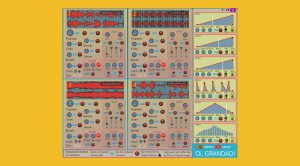 This colorful and hilariously named open-source plug-in is a full-blown four-voice granular synthesizer. Each of the four granular voices offers a complete set of controls, including grain position, size, density, spread, and detune. There's also a filter, amp envelope, and delay for each voice. In addition to this, the synth comes with no less than 12 assignable modulation sequencers to keep things in motion. Load a couple of WAV files into the four slots and turn them into something completely new!
As of now, Oi, Grandad! is only available for macOS as a VST and AU plug-in. The developer says that he'll build Windows and Linux versions once he has access to a suitable computer.
Videos about free plug-ins
Image Sources:
analog-obsession-blackvibe: Analog Obsession
lese-codec: Lese
oi-grandad: Publicsamples