Artiphon Chorda: Smart Synth, Looper and MIDI Controller
Artiphon has unrolled the Orba into a guitar-neck-inspired gizmo called Chorda. It throws out chords, generates beats and controls MIDI in a chunk of flat plastic.
Chorda
Like Orba, Chorda is yet another way to produce music that's supposed to make us all into instant producers. It borrows and lot from Artiphon's first device called the Instrument 1. It's not as complicated as a keyboard or as intricate as a guitar; it's a strip of plastic you can slap at that will give you instant rhythms and generative melodies. Is it an awesome musical device or as useful as the controller from Guitar Hero?
First of all, I'd like to genuinely celebrate the people who made the fabulous Kickstarter video. It's so full of joy and delightful-looking people that you might just have to buy one. However, they can't quite hide how plastic and lightweight it appears, and in every scenario, each player is just a hairbreadth from looking a tad ridiculous.
Ok, putting my cynicism aside for a moment, let's check out what this already over 200% Kickstarter-funded music stick can do.
Just play it
Chorda has 12 touch-sensitive pads that respond to velocity and pressure for per-note expression. There's a strummable pad called a Bridge with six triggers for individual note firing or chords. It has an onboard synthesizer and sample engine, which routes to the internal speaker that you'll find at the top end or a headphone socket. Parameters can be shifted via an accelerometer and gyroscope, or you can throw out to MIDI via Bluetooth or USB-C with support for MPE. There are LEDs for visual cues and a haptic engine for vibrational feedback.
It has a looper function that lets you layer up the four main musical parts. These are Drum, Bass, Chord and Lead, each with hundreds of sounds to choose from. Bash out a drum beat, add a groovy bass line, throw in some chords and play lead over the top. You can have it sitting on your lap, on a table, held like a guitar or perched into your neck like a violin – whatever works for you. And, of course, it's all usable without knowing anything about music or how to play an instrument.
There's an app, the same one that comes with the Orba 2, that allows you to sample into your phone and pull that across to the Chorda. That's a very neat feature.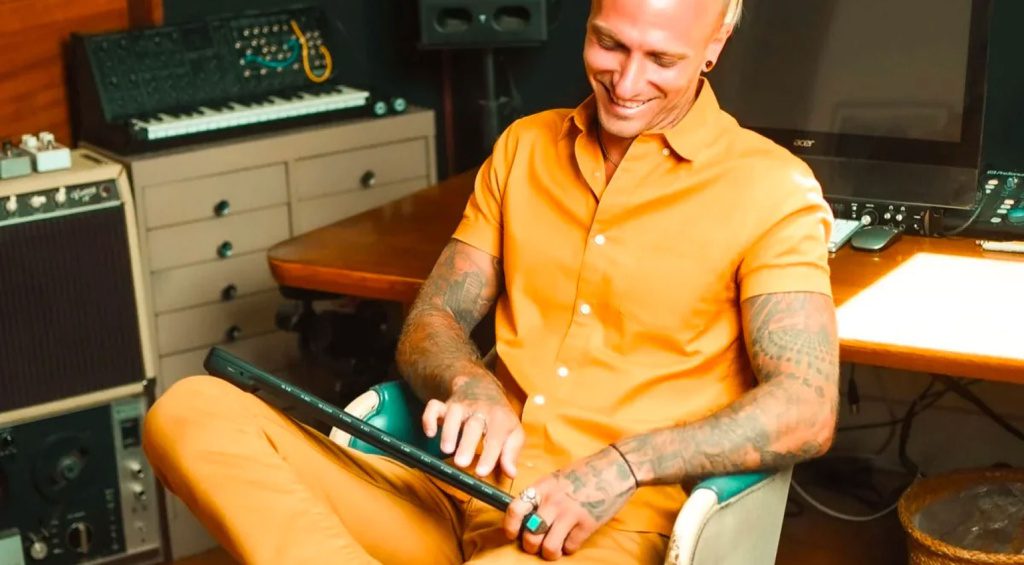 Any good?
Artiphon did a great job with Orba 2 in somehow finding a balance between being a fun musical toy and a useful tool. Chorda looks like it could walk a similar line. It could potentially be an affordable way into MPE expression. Or maybe something you could entertain people with down the park. There's no doubt that it could have massive educational appeal and offer a way into music that's both portable and accessible. However, at $249.99 or even $199 as an early bird, it's not a casual purchase.
Chorda is very instant, very playable, with four layers of loopable music and looks like a load of fun. Evidently, by smashing the Kickstarter goal, plenty of people are into it.
Image Sources:
Artiphon Chorda: Artiphon