Alto Professional TX3 Series: No-frills powered PA speakers for those on a budget
Are you looking for affordable, no-frills, powered PA speakers? If so, a sidelong glance at Alto's new TX3 series may be worth your while. But in a segment with so much competition, will the TX3 range hold its own? 
Alto TX3 Powered Loudspeakers
Powered, portable PA loudspeakers are a workhorse product that we've all relied on at some point. If you need a portable PA system for DJ'ing or general sound reinforcement,  you can't argue with the convenience of powered PA speakers. Furthermore, they're extremely convenient for use as on-stage monitors to supplement a larger, install PA rig.
It's probably no surprise then that this is a hot market sector; pretty much every major manufacturer has an offering in this segment, Alto, purveyor of affordable, no-nonsense gear has just waded in with the TX3 series. In a segment with so much competition, will the TX3 range hold its own? Let's dive in and do a spec check.
Alto TX3 Series
The series comprises four models:
TX308 – 8″ speaker, 175W
TX310 – 10″ speaker, 175W
TX312 – 12″ speaker, 350W
TX315 – 15″ speaker, 350W
You'll find that all the models in the TX3 series offer a 1″ titanium tweeter and importantly the same feature set. Indeed, it's fair to say that these are a "no-frills" offering, with a basic feature set. You won't find any smart DSP features here, and there's only a single mic/line input. Bluetooth isn't included either, although Alto also offers the Bluetooth Total 2 as an add-on.
Loud and Proud?
So why should you consider the Alto TX3 series over models from some of the other established brands? Well, Alto has priced the TX3 series extremely competitively. The closest alternative is possibly the Mackie Thump series although the Alto TX3 series still offers a significant saving.
The range starts off at €149 for the entry-level TX308 going through to €269 for the TX 315. In anyone's book that represents superb value and without a doubt makes the range very accessible.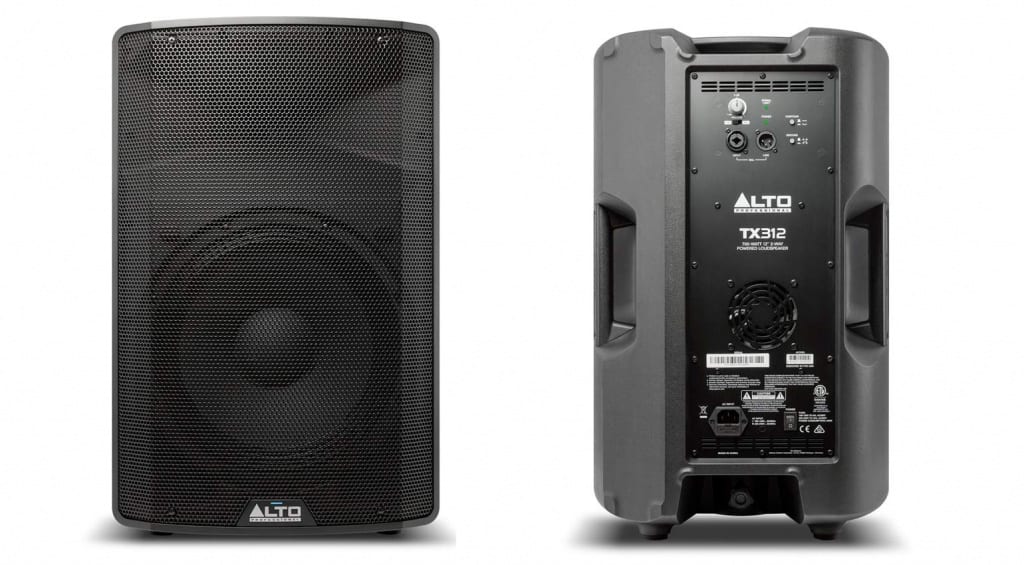 I suspect the TX312 will be the big seller, as 12″ powered speakers are undoubtedly the most common format. It's an ideal size and power level for chucking a pair into the back of a hatchback; it'll also make a great floor wedge as a vocal monitor. The built-in Class D amp will do you 700 Watts (peak) and 350 Watts (continuous), with a maximum SPL of 118 dB. The frequency response has you covered from 70 Hz to 20 kHz.
I can see the 8 and 12″ models being useful for distributed sound install. Meanwhile the big 15″ model is probably what you'd want for a drum-fill monitor or for larger install situations. I have a soft spot for no-frills, workmanlike products and the Alto TX3 series certainly seems to fit that bill.
Provided the tX3 range sound good and prove to be reliable, it's difficult to find anything not to like at the price point!
More Information about the TX3 series